Welcome to Outdoor Adventures!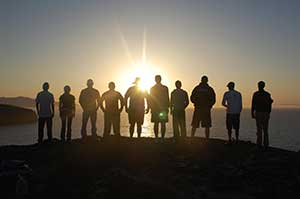 Outdoor Adventures is a program committed to bring you a challenge. Whether it be mentally or physically, our classes and trips are bound to push you to your limits! We utilize natures resources, and experienced leaders to provide you with the best experience possible! Check out our dates for upcoming events. We hope to see you soon!
Interested?
Links
GENERAL PROGRAM INFORMATION
The Outdoor Adventure Program at CSU Channel Islands is primarily for students, faculty, staff, and alumni use. Guests or Membership and Passes holders may take part in outdoor adventure trips (OAT's) but must pay the Campus Recreation day use fee to participate. CI identification is required to register for and attend all outdoor adventure trips (oat's). Registration must be done online. Pre-registration is mandatory for all overnight trips as space is limited, but drop-ins are more than welcome to all workshops.
*Priority is given to students over Dolphin passport members when registering for these trips.
HOW TO REGISTER
All eligible registrants must register online using the appropriate link. There is a different registration form for each activity, so please fill out ALL necessary forms. Please allow one to two business days for Campus Recreation to receive your registration form. Once we have received your registration, and you are approved, you will receive a confirmation e-mail as well as more information regarding the trip and a pre-trip meeting if necessary.
OAT INFORMATION
All of our trips are suitable for the first time beginner unless otherwise stated. Whether a participant has friends already going on a trip or they plan on making new ones our trips are for anyone looking for some adventure. Below is the intensity scale which will help participants judge how physically demanding each trip will be.
Scrub Jay – An easy relaxing trip with minimum physical stamina required
Island Fox – A trip that requires the participants to be physically active, but nothing too intense
Golden Eagle – A trip that will get the participant's blood pumping and breathing hard, they must have physical stamina
OUTDOOR ADVENTURE LEADERS
All Outdoor leaders have personal backgrounds in the specific outdoor activity that they lead. Each leader must have a minimum of First Aid and CPR certification. Our OAT Leaders can help participants learn proper outdoor skills for any adventure. Trip location, equipment and instruction are all organized by our OA Leaders, so if you have any questions, please call us at (805) 437-8902 or e-mail us at campusrecreation@csuci.edu
PRE-TRIP MEETINGS
All of the overnight OAT's have a mandatory pre-trip meeting. This will consist of meeting everyone that will be going on the same trip, meeting the OAT Leaders and planning trip logistics such as location considerations, equipment needs and food (if provided). The meetings will be held in SUB2023B on the second floor of the Student Union. Dates and other information regarding the pre-trip meetings will be sent via e-mail as the trip approaches.
*Pre-trip meetings are MANDATORY! If for some reason you cannot make it to the specified date and time, please contact one of the OA Leaders so you can meet individually to receive the information. Call us at (805) 427-8902 or e-mail us at campusrecreation@csuci.edu
TRANSPORTATION
Participants will need to provide their own transportation for all outdoor adventure trips. Carpooling helps keep the cost of trips down. Transportation arrangements are the responsibility of the participants.
WHAT GEAR WILL I NEED?
Each trip is different in its unique way and personal gear will vary depending on which trip you are interested in. Either during the pre-trip meeting, or on the registration page, you will find a general list of all gear you will need for a trip. These lists are very specific so that you may have a fun and enjoyable time. Even though we live in California and our climate is perfect, you never know when it might get cold or start to rain. The main goal is to be comfortable and happy by being well prepared. Don't worry if you don't have everything on the list because you can always borrow from our rental program. If at any point you have questions your trip leaders can help or you can call the Rec Center at (805) 437-8902 or e-mail us at campusrecreation@csuci.edu
---
OVERNIGHT TRIPS
---
Santa Rosa Island Camping
Friday, September  25, 2015 - Sunday, September 27, 2015
Rating: Island Fox/Golden Eagle (depending on your involvement)
Register Now! (This trip is full)
Students: $65
Dolphin Passport Members: $165

Santa Rosa is a smaller island from its neighbor Santa Cruz island but the its beauty and wonder will leave a lasting impression on everyone who visits the island.   We will be spending the weekend exploring the trails, white sand beaches and if time permits, the famous torrey pines.  A sense of community will be established as everyone works together to cook, learn and reflect on their time on Santa Rosa island.  
3 Days, 2 nights
---
Santa Cruz Island Camping
Friday, November  13, 2015 - Sunday, November 15, 2015
Rating: Island Fox/Golden Eagle (depending on your involvement)
Register Now!
Students: $65
Dolphin Passport Members: $165

Spend the night on an island and get ready for adventure. Santa Cruz Island is the perfect place to spend time with friends and get back to nature. The theme for the weekend will be "leave no trace" as activities will teach how to live and interact with nature in this rustic setting. Working together as a group will be instilled as everyone cooks, learns and plays towards finding their own adventure.
3 Days, 2 nights