There are many ways to define "caregiver". One might define a caregiver as a person who cares for someone who is sick or disabled or an adult who cares for a child. Overall, a caregiver is anyone who routinely helps others. Here at CI we see the need for child and elder care services for students. Although we do not have these physical facilities on campus, we are providing you with some resources in the community.
Need help with caregiving? What is caregiving?
Are you a caregiver?
Having programs that folk like my father, who is a retired physician and very intelligent, would stimulate his educational experience and continue to allow him to interact with other seniors and youth.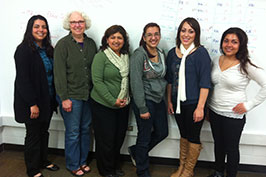 It's hard when you don't have anybody, you want them in a safe place but it's hard because it's a lot of money. But you want to continue your education. It's either them or you. You have to choose between.