Meet Lonnie
Housing & Residential Education has a canine team member named Lonnie. His primary function it to provide support, encouragement, and comfort to CSUCI students, particularly those who live on campus. He is a yellow English Labrador Retriever and was named in honor of Mr. Lon Morton, a former Foundation Board member who passed away in April 2017.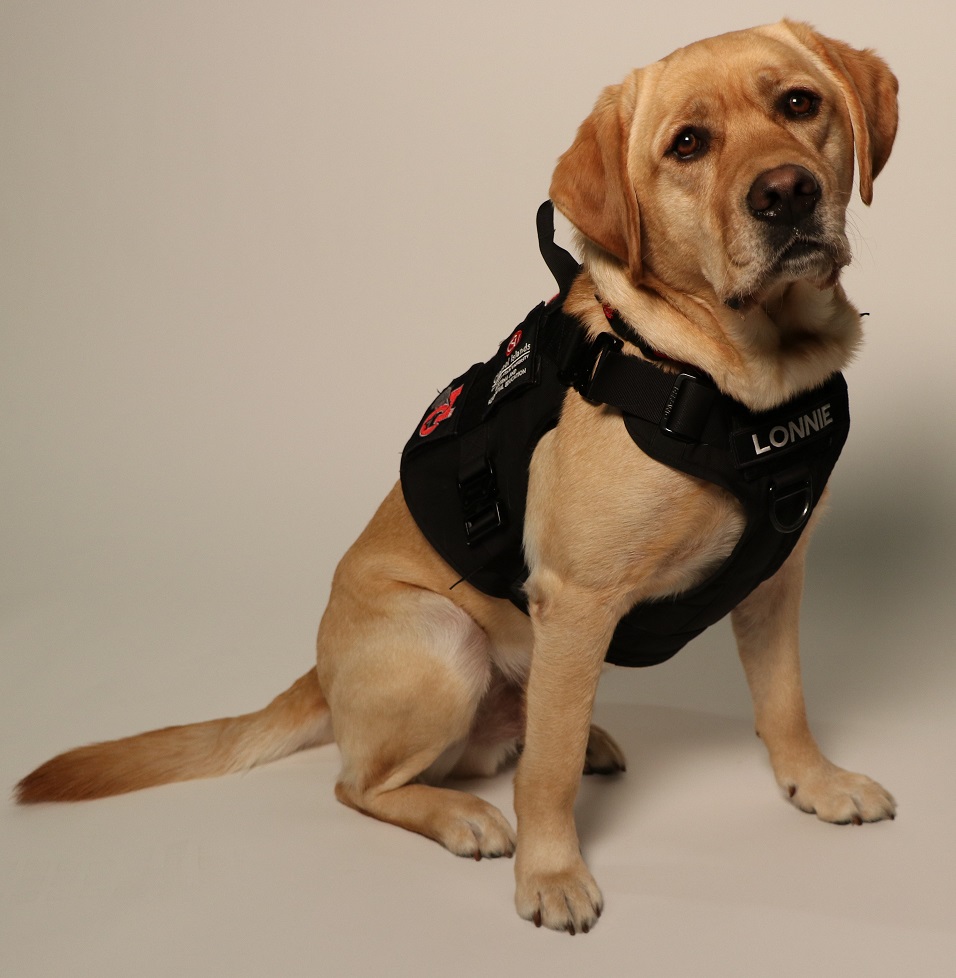 Lonnie was made possible through a generous gift from the Dr. Richard Grossman Foundation. The $220,000 donation will allow CSUCI students to benefit from two campus therapy dogs, Lonnie and Doc, and for five student veterans with post-traumatic stress disorder (PTSD) to receive individual service dogs. Lonnie's raising and training is a result of an amazing partnership between New Life K9s and the California Men's Colony in San Luis Obispo, CA.
New Life K9s is an organization that trains service dogs for first responders and veterans with PTSD. As part of a rehabilitation program, inmates at California Men's Colony train the dogs and their involvement has shown to reduce repeat offenses and provides new meaning to the inmates.
Lonnie has been described by his handlers as affectionate, full of personality, playful, and a social butterfly.
CSUCI's Foundation Board is a non-profit extension of the University whose purpose is to raise funds for campus priorities such as student scholarships, undergraduate research, career and internship opportunities, peer mentorship, and capital projects.
Lonnie Rotates our Village Offices in Housing
Lonnie loves visitors and is usually available to residents every day in one of our village offices. Typically when on campus, Lonnie is available in our village offices from 9:30 a.m.-12 p.m., 12:30 p.m.-3 p.m. and 3:30 p.m.-5 p.m. During times when Lonnie is not available for visiting hours he is available to be checked out for 30 minute increments by Housing residents at 9 a.m., 12 p.m., and 3 p.m.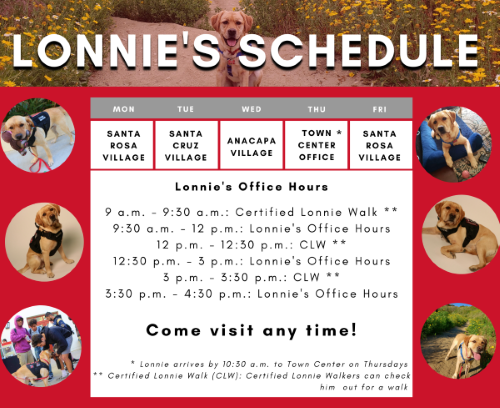 Become a Certified Lonnie Walker!
Please enroll in the Certified Lonnie Walker (CLW) Canva Course today to complete Part 1 of a two part process to get certified to check-out Lonnie thorughout the time you live on campus.
Check out more about Lonnie through our Housing Instagram, Facebook, YouTube, and Twitter accounts.