Learning More by Giving Back
By Lori Putnam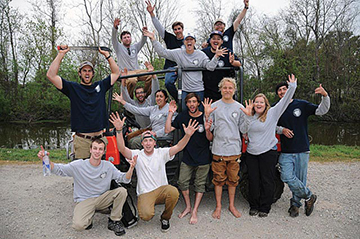 Service learning takes many forms at CSU Channel Islands (CI). Whether it is monitoring debris on local Southern California beaches or assisting in wetlands restoration in New Orleans, CI faculty and students are expanding their learning by giving back to communities near and far. And at the heart of CI's commitment to service learning, linking classroom curriculum to real community needs, is the Center for Community Engagement.
"CI has had a fundamental commitment to community engagement from its birth," said Dennis Downey, Associate Professor of Sociology and the Center's faculty director. "While many universities are finding ways to add community engagement into their programs, all of our programs have evolved with community engagement integrated into them from the start – which is a huge advantage."
Over the last 10 years, the Center has helped to foster relationships with 50 community partners including the Camarillo Economic Development Corporation, the Boys & Girls Club of Camarillo, and Schools on Wheels. "Our partners are core to our program. As co-educators they mentor our students about the larger social, cultural, and political issues that make up the world around them," said Pilar Pacheco, Associate Director. "These partnerships provide opportunities for students to mentor youth, work on immigration issues, tutor, work in community gardens, and much more." 
Pacheco estimates that 1,300 students participated in service learning in 2012, with an additional 600 students engaged in community service through student clubs and other organizations. As a result, CI students have contributed more than 24,000 hours of service which translates to nearly half a million dollars to the Ventura County economy.
"CI's service learning program has assisted the Cabrillo Economic Development Corporation to meet requirements that would otherwise be impossibly costly," said Kathryn Benner, Community Building Manager at the CEDC. "CI students have made it possible for us to keep track of the quality of life changes for residents who live at CEDC sites and capture their stories." This year, Benner was recognized as the Center's 2013 Community Partner.
Service learning can teach students more about themselves as well according to Reverend Julie Morris of Elder Care Alliance, another CI community partner. "We believe that exposing students to the ways we are working creatively and thoughtfully to meet the needs of elders with dignity will influence the students' relationships to the older adults in their lives, and may even inspire some of them to work in this growing field."
"Service learning is a win-win," added Downey. "It benefits the community while it enriches students' education and prepares them for successful careers and lives of service." 
For more information regarding service learning at CI, visit http://www.csuci.edu/communityengagement.
Service Learning in Action
Marine Debris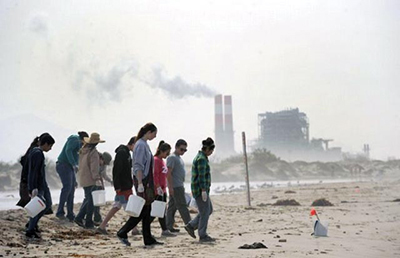 Dr. Christopher Cogan and his ESRM 100 students are taking beach clean-up to the next level. Working in collaboration with the Environmental Protection Agency, Cogan is helping to document beach debris content and map its origin. "The idea is to use the technologies we teach in Geographic Information Systems to map different types of debris and location and, in the process, pick up the debris as well," said Cogan.
Wetlands Restoration
Six months after Hurricane Katrina devastated New Orleans, Dr. Sean Anderson was on-site helping the community rebuild. The next term he started to bring his CI students along with him. Today his trips involve exposing students to the city's culture as well as supporting such initiatives as wetlands restoration. "One of things I'm most proud of is that students have actually relocated to Louisiana after graduating," said Anderson. "It's a tribute to how well embedded we are in the culture. It's about solving problems as true collaborators."
Preserving a Legacy
Since 2008 students enrolled in Dr. Jose Alamillo's Chicano Studies 499 class have worked with community partners to document the Bracero program, considered the largest guest worker program in U.S. history. Last year, students worked with the CEDC to create a Bracero history exhibit for a community center in a low-income farmworker housing complex.