by Kim Lamb Gregory
The dynamic cascade of events following the coronavirus (COVID-19) pandemic meant CSUCI leaders had an unprecedented task before them, one unlike any other that had been faced by higher education in more than a century.
"During our winter break, I began following COVID-19 updates from the World Health Organization and it was clear early on, that this was a serious situation and that our University needed to begin preparing for the threat on the horizon. I knew that when the time came, the campus would have to act and act quickly," said President Erika D. Beck.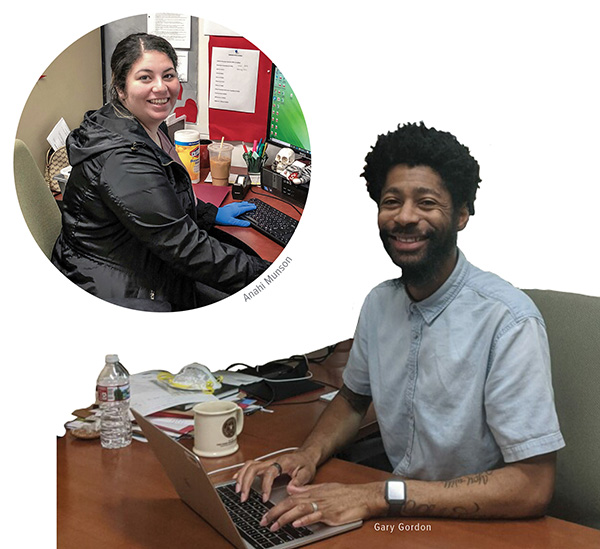 In January, Beck called together the campus' Emergency Operations Center (EOC) and established a new preparedness team to begin planning for the tenuous road ahead and in February, she was engaged in county-wide discussions with education leaders and public health officials. By the end of February, the campus had already begun to develop contingency plans, updating its communicable disease plan, and working to understand its capacity for social distancing and virtual operations.
On March 11 Beck asked the campus to prepare for virtual instruction to begin by April 6, but just as the campus was preparing to implement this plan, Governor Gavin Newsom issued additional guidelines that included asking individuals 65 and older to self-quarantine. Wasting no time, Beck asked the campus to accelerate the plan and launch virtual instruction by March 20. This quick action was critical because only days after Beck accelerated the plan for virtual instruction, the Governor issued a statewide stay-at-home order and all but essential/designated employees were sent home to telework.
"Everybody went home on a Friday thinking classes would resume on Monday," said Interim Provost Elizabeth Say. "By Sunday night, it was a whole new ball game. We had to immediately stop face-to-face instruction."
It was a change that would affect every student, faculty, staff, and overall campus operations, which required campus leadership to pivot again. Beck met with the EOC, nearly daily, and lead the mobilization of all areas of the University that worked extensively to make all instruction virtual, get most of the students off campus, and initiate plans to meet this unprecedented event.
The University's Teaching & Learning Innovations staff began the incredible undertaking of assisting faculty with converting more than 1,200 in-person courses for virtual instruction.
Vice President for Student Affairs Richard Yao and the Housing & Residential Education (HRE) team was charged with keeping residential students safe and informed while navigating an orderly move-out process.
"The entire HRE staff and student assistants were truly exceptional," said Yao. "They addressed the myriad of questions and concerns from students and parents, while concurrently tending to all of the necessary logistics while providing me with real-time data and updates throughout each day."
Additionally, students studying abroad were contacted and asked to return to the United States as soon as possible. "We had a very diverse group of students studying across the world in South Africa, Japan, Spain, France, Germany, Norway, England, Mexico, Italy, South Korea, and Chile with flights cancelled multiple times and parents of our students calling us for updates," said Associate Vice President and Dean of International Programs and Extended University Osman Ozturgut.
Through a coordinated effort by several areas across campus, which included International Programs, Financial Aid, Housing & Residential Education, and Human Resources, all 25 students arrived safely and were self-quarantined off campus for 14 days.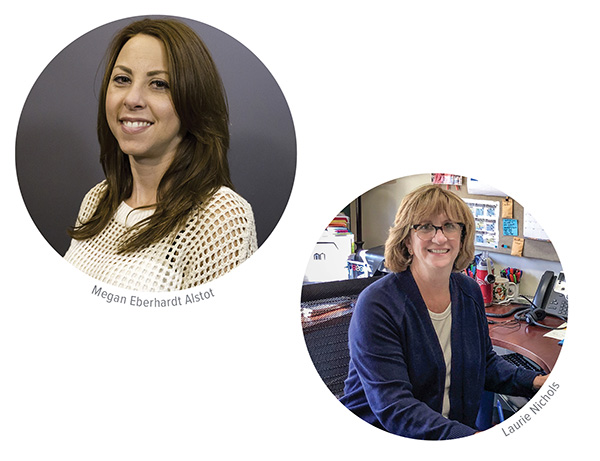 Communication to faculty, staff, students, University Glen residents, and the general public has been critical throughout the COVID-19 crisis beginning in January and coordinated by Senior Executive Director of University Communication Nancy Covarrubias Gill.
Gill was already a part of an existing team of campus leaders called the Communicable Disease Working Group that also set into motion the campus' overall plan addressing the new virus. "The plan highlights everything from social distancing to infection control to the point of dispensing a vaccine when it becomes available," said Gill.
Gill, who also leads the Communication & Public Relations team, crafted messages for various audiences about the continually changing situation. Communication Specialist Kristin Steiner worked closely with Gill as they updated daily the University's COVID-19 website, which includes frequently asked questions, information resources, health tips, travel guidelines, as well as updating other campus communication resources.
The Centers for Disease Control and Prevention placed restrictions on large gatherings that required Commencement for the Class of 2020 to be postponed; however, that didn't stop the campus from celebrating graduating seniors. The Commencement Team, with guidance from student leaders, planned a Virtual Commencement Ceremony held on May 23. Plans also continue for a future date yet to be determined for an in-person Commencement ceremony for the Class of 2020.
"We are incredibly proud of the Class of 2020," said Beck. "Their pursuit of excellence, resilience and perseverance have resulted in an academic achievement that merits all of the honors that a commencement celebration offers. Our students have most certainly earned this ceremony, and we cannot wait to celebrate with them alongside their friends, family, loved ones and peers."
Yao praised Associate Vice President of Student Affairs Cindy Derrico and Interim Director of Housing Services & Operations Rachel Tafoya, who helped get students safely on their way home, or set up in the residence hall with arrangements for food while keeping students updated.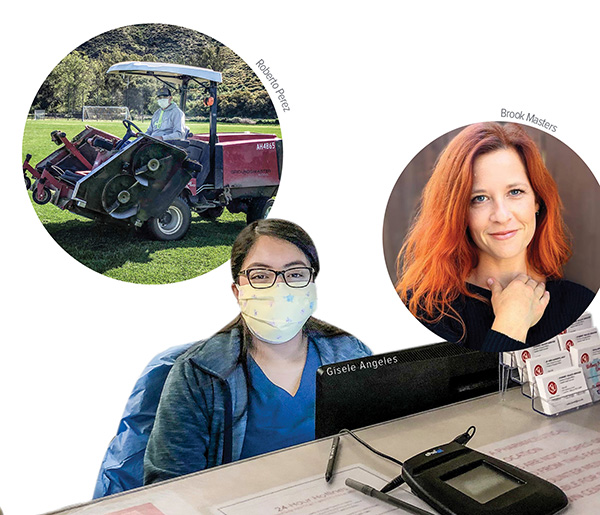 "We were providing them with as much support as we could and providing them with reassurance that even though we're virtual, we are still providing services to students, whether it be counseling, basic needs, emergency grants, or whatever they needed," said Yao.

Tafoya was acutely aware of the students' anxiety, and she and her coworkers in Housing went above and beyond to ensure the students' comfort.

"The students had just gotten the fall semester completed, they're getting comfortable and in a groove and all of sudden this happens," said Tafoya. "Even we, as professionals, had our world turned upside down. Imagine how it is for some of these 18- and 19-year-old students in their first year away from their family and home? It's confusing and they needed to get where they needed to be. In some cases, their home communities were impacted by COVID-19 and they had to stay on campus."

Given the unique circumstances, Housing staff quickly created an online questionnaire in order to learn from students about their plans. "Students were able to login to the Housing portal and share what their plan was and what their needs were," said Tafoya. "Based on this information, we were able to coordinate credits for room rental fees, meal plans, etc."
Derrico said she was "immensely proud" of the Housing team, which continued to serve nearly 140 students as of April 1 who remained in the residence halls throughout most of the semester, as well as staying in touch with other students who had moved out of Housing and were learning remotely.

"Typically, university housing staff have very demanding jobs supporting a 24/7 program and operations," said Derrico. "The dynamic pressures imposed by the evolving COVID-19 pandemic have been extraordinary on multiple fronts, and even with good business continuity plans, our planning and operational capacities have been tested."
The Housing management team rotated office hours, eight of the staff continued working on-site including live-in professionals and administrative staff, and two staff members worked in the office four days per week. Madison Malear supported room inspections and clearance efforts, and Diana Venegas supported the locking access and systems and card key development.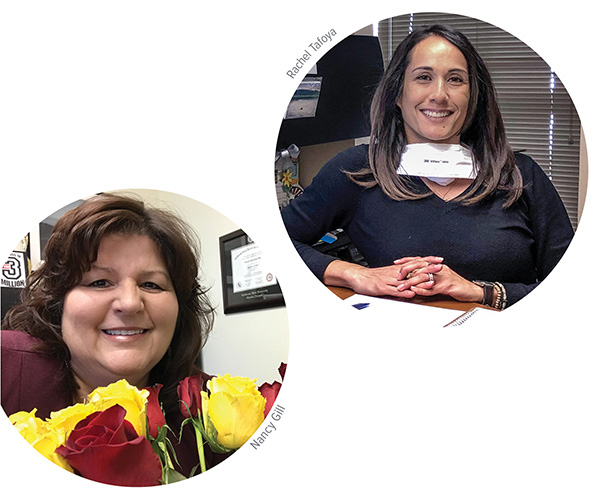 As students moved out, those who remained on campus were spread out across all of the Housing facilities. The Housing staff facilitated room changes by moving students into private rooms and placing them within a tighter geographic community context; even though students needed to be physically distant from each other, the staff wanted students to feel like part of the community as much as possible during a challenging time.

Gary Gordon, Director of Residential Education, together with the Residential Education team supported Resident Assistants (RAs) and students alike in facilitating the sudden changes and providing virtual activities to support a continued connection despite not being able to gather in person.
"RAs continued to hold community floor meetings, including extending the virtual gatherings to students who went home, so there was an opportunity for connection. We also added student-hosted short videos via social media to engage students and provide other opportunities for connection," said Gordon.
According to Associate Dean of Students Chelsee Benté, the Basic Needs Program averages three to five referrals a week. Right after the pandemic was declared, the program started receiving 15-17 referrals per week.
"We have students who have been laid off from their jobs, or their hours were cut and they don't know how they'll make rent," said Benté.
"Some students have children at home and have to take care of their families, or they don't have access to stable WiFi," she added. "Due to safety concerns, we had to initially close the Dolphin Pantry that was serving about 1,000 students a month but a few weeks later the Dolphin Pantry was changed to curbside assistance on certain days. Students in need could pull up and have staff or student volunteers place items in the trunk of their vehicle or back seat. Students were also connected to Food Share of Ventura County and other community-based pantries, as well as receiving assistance with the CalFresh application."
Under the direction of Ventura County Public Health, Student Health Services staff kept in touch with students and provided telehealth whenever possible. Director of Campus Recreation and Student Wellness Michael Gravagne and his team stayed closely connected with students both on and off campus.
"We tried to do a lot more social media campaigns," said Gravagne. "With 'If you're stressed, here's how to manage isolation. We also offered online fitness classes, Zumba, yoga, meditation and tried to keep them engaged with Student Health Services by showing them how to make their own masks. There's definitely been an increase in our social media followers."

Some students who were headed home, as well as faculty and staff, needed to borrow laptops from the University in order to take their classes online or provide campus operations remotely.

Within the Division of Business & Financial Affairs, several areas including Administration, Facilities Services, Financial Services, Information Technology Services, and University Auxiliary Services had to respond quickly to the sudden change of virtual instruction and campus operations.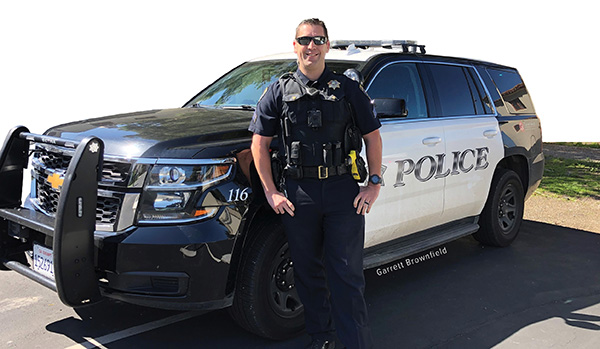 Associate Vice President for Information Technology Services and Chief Information Officer Jim August asked several members of his team including Director of IT Infrastructure Herb Aquino, Associate Director of Information Security Carlos Miranda, Manager of User Services Dawn Canfield, as well as student technicians, to help prepare and distribute over 100 laptops to faculty and staff.
"We made sure our student technicians wore gloves and commercial cleaner and wipes were used to wipe the laptops before they were distributed," said Solution Center Information Technology Consultant Anderson Hanchett. "Members of the Solution Center team are still assisting students, faculty and staff but are working remotely."
John Lazarus, Executive Director of University Auxiliary Services, had to pare dining services down that regularly served 1,900 individuals daily to a takeout and/or delivery model to serve approximately 125 remaining students and designated personnel on the campus.
"It was very busy bordering on crazy right as the social distancing was beginning," said Lazarus. "But people seemed really appreciative that we were there for them and providing food. After we did that, we started thinking about supporting the University Glen residents, so we opened up Pizza 3.14 in the Town Center. If you ordered two pizzas, you got a pint of Ben and Jerry's ice cream," said Lazarus.
"Staff across campus were asked to serve as designated personnel and readily stepped up in order to serve the campus and maintain business operations for the University during these unprecedented times," said Laurie Nichols, Interim Assistant Vice President for Administration.
"This included staff from Human Resources, Payroll, Accounting, Student Business Services, Shipping & Receiving, Environment, Health & Safety, and of course members of our Police Department," said Nichols.
After most students, faculty and staff had cleared the campus, Interim Assistant Vice President for Facilities Services Tom Hunt knew Facilities had one of the toughest and most important jobs — cleaning and sanitizing the campus while staying on top of areas used by designated personnel who remained working on the campus.
"We got more disinfectant and cleaning materials and we bought electrostatic sprayers that are sort of magnetized," Hunt said. "The sprayer adds an electrostatic charge that wraps around, for example a chair, if you spray the front of it."
Supervised by Director of Facility Support Raudel Bañuelos, the 32 custodians responsible for the campus disinfected classrooms and offices and sealed them off with tape, as well as continuing to make sure the campus continues to be sanitized. "They go unrecognized, but our custodians are superheroes," said Bañuelos.
"I have never been prouder and more thankful for the team we have in Business & Financial Affairs," said Ysabel Trinidad, Vice President for Business & Financial Affairs. "They pulled together in an incredibly challenging and stressful environment to enable the University's quick transition to a virtual learning and working environment."
J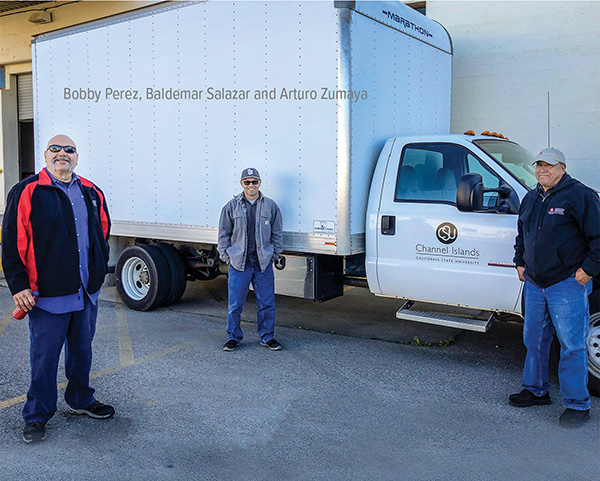 ohn Spoor Broome Library staff also helped to distribute over 200 laptops and iPads to students.
Along with distributing laptops, the library staff cross-checked their print reserves titles for freely available textbooks online, located 280 textbooks for 178 classes, and created an online reference service that included live chats and emails to enable one-on-one online research appointments with a librarian.
"The library also considered needs beyond academics and created a custom guide for homeschooling resources in support of students with school-aged children at home," said Dean of the Library Alicia Virtue.
Before the quarantine, students were accustomed to visiting the Writing & Multiliteracy Center (W&MC) located within the Broome Library where they could bolster their 21st century literacy skills, which involve not just writing, but also oral communication and computer literacy, which became even more essential with CSUCI on a virtual platform.
"On our campus, our students prefer face-to-face and some were apprehensive about going online," said Assistant Professor and Faculty Director of the W&MC Sohui Lee. "I think it was a big learning curve for most of our students. We were prepared, but I don't think our students were as prepared to go online."
Lee and her staff set up a virtual W&MC open weekdays from 9 a.m. to 6 p.m. where faculty could check in and out, and students and a tutor could go into a virtual room and receive individual tutoring for all forms of communication from writing to putting together a slide show to navigating written assignments for new virtual classes.
"With the internet and all of the media technology, the ability for individuals to communicate is more important than ever," said Lee. "As we've gone virtual, students are learning to become more adept at communicating with many different types of media platforms. We're ironing out technical issues, but so far it's gone smoothly."
Coordinator of Student Academic Success Services Brook Masters quickly shifted to virtual services for the Learning Resource Center, also located in the Broome Library, including online and peer tutoring services.

Some academic programs were able to make the move to remote classes with relative ease, such as the Chemistry and Computer Science programs as many of their classes already included online studies.
"What we struggled with was upper division labs," said Program Chair and Professor of Chemistry Blake Gillespie. "We came up with a range of solutions from online or faculty-produced videos to kits of supplies being sent to students for safe at-home activities or scientific literature-based activities."
Chemistry Lecturer Mary Woo sent her Special Topics lab students microcontroller kits so they could build their own sensors and collect data for "citizen science"-style projects.
"We are all developing long-term solutions that will ensure CSUCI students have a valuable, unique learning experience even when they must work in a distance-learning environment," said Gillespie.
Class of 2020 Communication major and CI View reporter/editor Andrew Doran of Santa Barbara said the move to virtual classes was a good idea, but he was disappointed not to spend the last two months of his undergraduate life on campus.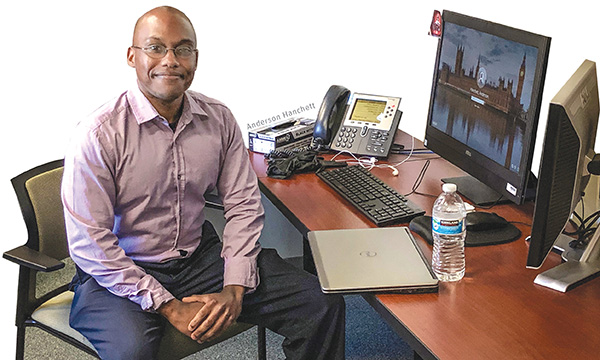 "Some of my professors posted interactive lectures and hosted classes through Zoom in order to provide a sense of normalcy," Doran said. "I looked forward to those classes every week because it was nice to see my classmates' faces."
The pandemic also gave some students real world experience they never expected, which Nursing program Chair Lynette Landry was able to convert into clinical hours that Nursing students needed but would not otherwise be able to accomplish during the pandemic.
When calls from the public and health providers began to pour into Ventura County Public Health, 37 senior Nursing students responded by volunteering their time to answer telephones and logging more than 595 clinical hours.
"At the beginning it felt very overwhelming," said Class of 2020 Nursing student Gabriel Mosse. "As I answered phone calls, I realized, yes, I was prepared."
Nursing students also screened individuals for COVID-19 as they entered the Vista Del Mar facility in Ventura. "Some of the students, as part of their clinical experiences, completed a 'telehealth' option where they reached out by telephone to families and individuals to offer support, answer questions, and provide education about COVID," said Associate Professor of Nursing Jaime Hannans.
Performing Arts students also experienced a unique situation as theater and dance students are accustomed to collaborating with one another in a live setting.
"We felt a particular loss under stay-at-home and physical distancing orders," said Associate Professor of Performing Arts Catherine Burriss.
Assistant Professor of Performing Arts Heather Castillo put together Zoom sessions in which she provided students dance prompts and instructions. She also created new dances and posted them on the social media app TikTok, inviting the students to do a "dance duet" with her.
"I also gave them an '80s MTV project," said Castillo. "I told them they needed a costume. They could be goth, punk or Olivia Newton-John, so they raided their parents closets and really got into it. One student's mom and dad put up disco lights in the hallway."
Castillo said the video clips of the students dancing will be CSUCI's contribution to CORontine Corps, a global dance project Castillo put together in which dancers all over the world can contribute video of dancing during the quarantine, which will serve as a video archive of how the world danced at home.
Associate Vice President for Enrollment Management Hung Dang is well aware that personal finances are a source of stress for students under normal circumstances "but when it comes to this particular crisis, health and safety can create a perfect storm," he said.
Dang and his team made sure students and parents had different ways of communicating with the staff about all things pertaining to student finances and enrollment questions.
"Accessibility and responsiveness helped reduce the frustrations for students," said Dang. "Nothing will replace in-person meetings when students call a financial aid counselor, but having multiple ways to communicate with students and parents certainly helped to reduce frustration."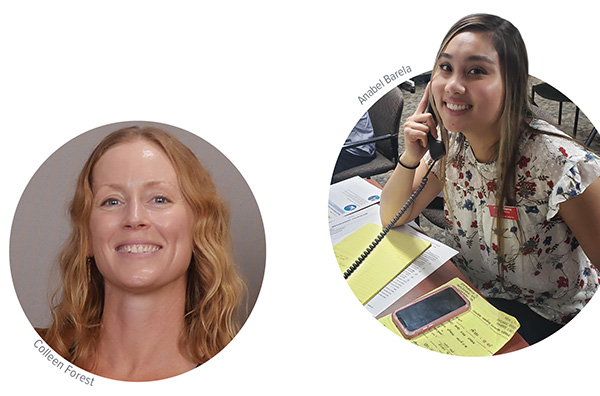 Fall enrollment for new students was also well underway when the pandemic hit and Dang and his staff reassured students that counselors were available to help. Frine Sullivan, Senior Coordinator of Admissions & Recruitment Communications, has been coordinating virtual activities, as well as providing direction for student ambassadors who have been communicating with new freshmen and transfer students about deadlines and other important information so students are fully prepared to begin the fall semester.
Associate Registrar Colleen Forest worked with Academic Senate leadership, Director of Student Systems Ana Rosa Duran, and others to implement a Senate Resolution that provided students with the option of taking credit/no credit instead of letter grades for spring semester courses. "Many students were concerned about how virtual learning would impact their grades, so it was extremely reassuring for students when Academic Senate passed this resolution," said Forest.
Peer mentorship has been another ongoing strength for the University especially during the pandemic. The University's Academic Student Success Excellence Team (ASSET) scholars program has been a cornerstone for students as most of the mentees are the first in their family to attend college. The ASSET program is designed for historically underserved groups including Latinx, first generation college students and Pell recipients, who can become ASSET scholars and be mentored by faculty, peers and other professionals.
Associate Vice Provost for Student Success & Community Engagement Amanda Quintero knew that every student in the program—mentors and mentees alike—had differing circumstances that might make it challenging to learn remotely, so Quintero and the Student Academic Success & Equity Initiatives team members quickly created a virtual peer mentor community.
"We had over 220 students in the program," Quintero said. "They left home with one reality and went home to a different reality such as parents who may have lost their jobs, siblings who also need to be educated online, or whose parents do not understand the technical support needed. Or they don't have the space to do online learning or their internet connectivity is bad."
Quintero said her team listened to the students, who admitted they were confused, disconnected and stressed. In addition to mentors staying connected with every single student in the program, ASSET Scholars faculty mentors developed Meet the Faculty Mentor Series with live Q&A sessions and faculty-led discussions online.
Quintero also worked on obtaining resources to hold a student boot camp to boost online learning skills. The mentors checked in constantly and supported mentees with academic success workshops for time management skills, navigating financial aid, online study group sessions, as well as providing emotional support for students.
"Because of the inequities present in our society, when there are times of financial stress, students need to feel connected," said Quintero. "And they need to feel more than ever that they have peer-to-peer support."
Student Government Chief of Staff and Global Studies and Communication double major senior Elizabeth Neumeyer lives in Oxnard but considered the Associated Students Inc. office her second home.
"I had to move out stuff from the place I called my home on campus," she said. "It was like the worst break up ever with something you thought couldn't possibly end unexpectedly. I knew I was graduating and would have to leave in May, but I didn't know I would be saying goodbye so early."
"I'll be leaving CSUCI without an in-person graduation, but I will not be leaving forever," said Neumeyer. "I can't wait to return to campus as an alumnus and see the little college in Camarillo burst out of their seams in success. I love CSUCI and that feeling can never be taken away from me."
Return to the Table of Contents
© Spring 2020 / Volume 25 / Number 1 / Biannual