by Nancy Covarrubias Gill and Kim Lamb Gregory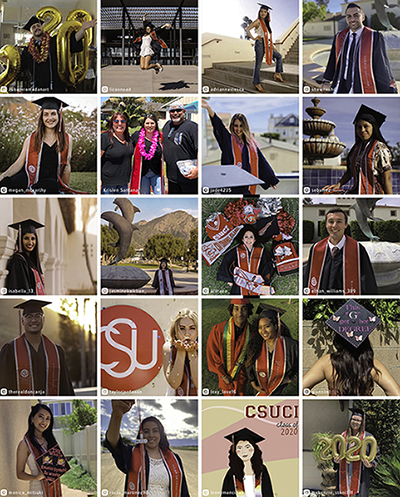 Due to the COVID-19 pandemic and like so many other schools, colleges and universities across the state and nation, CSUCI made the difficult decision to postpone this year's commencement ceremony. Without skipping a beat, the University's Commencement Team, alongside student leaders, quickly switched their planning efforts to saluting the class of 2020 with a virtual celebration. The online ceremony was held on May 23 – the same day the students were set to graduate.
All graduates were invited to submit a video clip and photo for a personalized graduation slide, which was included in the virtual ceremony livestream and could be shared or downloaded for family and friends. The ceremony can be viewed by visiting: go.csuci.edu/2020
President Erika Beck stressed during her remarks that the virtual ceremony would not replace the in-person graduation. "If ever a graduating class had demonstrated their merit in realizing this singular accomplishment, it is most certainly the class of 2020. Not everyone can pivot on a dime, upend their entire lives, and find a path forward through unprecedented challenges and rise to the occasion. But this class did."
Aside from remarks by President Beck, the virtual celebration included other highlights of the customary commencement, including a congratulatory message from the faculty delivered by Academic Senate Chair and Professor of Physics Gregory Wood.
Psychology graduate Daisy Sumaya, performed the National Anthem and the University's alma mater was led by Business graduate Colleen Sanborn. And, as is customary, Director of Facility Support Raudel Bañuelos provided a Chumash blessing at the beginning of the ceremony to honor those who dwelled on the land before us.
Remarks were also provided by Student Government President Sara Ruiz, who earned a double major in Political Science and Performing Arts, and messages were read by students on behalf of two community leaders chosen to receive honorary doctorates: Ojai philanthropist Esther Wachtell, and social justice advocate and Oxnard political and educational leader Irene Pinkard, Ed.D. (see story).
Health Science graduate Ashleigh Secor read a message from Wachtell and Nursing major Jaelyn Anderson read a message from Pinkard.
The President also announced the conferral of degrees, which is the moment when graduates are simultaneously declared to have completed all requirements for their diplomas, as well as the traditional turning of the tassel.
"We all got knocked down," said President Beck. "But instead of falling back, our graduates fell forward into the life they were meant to have. I am so very proud of their accomplishments."
The date of the Class of 2020 in-person ceremony is yet to be determined and will be announced once known.
› View the ceremony at: go.csuci.edu/2020
Return to the Table of Contents
© Spring 2020 / Volume 25 / Number 1 / Biannual