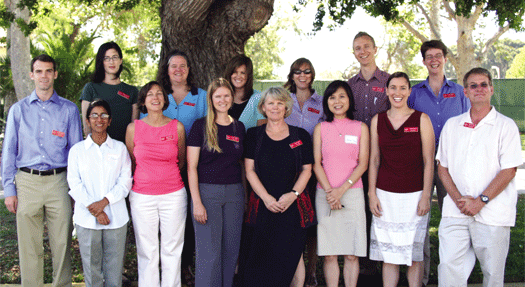 The University welcomes 14 new tenure track faculty members. In back row, from left, are Geoffrey Buhl, assistant professor of mathematics; Kathryn Leonard, assistant professor of mathematics; Marie Francois, associate professor of history; Michelle Moon, assistant professor of psychology; Trudy Milburn, associate professor, communication; Luke Matjas, assistant professor, art, graphic design; and Kaia Tollefson, assistant professor, education. In front row, from left, are: Nitika Parmar, assistant professor of biology, molecular; Andrea Grove, associate professor of political science; Kristen LaBonte, assistant librarian, digital resources; Karen Jensen, director of the nursing program and associate professor of nursing; Priscilla Liang, assistant professor, business-finance; Catherine Burriss, assistant professor of performing arts; and Andrew Morris, associate professor of business-management.
Calendar of Events  
For a complete list of University events, visit www.csuci.edu/calendar
Date
Event
November 14

Campus Reading Celebration
Internationally known author T.C. Boyle discusses his novel, The Tortilla Curtain

November 16
"A Look to the Future: The U.S. Economy from a Former Policymaker's Perspective"
Noted economist and CSUCI Professor of Business & Economics Robert Parry will address the economy from a national perspective.
December 7
4th Annual Business & Technology Partnership's Holiday Mixer
The event features a health care simulation testing students' clinical and decision-making skills.