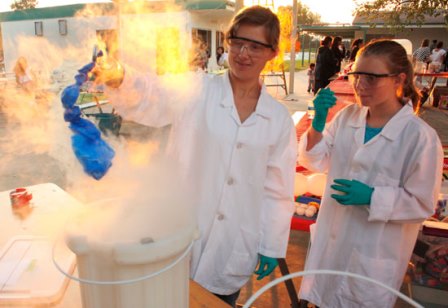 Camarillo, Calif., Oct. 17, 2013 – CSU Channel Islands (CI) invites students from kindergarten through eighth grade and their families to a fun-filled, free evening of hands-on science experiments in a Halloween carnival-like atmosphere.
The 2013 Science Carnival will be held Saturday, Nov. 2, from 5 to 8 p.m., at Thurgood Marshall Elementary School, located at 2900 Thurgood Marshall Drive in Oxnard.
Children can observe and participate in more than 70 activities – including launching marshmallows, concocting glow-in-the-dark goo, freezing candy bars in liquid nitrogen, digging for fossils, blowing up pumpkins and making their own lotion – all while learning about the science behind them.
This is the fifth annual event organized by Professor of Chemistry Phil Hampton as part of a broader CI effort to expose more students to science, technology, engineering and math (STEM) education and careers. Last year's Science Carnival drew more than 1,500 participants.
"By introducing them to the thrills of scientific experimentation in a fun atmosphere, we hope to inspire future generations of scientists and innovators," Hampton said. "Kids will even be able to take some of their 'creations' home."
The event has a signature Halloween theme, offering children the chance to wear their Halloween costumes and enjoy a variety of "spooky" refreshments and activities. Families are invited to bring a picnic dinner or enjoy food that will be available for sale.
The Science Carnival is funded with the help of CI's Project ACCESO, a Department of Education Hispanic-Serving Institution grant that promotes STEM learning.
CI students, faculty, staff, the Free Radicals chemistry club, and dozens of members of the local business, education and scientific communities are volunteering their time to lead experiments and help with the event.
For more information, visit www.csuci.edu/sciencecarnival; contact Sandra Birmingham, STEM Outreach/Pipeline Coordinator, Project ACCESO, 805-437-3597, Sandra.Birmingham@csuci.edu; or Phil Hampton, Professor of Chemistry, Director of Project ACCESO, 805-437-8869, Philip.Hampton@csuci.edu.
# # #
About California State University Channel Islands
CSU Channel Islands (CI) is the only four-year, public university in Ventura County and is known for its interdisciplinary, multicultural and international perspectives, and its emphasis on experiential and service learning. CI's strong academic programs focus on business, sciences, liberal studies, teaching credentials, and innovative master's degrees. Students benefit from individual attention, up-to-date technology, and classroom instruction augmented by outstanding faculty research. CI has been designated by the U.S. Department of Education as a Hispanic-Serving Institution and is committed to serving students of all backgrounds from the region and beyond. Connect with and learn more by visiting CI's Social Media.