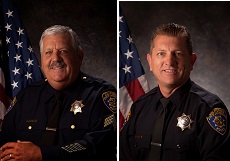 Camarillo, Calif., Oct. 14, 2013 – Two CSU Channel Islands (CI) police officers received Medals of Valor for saving a man's life on the CI campus earlier this year. Sergeant Jeff Cowgill and Officer Stephen Osman were honored for their heroic actions at a Peace Officers Association of Ventura County (POAVC) ceremony on Saturday.
The Medal of Valor recognizes officers who show extraordinary bravery above and beyond the call of duty in risking their own safety to save others. The law enforcement association holds the awards ceremony each year to honor acts of bravery, heroism and service by law enforcement personnel and citizens of Ventura County.
Cowgill and Osman were awarded for rescuing a utility worker on the CI campus last spring. On Saturday, March 16, 2013, the two officers responded to a 911 call reporting an explosion at the University's electrical substation. They arrived to find the building on fire and consumed with thick, black smoke. Inside, they could see a man lying on the floor with his upper body on fire. They ran into the burning building and carried the man outside to safety. Determining that he was not breathing and had no pulse, the officers – both trained emergency medical technicians – performed CPR and used an automated external defibrillator to revive the man.
"Through the heroic efforts of Jeff and Steve, the injured man has survived and is recovering today," said CI President Richard Rush. "We are exceptionally fortunate to have officers as part of our campus community who exhibit such courage and professional acumen."
The awards ceremony also honored the man's coworker, Gary Cowles, President of DK Electric, with the Citizen's Medal of Merit. Before the officers arrived, Cowles pulled the injured man from an electrical cabinet onto the floor and worked to save him by using a fire extinguisher and cutting burning clothes from his body.
Cowgill is a lifetime resident of Ventura County and a 20-year veteran of law enforcement who has served as a sergeant for CIPD since its inception. In addition to being a police EMT, he is a counselor at his church and volunteers at a homeless shelter. His wife, Deanne, four grown children, grandson, and more than a dozen friends and colleagues were on hand Saturday to watch him receive his medal.
"I am honored to receive the valor award," Cowgill said. "As a police officer, I feel blessed to be trained as an EMT and to be provided the equipment to be able to help a severely injured person. I am so thankful that the victim is doing well and able to enjoy his family. I am also proud I was able to work alongside the Fire Department and paramedics as part of the Ventura County emergency medical team."
Osman, a former staff photographer with the Los Angeles Times and reserve deputy for the Los Angeles County Sheriff's Department, joined CI's police department two years ago.
"This award is not just for me," he said. "I am accepting this award for every police officer who has trained and prepared to react in such a situation. I thank all my instructors, training officers and colleagues for their support. It's uncommon to be faced with this type of emergency (thankfully) in our job and it's an honor to be recognized for saving someone's life. Throughout my law enforcement career, I've been told that in a crisis one will revert back to their most basic training, which is exactly what happened with this incident. The EMT program here at CIPD prepared us for handling such a crisis."
To learn more about CI's Police department, visit www.csuci.edu/police/.
For more information on the Police Officers Association of Ventura County, visit http://poavc.org/.
# # #
About California State University Channel Islands
CSU Channel Islands (CI) is the only four-year, public university in Ventura County and is known for its interdisciplinary, multicultural and international perspectives, and its emphasis on experiential and service learning. CI's strong academic programs focus on business, sciences, liberal studies, teaching credentials, and innovative master's degrees. Students benefit from individual attention, up-to-date technology, and classroom instruction augmented by outstanding faculty research. CI has been designated by the U.S. Department of Education as a Hispanic-Serving Institution and is committed to serving students of all backgrounds from the region and beyond. Connect with and learn more by visiting CI's Social Media.