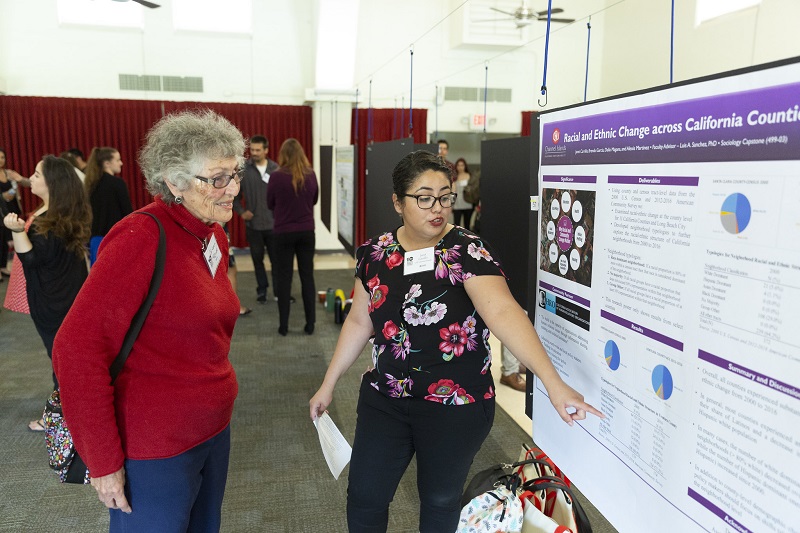 April 30, 2019 — Edible insects, worms and microplastics are among the smaller stars of the 11th Annual SAGE Student Research Conference scheduled for Saturday, May 4 from 12:30 to 6:30 p.m. in the Grand Salon. Oral presentations will be in Del Norte Hall.
Sponsored by SAGE Publications, Inc., the research conference is an opportunity for CSU Channel Islands (CSUCI) undergraduate and graduate students to showcase their work with posters, oral presentations and some displays. This year there are 187 posters, which are large visual displays with pictures, graphics, charts and other illustrations detailing the students' work.
"It's kind of a low-stakes way for students to have the conference experience," explained Professor of Political Science Sean Kelly, Ph.D., who co-coordinated the conference with Assistant Professor of Sociology Luis Sanchez, Ph.D. "And it's not just our seasoned researchers, but those just getting their feet wet."
Ordinarily, students don't get a chance to participate in a research conference until graduate school so the SAGE conference helps demystify the research and conference process, Kelly added.
Projects are from multiple disciplines across campus. Some subjects are: sexual discrimination in video games; camaraderie through motorcycling; eating and sleeping habits' effect on academic performance; the role of the Catholic church in political polarization; sea level rise and surfers; microplastics in beer and how substances like alcohol, Prozac and other substances affect decision-making in worms.
Overseen by Assistant Professor of Biology Gareth Harris, Ph.D., the worm study earned a spot at the prestigious World Congress on Undergraduate Research in Germany, where the student researchers will travel in May. The worms are significant because the microscopic creatures have brains and nervous systems similar to humans.
This year, the SAGE conference is including middle and elementary schools whose students have been conducting research with mentorship from CSUCI students.
The "Junior Scientist Project" is being coordinated through Ventura County STEM (VC STEM), which is led by CSUCI and Professor of Chemistry Phil Hampton, Ph.D., and supported with a generous donation from the Amgen Foundation.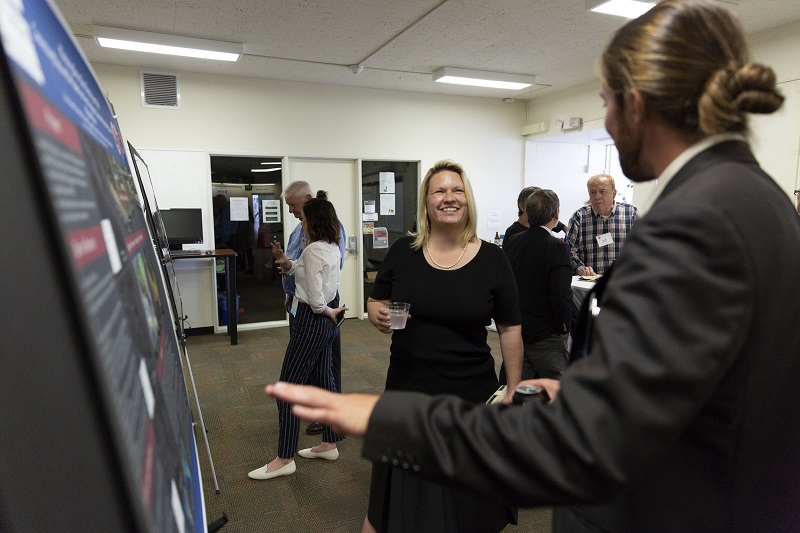 VC STEM is a collaboration from schools, nonprofits, businesses, museums and other entities interested in enhancing local Science Technology Engineering and Mathematics (STEM) education.
Curren Elementary School students, along with their CSUCI mentors, will show their research into growing bigger, better and more delicious mealworms, a project coordinated by Associate Professor of Biology Ruben Alarcon, Ph.D.
"Mealworms are a potential source of protein in the future," Hampton explained. "Much more green than eating beef."
Junior Scientists at Lemonwood Elementary will present their research on microplastics in our air and water; Haydock Academy of Arts & Sciences have studied air quality and students at University Preparation Charter School measured surface trash on their campus and came up with recommendations they plan to present to the school administration.
Poster sessions will be in the Grand Salon and oral presentations will take place in Del Norte Hall. Light snacks and refreshments will be available and at 6 p.m., there will be food trucks.
The conference will end just in time for guests to take their seats at El Dorado Park for the annual Arts Under the Stars (AUTS) performance which begins at 7 p.m. The show is made up of student research and projects interpreted through dance, music, video, theater and digital imagery.  AUTS partnered with the SAGE Research Conference in order to create an opportunity for CSUCI students to intrigue and entertain the public for almost a full day.  
For more on the SAGE Student Research Conference, visit: go.csuci.edu/src.