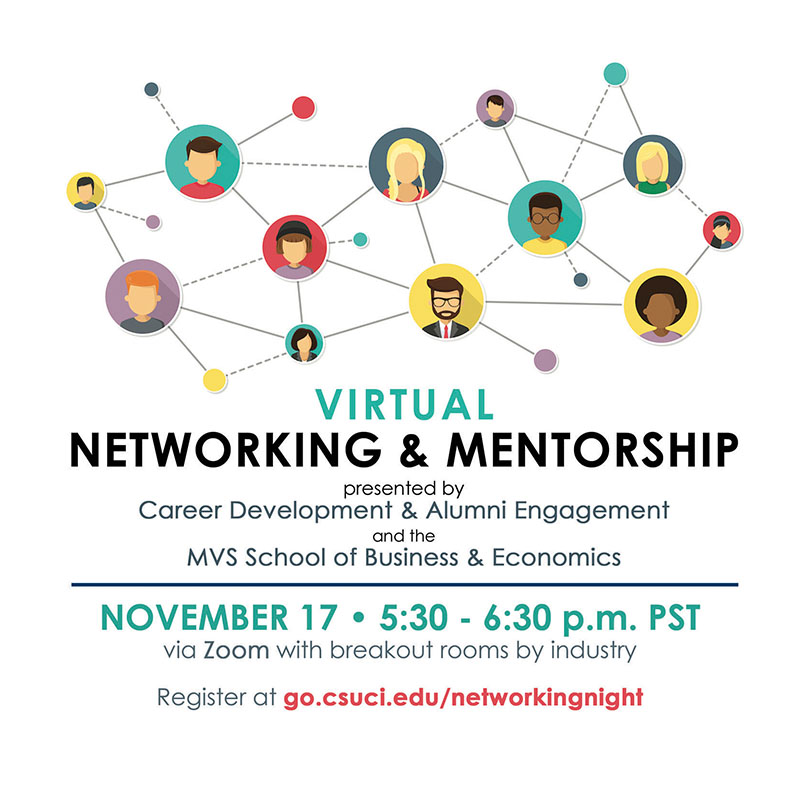 Nov. 6, 2020 - Career Development & Alumni Engagement and the MVS School of Business & Economics invite you to join us for this unique event on Tuesday, Nov. 17 at 5:30 p.m. CSUCI students, alumni, faculty, and industry professionals are coming together for an evening of mentoring, networking, and career advice.
This is a wonderful opportunity to connect with mentors in your field or become a mentor to the future workforce! Featuring industry-focused Zoom breakout rooms, you can ask questions, share advice, and have career conversations with people in your field:
Accounting
Business Administration & Management
Economics
Entrepreneurship
Finance
Global Business
Human Resources & Recruiting
Information Management
Marketing
Operations Management
Sales & Business Development

Register to Attend
go.csuci.edu/networkingnight
*Please register by Tuesday, Nov. 10

Get Ready for the Event
Mentees - Join us for one of these workshops to help you prepare and make sure you get the most out of the event:
Tuesday, Nov. 10 from 11 a.m. to noon
Thursday, Nov. 12 from 5:30 to 6:30 p.m.
Friday, Nov. 13 from 10 to 11 a.m.
Workshops are offered via Zoom. Can't attend any of the sessions? Register anyway and receive a recording so you can review the workshop slides at your convenience.

For more information, contact Lisa Sewell, Alumni Mentorship Coordinator, at lisa.sewell@csuci.edu.