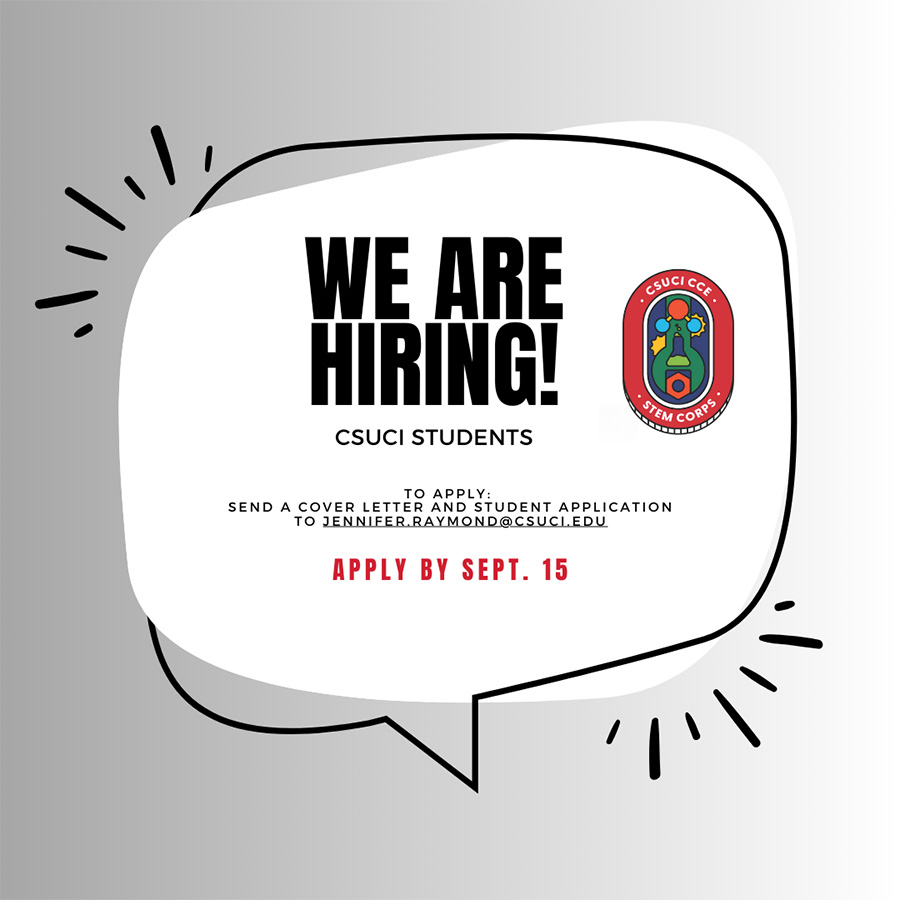 Sept. 5, 2023 - CSUCI STEM Corps is hiring! STEM Corps is a tutoring and enrichment program that supports K-12 student learning in math and science. We are looking to hire ten CSUCI students with a strong STEM and/or Education background to work up to 3 hours per week off-campus at community partner site(s) to support the development of STEM skills and curiosity.
Activities may include engaging in experiments involving Amgen's LabXchange program; developing specific skills; tutoring in homework; creating a mini-STEM fair; and building science activities to do at home. STEM Corps student hires will also support the CSUCI STEAM Carnival on campus on Saturday, Nov. 4. The pay rate for this position is $18.00/hour with a 100 hour maximum. Students must be prepared to make a year-long commitment to serve in this role.
Those who wish to apply should send a cover letter and student application to jennifer.raymond@csuci.edu. Please add "STEM Corps" in the subject line. Applications are due by Fri, Sep 15.
For more information contact Jennifer Raymond at 805-437-3191 or jennifer.raymond@csuci.edu.
The University encourages people with disabilities to participate in its programs, events and activities. If you anticipate needing any type of accommodation or have questions about the physical access provided, please contact the respective area noted below as soon as possible, but no later than seven (7) business days prior to the event/activity:
CSUCI Students
accommodations@csuci.edu
CSUCI Employees and Members of the Public
angela.portillo@csuci.edu