Helping a Loved One Deal with a Substance Abuse Disorder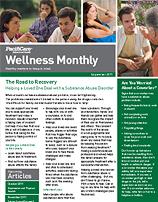 When a loved one has a substance abuse problem, it can be frightening. The problems created aren't limited to the person using the drugs or alcohol. It's difficult for family members and friends to know how to help.
 You can support your loved one to seek appropriate treatment and make a recovery. Equally important is taking care of yourself. Get help if you feel that your life is out of balance or if you notice that caring for the person is taking control of your life.
Download September 2011 PacifiCare Wellness Monthly  (PDF)
For additional information contact Diana Enos, Human Resources Manager, at ext. 8426 or diana.enos@csuci.edu.
© wavelength September 15, 2011                                < Back >