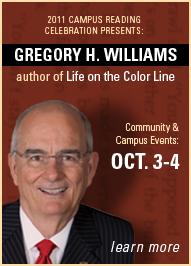 CI will present its seventh annual Campus Reading Celebration (CRC) featuring Dr. Gregory H. Williams, author of Life on the Color Line: The True Story of a White Boy Who Discovered He Was Black. The public event will be held on Monday, Oct. 3 at 6:30 p.m. in Salon A and the campus event will be held on Tuesday, Oct. 4 at 1:30 p.m., also in Salon A. A book-signing will follow Williams' presentations.
The CRC provides an annual opportunity for the campus community and public to share in a common intellectual experience. This year's book follows the life of Williams, who grew up believing he was white but learned that his father was half black when they moved to his father's hometown of Muncie, Indiana. In this remarkable memoir, Williams brings us with him as he negotiates the "color line" and brings a vivid contrast between the black and white worlds. As the Cleveland Plain Dealer reported, this book is "heartbreaking and uplifting . . . a searing book about race and prejudice in America . . . brims with insights that only someone who has lived on both sides of the racial divide could gain."
Reservations are required for these events and can be made online at: http://www.csuci.edu/crc/. Admission for CI students, faculty, and staff is free. The cost for community members is $10 and $5 for non-CI students. The event is sponsored by the University's Instructionally Related Activities Fund and Associated Students, Inc.
For additional information contact Merissa Stith, Events Coordinator, at 805-437-8548 or merissa.stith@csuci.edu.
© wavelength September 15, 2011                               < Back >