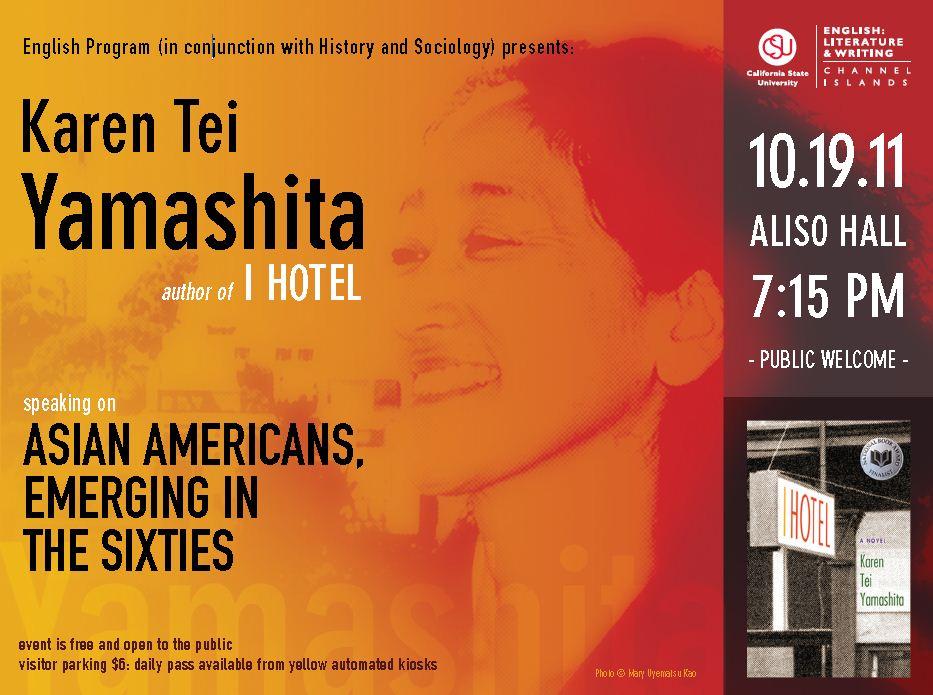 Karen Tei Yamashita, author of "IHOTEL", will speak on Wednesday, Oct. 19, at 7:15 p.m. in Aliso Hall. "The Asian-American Community: Emerging in the Sixties" is a reading and slide-show being sponsored by the English, Sociology, and History programs. The campus community is invited to attend the event.
"IHOTEL", a finalist for the National Book Award, is an "epic tale of America's struggle for civil rights" and the role San Francisco's Asian-Americans played. It's based in Yamashita's excellent research and the imagination to bring history to life. The book is ten novellas made up of chapters that can be used separately for teaching purposes. History classes might like to use "Tofu Tigers" (p. 65ff) about the awkward encounter when some Asian politicos visit China in the 60's. American history classes might like to look at "I Am A Brother," (p. 197-200, 210-213) about an Asian Black Panther. Writing classes might use the opening chapter, "The Year of the Monkey," which is a portrait of a San Francisco Asian family or Chapter 8, "This Moment," (p. 91ff), which is about how some moments affect a whole life.
The Broome Library has two copies on reserve for professors. Additionally, Margaret Driscoll in the Library can upload a particular section for a class if desired.
For additional information contact Joan Peters, Associate Professor of English, at ext. 8448 or joan.peters@csuci.edu or Sean Carswell, Lecturer of English, at ext. 3189 or sean.carswell@csuci.edu.
© wavelength September 15, 2011                                 < Back >