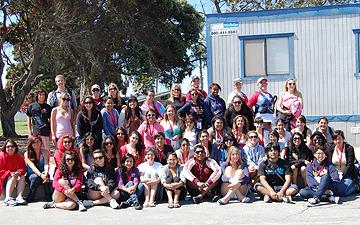 Over the summer the Educational Opportunity Program (EOP) held its 8th annual Summer Bridge. After nine full days of rigorous workshops, presentations, and extra-curricular activities, Summer Bridge culminated with a celebration luncheon honoring all in-coming students who successfully completed the program.
The Summer Bridge program was established in 2004 to provide an orientation to college life, review basic skills, and provide academic advisement to incoming EOP students. Through a residential program, Summer Bridge assists incoming freshmen with needed support as they prepare for the rigors of university work.
This year CI was able to provide math and English workshops, five-days, for two hours a day, preparing students for the expectations of college writing courses and their respective math courses. Students were also given an opportunity to test in to a higher level math course and 44% of the students successful passed the test. In addition to these intense workshops, students received academic advising guidance and presentations regarding health and Counseling & Psychological Services, Disability Accommodations and Support Services, library resources, financial aid, ISLAS, expectations in college, and effective communication. Although a program rich in academic endeavors, this year Summer Bridge included a trip to Universal Studios and a day at the Oxnard Harbor with the CI Waterfront Program where students experienced kayaking and sailing, many for the first time!  
Thank you to our colleagues who volunteered their time and special thanks to all our presenters. Summer Bridge would not have been such a huge success without you!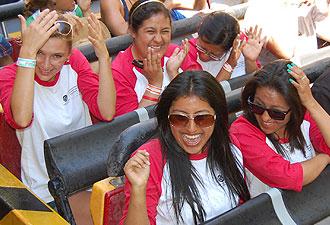 Universal Studios - EOP Students Chloe Keller, Stephanie Rodriguez, Wendy Rios, Andrea Martinez, and Maoly Romero.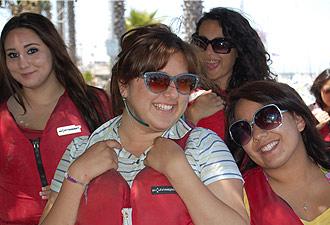 EOP Students - "Day at the Docks" Ashley Medina, Erika Lopez-Mercado, Dominique Delvalle, Victoria Rivera, and Vanessa Bahena (back, far right).
For additional information contact Leah Alvarado, Associate Director of Student Success Programs, at ext.8515 or leah.alvarado@csuci.edu.
© wavelength September 15, 2011                                   < Back >