Extended University - "Team Presentations"- Apr. 26
On Thursday, Apr. 26 from 6 to 8 p.m., CI will present "Team Presentations" at the Thousand Oaks Campus. Learning outcomes include  creating common purpose in teams, avoiding typical mistakes in team presentations, and developing methods for facilitating team presentations professionally and smoothly.
CI's Thousand Oaks Campus is located at 501 Marin St, Suite 200, Thousand Oaks, CA 91360.
To RSVP for this event or for more information on events offered through Extended University, contact Edward Padilla at 805-777-1615.
Extended University Graduate & Undergraduate Information Sessions
Extended University is committed to higher and continuing education and offers both graduate and undergraduate degree programs. Upcoming Information Sessions slated for our BA in Psychology at Santa Barbara City College (SBCC) and our MBA Program in Thousand Oaks and in Goleta include:
CI's BA Psychology Information Session - Thursday, Apr. 26, 2:15 – 3:15 p.m., Room CC-126, at SBCC;
CI's MBA Program Information Sessions - Tuesday, May 1 from 6 - 7:00 p.m. at CI's Thousand Oaks Campus and Wednesday, May 9 from 6:30 – 7:30 p.m. at CI's Goleta Campus.
Questions regarding Santa Barbara area programs should be directed to Melissa Whitacre at 805-312-6367 or melissa.whitacre@csuci.edu.
Questions regarding programs in Camarillo or Thousand Oaks should be directed to Alison Potter at 805-777-1042 or alison.potter@csuci.edu.
4th Annual Conference on Social Justice - Apr. 28
The School of Education proudly announces its 4th Annual Conference on Social Justice for Education on Apr. 28. Registration begins at 8:30 a.m. in Malibu Hall. Associate Vice President for the School of Education, Dr. Gary Kinsey will welcome the participants and President Rush will provide welcoming remarks. The keynote speaker will feature Ben Romo, Director of Community Education and Special Projects at the Santa Barbara County Education Office.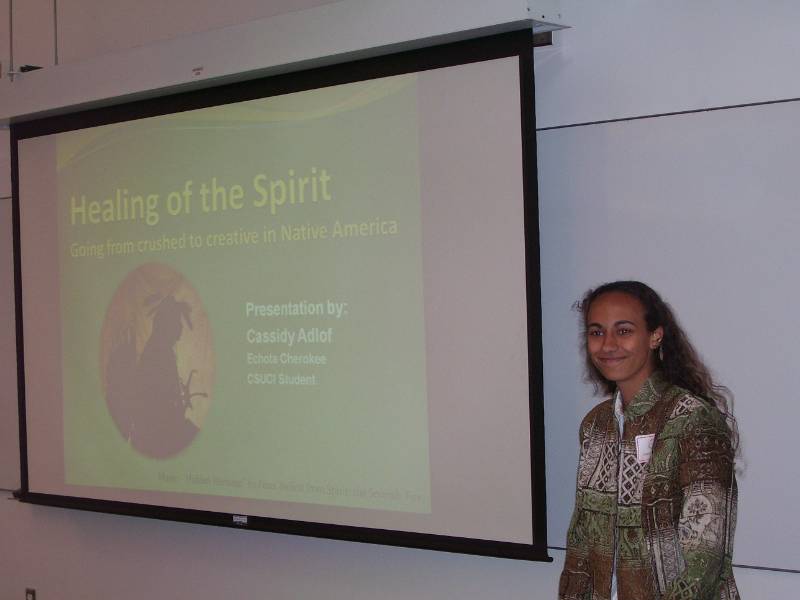 This year's theme is Forging Alliances.  Breakout sessions will be held in the John Spoor Broome Library and promise to be thought provoking and examine an array of issues relevant to our county. The event is open to the CI community and the public and is free of charge. Please register at http://education.csuci.edu/videos/index.htm
The conference is co-sponsored by the School of Education, Martin V. Smith School of Business & Economics, Arts & Sciences Programs, Extended University, the Provost's office, Ventura Unified School District, and Ventura County Social Justice Fund.
For more information, contact Tiina Itkonen, Associate Professor of Education, at ext. 3294 or tiina.itkonen@csuci.edu.
Softball BBQ Classic – Apr. 29
Come out and join Campus Recreation in the annual Softball BBQ Classic. Friends and family are welcome to join. Enjoy some food, pick a team and play ball! This event will take place on Potrero Fields Sunday Apr. 29th from 1-4 p.m. We hope to see you there!
For more information, contact Brandi Mazzuca at ext. 8902 or brandi.mazzuca916@csuci.edu.
We need your help! Share your CI experiences – May 2 & 3
As you may have heard, a project is underway to refresh CI's website. After a thorough evaluation and careful consideration, the CI Web Refresh Core Team has selected Stamats (pronounced stay-mates) to be the strategic partner for the University Web Refresh Project. The Stamats team is visiting campus on Wednesday, May 2 and Thursday May 3 to conduct small group feedback sessions with key campus stakeholders. Key stakeholders include current students, faculty, and representatives from key functional areas on campus.
The CI Web Refresh Team has already scheduled a number of participants, but we are still recruiting students and faculty to attend the feedback sessions. Feedback sessions will last between 30-45 minutes. Specific dates and times are included on the sign-up sheets. Space is limited to six participants per session and is available on a first-come, first served basis.
We kindly request that interested students and faculty RSVP using the appropriate links to the sign-up sheets below.
This event is concluded
Members of the campus community that are unable to attend a feedback session are encouraged to provide their feedback about the campus web site using the Community Feedback Form, located at: https://csuci.qualtrics.com/SE/?SID=SV_2garVNB2XCNSHwE
Feel free to share this information with members of the campus community in your area and beyond. You may also find out more about Stamats and/or the University Web Refresh Project by visiting the following websites:
Stamats: http://www.stamats.com/about/.
Thanks again for your continued support of this project.  For more information, contact Melissa Bergem, Project Coordinator, at ext. 8587 or Melissa.bergem@csuci.edu.
Students to receive honors, awards at Honors Convocation – May 4
CI will bestow honors on graduating seniors at the annual Honors Convocation, Friday, May 4, at 6:30 p.m. at the John Spoor Broome Library Plaza. The ceremony is open to all students earning honors and graduating from fall 2011 through summer 2012.
To receive honors at graduation a student must complete a minimum 30 units of courses taken at CI for a letter grade and earn a grade point average of 3.50 or above in all work taken at CI.  Students must also earn a minimum 3.50 grade point average in all undergraduate courses including transfer work. Graduates receive honors at graduation at one of the following three levels; 3.50 – 3.74 GPA earns Cum Laude, 3.75 – 3.89 GPA earns Magna Cum Laude, and 3.90 – 4.0 GPA earns Summa Cum Laude.
In addition to recognizing honors at graduation, CI also celebrates the outstanding achievements of graduating seniors in areas that span the campus.  Graduating President's Scholars will be recognized during the ceremony. The CI President's Scholars Program provides stellar incoming students with a scholarship that is renewable for four years, and includes full resident fees, a generous textbook allowance, and the use of a laptop computer.
CI also recognizes outstanding students in each major with Program Honors, and acknowledges students with achievements in the areas of community engagement and integrative, multicultural, and international perspectives with Mission Center Awards. Graduating students who are members of the Mortar Board Four Pillars Chapter will also be recognized during the event. Additional awards will include the Senior Leadership Award, granted to students who have demonstrated exemplary student leadership, scholarship and service, and the Silver Dolphin Award, granted to student leaders who have contributed significantly to the quality of life at CI.
For additional information contact Merissa Stith, Events Coordinator, at ext. 8548 or merissa.stith@csuci.edu.
Community Safety Day Event – May 5
The 8th Annual Community Safety Day sponsored by CI's Police & Parking Services and University Auxiliary Services, Inc. is scheduled for Saturday, May 5 from 11 a.m. to 2 p.m. This community-building event between University Glen and the campus community has become one of the largest and most popular for campus residents, faculty, staff, and guests.
This year's event will include information on public safety, fire prevention, emergency preparedness, Sheriff's helicopter (with free family photo), K-9 demonstration with our CI police dog, Hero, and a free Cinco de Mayo themed lunch provided by University Glen Hospitality Services.
This year, our community partners include: National Police Dog Foundation, Ventura County Fire Department, CA State Parks, Ventura County Sheriff, Ventura County Public Health and the California Highway Patrol. Vendors will include a wide array of services and community groups, including Southern California Edison and CI Campus Recreation Summer Youth Waterfront Sports Camp. There will be activities for children as well.
Road closures for the event will be at the following University Glen locations: Channel Islands and Anacapa Island Drives and Channel Islands Drive and Elephant Seal Cove beginning May 4, 4 p.m.to May 5, 6 p.m.
For additional information visit http://www.csuci.edu/police or contact Kevin Medley, Police & Parking Services, at ext. 8444 or kevin.medley@csuci.edu
Commencement – May 19
Over 10,000 guests are expected to attend the University's Commencement ceremony on Saturday, May 19 at 9 a.m. Over 1,300 students are eligible to receive degrees and credentials. Commencement is a wonderful opportunity to see first-hand the pride and joy seen on the faces of graduating students and their families.
Henry L. "Hank" Lacayo and Kathy Ireland will receive honorary Doctorates of Humane Letters (L.H.D.) and will serve as Commencement's keynote speakers. The campus community is also invited to attend the Commencement rehearsal on Friday, May 18 at 11 a.m. in the South Quad.
For additional information contact Nancy Gill, Commencement Chair/Director of Communication & Marketing at ext. 8456 or nancy.gill@csuci.edu
CISB Co-sponsors Symposium – May 31
On May 31, the California Institute for Social Business (CISB) and CAUSE Triple Bottom Line Business Network will hold a symposium, "Emerging Business Models for Social and Environmental Sustainability." The symposium will feature speakers from B Corporation, Patagonia, Grameen Caldas, Montecito Bank and Trust, Women's Economic Ventures, CAUSE TBL Network, and the CISB.
The event is for existing and emerging businesses who want to use the power of business to prevent and solve environmental and community problems. Organizers hope to educate businesses about the cutting edge business models of CISB and Benefit Corporation (B Corp). Participants will also have the opportunity to engage with panelists and other participants. Sponsors include MVS School of Business & Economics, David M. Angress, B&B Premium Ins. Solutions, Inc., City of Ventura, EDC-VC, Hacia Salud Health Insurance Co-Op, Reiter Affiliated Co., USA Staffing, and Women's Economic Ventures.
Registration before May 15 is $30 and includes parking and continental breakfast (after May 15, the cost is $40). For more information and a link to registration, please see http://www.causenow.org.
© Wavelength April 26, 2012