Health & Wellness
Campus Recreation is proud to announce six new classes that include different types of yoga such as Restorative, Vinyasa, Slow Deep Stretch, and Meditation.
The Jazz Fusion class will focus on techniques that strengthen core and flexibility.  Each class begins with a warm-up of deep stretching, abdominal workouts, and other toning exercises and then progresses to easy and medium technique combos.  The Stretch/Ballet Barre class will work on and improve technique, flexibility, balance, and a strong core. The Zumba class, a Latin-based dance fitness program, features music genres ranging from upbeat Latin based tunes as well as a mix of new generation pop and international music. The Cardio Ripped class is a high-energy workout mixed with an easy yet effective cardiovascular routine. The workouts focus on strength and isolation of specific muscle groups. It is simple enough for those new to exercise and provides effective modification and advanced movements.  The Strength and Conditioning class provides different cardiovascular as well as muscle building techniques.
All of these classes are offered throughout the week and are located in the Santa Cruz Dance Room.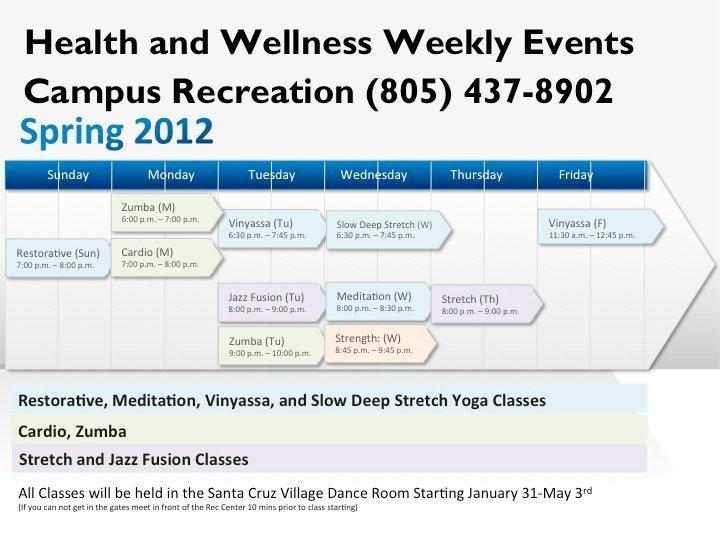 For more information on these programs and others, contact the Recreation Center at ext. 8902 or check the Web site at http://www.csuci.edu/recreation/index.htm.
Graduation Caps & Gowns
Graduation caps and gowns will be arriving Feb. 27th and are ready for purchase at The Cove Bookstore. Graduation invitation cards have already arrived and are available for purchase. Quantities are limited and are sold on a first come, first serve basis.
For more information, contact Fah Azarmsa, Manager of The Cove Bookstore at ext. 8833 or fah.azarmsa@csuci.edu.
Spring Merchandise has Arrived
Come shop at The Cove Bookstore and find some great deals on tank tops, t-shirts, and shorts in men's and women sizes for only $7.95 each.  There is a great selection of beautiful and vibrant spring colors. Stop by and make a purchase today!
For more information, contact Fah Azarmsa, Manager of the Cove Bookstore at ext. 8833 or fah.azarmsa@csuci.edu.
Outdoor Adventures wants YOU!
Join us on our upcoming trip to Pine Mountain on Mar. 2-4. Prices and more information can be found at: www.csuci.edu/recreation/oa-main-page-outdoor.  Don't forget to check out the Campus Recreation Calendar for other Outdoor Adventure Events!
For more information, contact Outdoor Adventures at ext. 8902 or outdooradventures@csuci.edu.
© Wavelength February 23, 2012