Multicultural Programs Spring 2012 Events

Mark your calendar!  Multicultural Programs has many events planned for the spring semester. A list of January and February events is provided below. Future events will be listed in upcoming Wavelength issues.
Dr. Martin Luther King, Jr. Celebration
Thursday, Jan. 26 at 6 p.m. in Malibu Hall 100
Honoring Dr. King, this unique presentation of his most famous speeches is performed by Mr. Steven Loewenstein. Usawa Student Union members will pay tribute through theatrical monologue to other important African American leaders who inspired and worked alongside Dr. King in his fight for equality.  Refreshments will be served.
Portraits of Courage: African Americans You Wish You Had Known
Tuesday, Feb. 7 at 6 p.m. in Malibu Hall 100
Portraits of Courage, presented by Will & Company, is a theatrical piece which examines noted African Americans and their contributions to American history.  Refreshments will be served.
Miss Representation
Friday, Feb. 24 at 2 p.m. – location to be determined
Like drawing back a curtain to let bright light stream in, Miss Representation (90 min; TV-14 DL) uncovers a glaring reality we live with every day but fail to see. Written and directed by Jennifer Siebel Newsom, the film exposes how mainstream media contributes to the under-representation of women in positions of power and influence in America. The film challenges the media's limited and often disparaging portrayals of women and girls, which make it difficult for women to achieve leadership positions and for the average woman to feel powerful herself.
African American History Bee
Wednesday, Feb. 29 at 5 p.m. in the Student Union
The African-American History Bee is designed to promote awareness of the contributions that African Americans have given to society and the world.  The Bee is devised to test students' knowledge of Black History facts in the form of a group trivia competition. Student teams will be given the answers in advance of the event to prepare for the challenge. Team sign-ups will take place at the MWGSC (BT 1512) or online at https://cidsa.wufoo.com/forms/african-american-history-bee/ from Monday, Jan. 23 through Friday, Feb. 3.
For more information visit http://www.csuci.edu/multicultural/index.htm, or contact Jennifer Chapman, Coordinator of Multicultural Programs, at ext. 3243 or jennifer.chapman@csuci.edu.
Career Development Services Open House- Jan. 31
CI students, faculty and staff are invited to join us for our spring
2012 semester Open House event Tuesday, Jan. 31 from 10 a.m.
to 2 p.m. in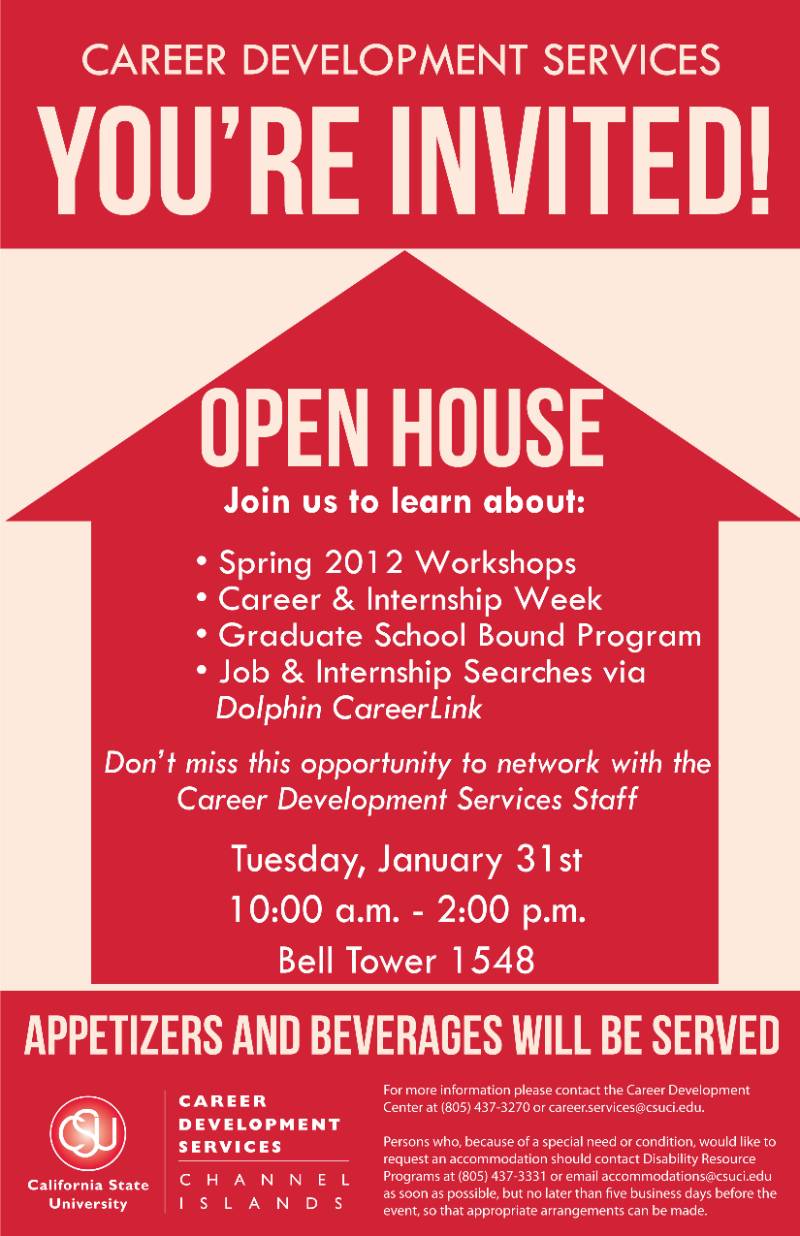 the Career Development Center, Bell Tower 1548.
This semi-annual event is an opportunity to highlight to the CI campus community our upcoming events, programs and services. Appetizers and beverages will be served.
A highlight of spring 2012 programs and events include:
Resume Clinics
Graduate School Bound Program
Mock Interviews
10th Annual Career & Internship Week
Employer & CI Alumni Panel
Henry L. "Hank" Lacayo Internship Program
Drop-In Career Counseling & Resume Clinics
For more information please contact Amanda Carpenter, Coordinator of Career Development Services at ext. 3565 or amanda.carpenter@csuci.edu.
Alumni Hockey Night- Feb. 25

Preparations are underway for the Alumni Kings Hockey Night to be held on Saturday, Feb. 25 at the Staples Center, downtown Los Angeles. If you are an Alumni & Friends Association member, you are eligible to purchase tickets at $22.00 per ticket.
The Alumni & Friends Association are partnering up with the Student Programming Board to sponsor this event and it's expected to sell out quickly. The puck drops at 5:00 p.m. as the Los Angeles Kings play the Chicago Blackhawks. Your attendance helps build CI spirit, pride, and enrich the relationships between students and alumni.

For information on A&FA membership, visit http://www.csuci.edu/alumni/Membership.htm. To order tickets or for additional information, contact Jonathan Neira, University Advancement, at ext. 3764 or jonathan.neira746@csuci.edu.
© Wavelength January 26, 2012