VC Star readers select CI as West County Winner
The results are in!  Ventura County Star readers have voted CI as the 2012 West County Winner and East County Favorite in the Colleges/University category!
Balloting was completed online by VC Star readers over a three week period.  Those who received the most votes in each category were selected as Winners for either west Ventura County or east Ventura County.   The next highest vote recipients in each category were selected as Favorites.
CI Professor receives award for service
The Center for Community Engagement congratulates Dr. Phil Hampton, Professor of Chemistry, and Cathy Brudnicki, Executive Director, Ventura County Housing and Homeless Coalition. Each received this year's Center for Community Engagement Faculty and Community Partner award respectively for their commitment and dedication to service.
For more information about the Center for Community Engagement contact Pilar Pacheco, Associate Director at ext. 8851 or pilar.pacheco@csuci.edu.
Join Underwood Family Farms Community Supported Agriculture Program!
Every Tuesday, CI staff, faculty and students who subscribe to Underwood Family Farms (UFF) Community Support Agriculture (CSA) program receive a box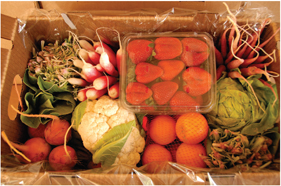 of delicious, locally grown, seasonal vegetables and fruits. The program runs throughout the year with three types of payment plans and different box sizes to accommodate your household and eating habits. Active CSA members receive free admission to the farm for the length of their membership, access to the recipe blog and product community area on the Web site, periodic e-newsletters with updates from the farm, and a 50% discount on the Fall Harvest Festival weekend admission price. Quarterly and semi-annual members can also attend a private tour of the farm. Boxes are delivered to El Dorado Hall every Tuesday at 1 p.m. and are supervised until 1:30 p.m.
To learn more and sign up, visit www.underwoodfamilyfarms.com/CSA_Program.html. This is a great way to support local, sustainable agriculture, eat more veggies and fruits, and build community at CI.
For more information, contact Amy Roemelen, Coordinator of Student Communication and UFF CSA on-campus liaison at ext. 8937 or amy.spandrio@csuci.edu.
Need a Car? Now Your Entire Department Can Borrow Ours!
You know how simple car sharing is—that's why signing up for a Zipcar Departmental Account makes so much sense when traveling on University business.. Using one of our two campus Zipcars can eliminate the hassles of expense reports and mileage reimbursements when University business calls you away from campus.
A Zipcar Departmental Account gives faculty and staff members the freedom to take a car when you want it, and put it back when you're done. Cars are available on-demand 24/7, to be reserved by the hour or day – a minute or a year in advance. Whether it is to pick up supplies, go for a team lunch, attend a recruiting event, regional meeting, conference or training, Zipcar is a great solution.
Rates start at just $7 an hour or $66 per day
Every trip includes gas, insurance, maintenance, roadside assistance and 180 free miles
For more information and to sign up for a Zipcar Departmental Account, please go to: http://www.csuci.edu/parking/zipcar.htm.
© Wavelength May 10, 2012