Recognizing and Preventing Violence in the Workplace, Brown Bag Session - Mar. 4
Faculty and Staff are invited to join CI Police Chief John Reid for a lunchtime brown bag presentation and discussion on Tuesday, Mar. 4 from 12 to 1 p.m. in the Broome Library, Room 1360. Lemonade, tea, and cookies will be provided.
Please RSVP here.
For more information, contact Rachel Huff, Community Involvement Coordinator, at ext. 8444 or Rachel.huff@csuci.edu.
Grad Fest 2014 – Mar. 5-6
On Wednesday, Mar. 5 and Thursday, Mar. 6, Grad Fest 2014 will be held at the Grand Salon from 10 a.m. to 6 p.m. Full details about Grad Fest 2014. (PDF, 268KB)
We are seeking participation from the campus community. If you can volunteer to assist on either day, please complete the following online volunteer sign-up form here.
For questions regarding the event or volunteer opportunities, please contact Amanda Carpenter, Co-Chair of Grad Fest Committee, at ext. 3565 or Amanda.carpenter@csuci.edu.
cinEngage Presents 'Tapped' – Mar. 11
On Tuesday, Mar. 11 at 6 p.m., as a part of the cinÉngage documentary series, the Centers for Community and Multicultural Engagement present Tapped. Stephanie Soechtig's debut feature is an unflinching examination of the big business of bottled water. This timely documentary is a behind the scenes look into the unregulated and unseen world of an industry that aims to privatize and sell back the one resource that ought never to become commodity, our water. The movie will be shown in Malibu Hall 100 with a run time of 54 minutes. Q&A with a speaker will follow.
For more information, contact Pilar Pacheco, Managing Director, Center for Community Engagement, at ext. 8851 or pilar.pacheco@csuci.edu.
Sierra Hall Groundbreaking - Mar. 14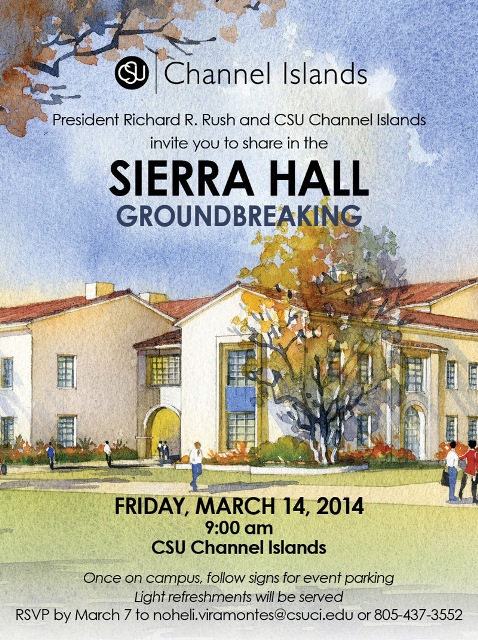 President Rush invites you to share in the Sierra Hall Groundbreaking on Friday, Mar. 14 at 9:00 a.m. RVSP by Mar. 7 to Noheli.viramontes@csuci.edu or ext. 3552.
The project includes the construction of a new building which will house laboratories, offices, lecture spaces, and related support spaces to accommodate growth in the departments of Computer Science, Environmental Science, Geography, Geology Psychology and Physics. Completion of Sierra Hall is expected by the summer of 2015.

For more information, contact Noheli Viramontes, Events Assistant, at ext. 3552 or noheli.viramontes@csuci.edu.
St. Patrick's Day Grand Marshal President Rush – Mar. 15
The campus community is invited to participate in Ventura's annual St. Patrick's Day Parade on Saturday, Mar. 15 featuring President Rush as the parade Grand Marshal!
This year's theme is "The Irish thru the Ages" and students, clubs and organizations, as well as faculty and staff are all welcomed to join the University's parade entry. The parade will begin at 10 a.m. and travel along Ventura's Main Street.
Students, faculty and staff who are interested in participating will receive a green CI t-shirt and will need to meet at 9 a.m. near the parade route in downtown Ventura. Contact nancy.gill@csuci.edu no later than Friday, Feb. 28 for additional event information.
For more information contact Nancy Gill, Director of Communication & Marketing at ext. 8456 or nancy.gill@csuci.edu.
Planning Your Retirement- Free CalPERS Workshop – Mar. 18
Are you Prepared? This free CalPERS educational class helps you plan and prepare for retirement. Regardless of where you are in your career, begin now to secure your future!
Attend this class to learn more about:
Service credit
Retirement formulas and benefit factors
Retirement payment options
Taxes and your retirement
Cost-of-Living Adjustment (COLA)
Retirement application process
CalPERS health benefits
Online resources
The workshop will be held from 2 to 4:30 p.m. in Broome Library, Room 1360. Registration is required- please RSVP here.
For more information, contact Janet Korsmo, HR Support Assistant, at ext. 3181 or janet.korsmo@csuci.edu.
CDS to Host 12th Annual Career & Internship Week – April 10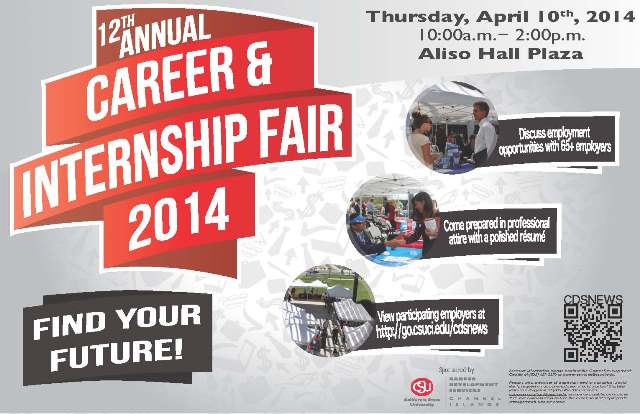 Career Development Services is pleased to announce our 12th Annual Career & Internship Week! We are committed to assisting our CI students and alumni to obtain a professional internship or part-time/full-time employment positions.
On Thursday, Apr. 10, from 10 a.m. to 2 p.m. at Aliso Plaza, students and alumni can network with over 60 local organizations who are actively recruiting to fill internships, as well as part-time/full-time employment position openings. Participants should come prepared in professional dress and bring a polished resume for a potential interview with a future employer. 

For a current list of participating employers, please visit:
http://www.csuci.edu/careerdevelopment/news/

For more information, contact Amanda Carpenter, Assistant Director for Career Development Services & Henry L. "Hank" Lacayo Institute Internship Program, at ext. 3565 or amanda.carpenter@csuci.edu.
Turbulence in the Global Economy and Investment Implications – Apr. 11
On Friday, Apr. 11, from 7:30 to 9:30 a.m., the Martin V. Smith School of Business & Economics, in partnership with Santa Barbara City College, will present "Turbulence in the Global Economy and Investment Implications."
Presented by the Institute's Director, Dr. Sung Won Sohn, the event will take place at Santa Barbara City College, 721 Cliff Drive, Santa Barbara. The event is free and breakfast will be served.  Parking is available in lots 4A-4D on the West campus and permits will not be required. 
Register by April 4 at https://csuci.wufoo.com/forms/iger-event-s80oea0gr75g6/. View the flyer with full details. (PDF, 218KB)
For more information, contact Jennifer Iden, Business and Economics Coordinator, at ext. 3979 or Jennifer.iden@csuci.edu.
Return to the Table of Contents.
© Wavelength February 27, 2014