JET Program Information Session - Sept. 30
Are you going to graduate this year? Have you ever considered teaching English in another country?
The Center for International Affairs is hosting a JET Program information session. This is an internationally-known English Teaching exchange program. If accepted you will be a paid teacher to teach English at elementary, junior and or high schools throughout the country. Interested in learning more? Join us on Tuesday, Sept. 30 in Broome Library, Room 1750 from Noon to-2 p.m. to hear a JET Program representative share their experience and insight in the application process with some cookies.
For more information, contact Motoko Kitazumi, Centers Coordinator, at ext. 2608 or Motoko.kitazumi@csuci.edu.
MVS Speaker Series: Oct. 3 & 17 and Nov. 21
The Fall 2014 MVS Speaker Series will feature three prominent executives who will present on issues they have faced in their respective industries.
On Friday, Oct. 3, Scott Zolke will discuss his career as a partner at Loeb & Loeb, LLP. Zolke focuses his practice on media, entertainment, sports, and intellectual property law. On Friday, Oct. 17, Marty Albertson will discuss his career as Chairman of the Board and CEO of Guitar Center, Inc. Albertson started his career at Guitar Center as a salesman and took on positions of increasing responsibility as he worked his way up. Now retired, he still remains non-executive Chairman of the Board. On Friday, Nov. 21, Kelsey Timmerman will present on the realities of the global food industry and will discuss his latest book, Where Am I Eating? (2013).
Each session will be held from 12 to 2 p.m. in Malibu Hall 100.
For more information, contact Jennifer Iden, Business and Economics Coordinator, at ext. 3979 or Jennifer.iden@csuci.edu.
Major Fair – Oct. 7
The seventh-annual Major Fair will be held on Tuesday, Oct. 7 from 11 a.m.to 2:30 p.m. at the Broome Library Plaza.
Come explore and learn about majors and minors, academic clubs, service learning, study abroad opportunities, academic learning centers, and more.
For more information, contact Merissa Stith, Events Coordinator, at ext. 8548 or merissa.stith@csuci.edu.
SAFE Training - Oct. 15
Faculty, staff and student leaders are invited to sign up for the SAFE (Students, Administrators and Faculty for Equality) workshop, to be held on Wednesday, Oct. 15 from 2 to 5 p.m. in Broome Library, Room 1360. Upon completion, participants will get a SAFE sign for their door to indicate their alliance with the SAFE principles.
This workshop will offer participants a chance to become familiar with some of the pressing issues for lesbian, gay, bisexual, and transgender people on campus. Participants will practice dealing with specific situations like hate speech and workshop ideas.
For more information, contact Annette Puyolt, Project ISLAS Analyst, at ext. 3537 or Annette.puyolt@csuci.edu.
Campus Reading Celebration- Oct. 16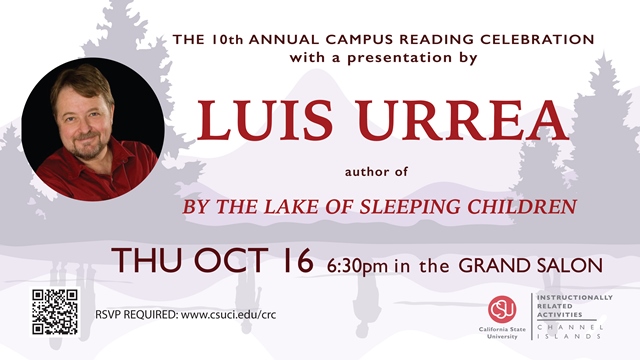 CI will welcome award-winning writer Luis Urrea for the tenth-annual Campus Reading Celebration, Thursday, Oct. 16, at 6:30 p.m. in the Grand Salon.
The Campus Reading Celebration is an annual event that unites the campus, community and notable authors in a shared intellectual experience. This year, students nominated and selected "By the Lake of Sleeping Children: The Secret Life of the Mexican Border," by Luis Urrea for our campus read. Fitting CI's dedication to an interdisciplinary curriculum, the work touches on topics and issues studied in Environmental Science, Political Science, English, Biology, Sociology, Psychology, History, Communications, Spanish, Economics, Business, Global Studies, and Chicano/a Studies.
The event will include Urrea's presentation, a Q&A session with the audience, a book signing, and a light reception. Registration is required online. Admission is free for CI students, faculty and staff; $5 for all other students; and $10 for the public. Copies of Urrea's book will be available for sale and signing at the event and in advance at the Cove Bookstore.
For more information, visit http://www.csuci.edu/crc or contact Merissa Stith, Events Coordinator, at ext. 8548 or merissa.stith@csuci.edu.
President's Dinner – Oct. 18
Join us for the grooviest gala of the season as you dance and sing along to the classic tunes of The Beatles. The 1960's- themed gala will be held on Saturday, Oct. 18at the Hyatt Westlake Plaza. Enjoy fine food, live music, dancing, entertainment, fabulous live and silent auctions, and much more! With a little help from our friends, we can bring students' dreams to degrees. Proceeds will support the University's highest priority needs.
The 2014 Robert J. Lagomarsino award will be given to George Leis. Leis is the national sales manager for Union Bank's Private Bank and has chaired CI's Foundation Board since 2012. His leadership has been a positive impact on our campus by strengthening CI's mission and goals.
CI faculty and staff receive a discounted ticket of $150 per person (discounted from $250). Faculty or staff members are eligible to purchase two tickets at this special rate. Payroll deduction can be utilized to make this purchase even easier. Visit https://csuci.wufoo.com/forms/stafffaculty-the-presidents-dinner/ to purchase your tickets online.
View full details on the event. (PDF)
For more information contact Noheli Viramontes, Advancement Events Assistant, at ext. 3552 or Noheli.viramontes@csuci.edu.
How Technology is Reshaping the Global Economy and Investment Implications- Oct. 24
The next IGER (Institute for Global Economic Research) luncheon will be held on Friday, Oct. 24 from 12 to1:30 p.m. in Malibu Hall100.
The economies of the developed and developing markets have entered into a period of slow economic growth. In this environment, technology is altering consumption, production and trade patterns producing winner and losers. For individual investors, the changing economic dynamics of the global economy has important investment implications. Attend the luncheon to learn more and discuss.
For more information, contact Jennifer Iden, Business & Economics Coordinator, at ext. 3979 or Jennifer.iden@csuci.edu.
NAFTA Conference- Oct. 24
You are invited to attend the NAFTA Conference on Friday, Oct. 24 from 9 a.m. to 4 p.m. in Broome Library, Room 1320.
NAFTA, the North American Free Trade Agreement, was enacted twenty years ago in 1994. Advocates of NAFTA argued that this free trade bill would enrich the three nations involved: Canada, the U.S., and Mexico. Proponents argued that lifting government regulations and modifying existing labor and environmental laws would benefit all parties to the treaty.
Proponents also argued that NAFTA would deter undocumented immigration. Yet from the beginning there has been wide opposition to the treaty. In Chiapas, the Ejercito Zapatista Liberacion Nacional violently opposed the treaty and engaged in battle with the Mexican army. Peasant and labor organizations as well as journalists and academics have criticized aspects of the treaty, from the growth of maquiladoras to its environmental and labor provisions. NAFTA has also been the catalyst for the massive increase in undocumented immigration for the past two decades.
RSVP for NAFTA Conference. For full event details, view the flyer. (PDF)
For more information, contact Jose Alamillo, Professor, Chicana/o Studies, at ext. 2685 or jose.alamillo@csuci.edu.
Return to the Table of Contents
© Wavelength September 25, 2014