Girl Rising – March 3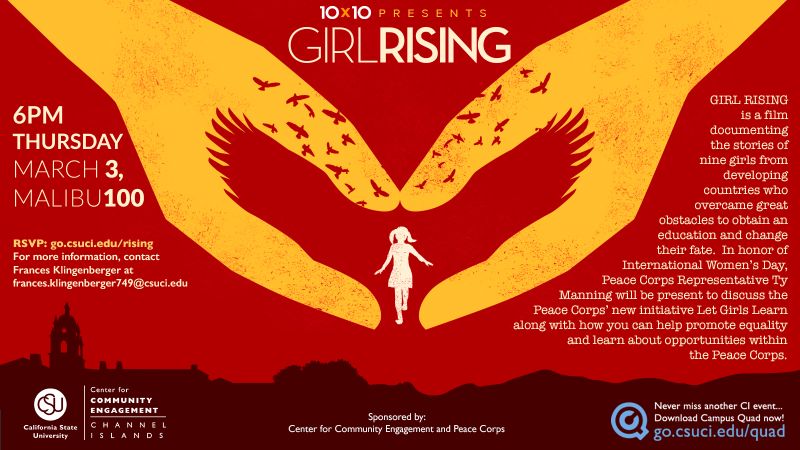 On Thursday, March 3 from 6 – 8 p.m. in Malibu Hall, Room 100, the campus community is invited to a screening of the film Girl Rising.
Girl Rising documents the stories of nine girls from developing countries who overcame great obstacles to obtain an education and change their fate.
In honor of International Women's Day, Peace Corps Representative, Ty Manning, will be present to discuss the Peace Corps' new initiative Let Girls Learn along with how to help promote equality and learn about opportunities within the Peace Corps. This event is sponsored by The Center for Community Engagement and Peace Corps.
For additional information contact Frances Klingenberger, Community Engagement Ambassador, at 805-437-2608 or frances.klingenberger749@csuci.edu.
Women's Recognition Luncheon – March 8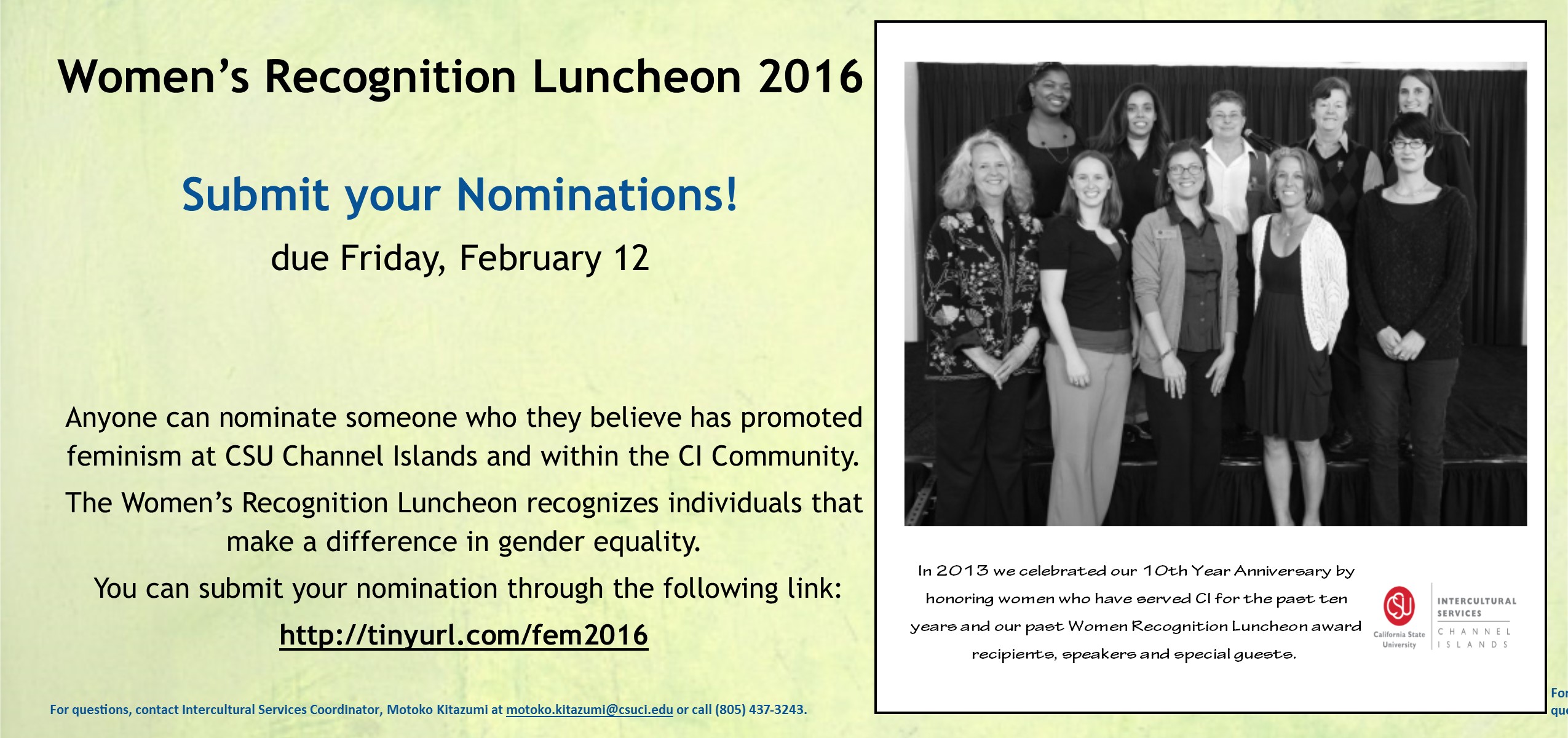 Each year, Intercultural Services hosts a Women's Recognition Luncheon to honor individuals who foster the growth and development of our community through leadership, service and dedication. In doing so, it's our hope to make a difference towards gender equality and encourage a climate of advocacy.
The Women's Recognition Luncheon will be held on Tuesday, March 8 in Grand Salon from Noon – 2 p.m. The keynote speaker is Jenna Tosh, CEO of Planned Parenthood, who will address the current social climate about reproductive rights. The overall goal of the luncheon is to inform students and empower them to vote in the upcoming election.
The luncheon is open to the campus community. RSVP at http://tinyurl.com/fem2016 to guarantee your seat. Full details for Women's Recognition Luncheon. (PDF, 486KB)
March 8 is also International Woman's Day, to learn more go to: http://www.internationalwomensday.com/ and http://www.unwomen.org/en.
For additional information contact Motoko Kitazumi, Intercultural Services Coordinator, at 805-437-3243 or Motoko.kitazumi@csuci.edu.
Grad Fest - March 9 & 10
Grad Fest 2016 will be held on Wednesday, March 9 and Thursday, March 10 from 11 a.m. to 7 p.m. in the Grand Salon. 
Grad Fest provides students who are eligible to commence the opportunity to meet their commencement needs in one convenient time and place. Designed as a "one stop shop," students wishing to participate in the graduation ceremony can:
Buy a cap and gown
Pick up day-of parking permits
Take graduation portrait photos
Purchase announcements
RSVP for the actual event
Join the Alumni & Friends Association
Speak with career services
Take care of last minute records issues
Please note: graduating students only need to attend Grad Fest on one day, either March 9 or 10.  Attendance on both days is not required.
If you are interested in volunteering, or for additional information contact Danielle Quillan, Development & Special Projects Assistant, at ext. 3957 or danielle.quillan@csuci.edu.
Safe Spring Break - March 14-16
Wellness Promotion & Education will host Safe Spring Break (SSB) Monday, March 14 through Wednesday, March 16  in the Central Mall from 10 a.m. to 1 p.m. each day. 
Please join campus and community members for three days of fun and informative activities related to having a safe and fun spring break. SSB is Coachella-inspired, so wear your Coachella-best.

If your organization would like to participate in this event, complete registration form.

For more information please contact Wellness Promotion & Education 805-437-3521 or wpe@csuci.edu.
Transportation and Environment Summit – March 15
The Transportation and Environment Summit (PDF, 963KB) will take place on Tuesday, March 15 from 4 – 7 p.m. in Malibu Hall, Room 100.  Dinner will be served at 6 p.m.
The Transportation and Environment Summit will focus on important transportation issues facing the region, state, and country. This event is brought to you by Ventura County Transportation Commission (VCTC) and CI Transportation & Parking Services, with the help of CI Student Government.
For additional information contact Transportation & Parking Services at 805-437-8430 or parking@csuci.edu.
Farewell Celebration – April 9
The CSU Channel Islands Foundation will host a black-tie dinner in tribute to our Founding President Richard R. Rush. The event will take place on Saturday, April 9 at the Ronald Reagan Presidential Library, Air Force One Pavilion, in Simi Valley. 

Discounted tickets for CI faculty, staff, and alumni are sold out, however you can purchase regular priced tickets ($150 each) on-line or by payroll deduction. Discounted tickets are still available for CI Students ($20 each, limit one per person). Please note there are limited quantities available at this price point. 

We hope you will join us for this special occasion to celebrate President Rush's significant contributions and accomplishments.
Full details for the Farewell Celebration. (PDF, 215KB)
For additional information contact Mackenzie Tolson, Advancement Events Specialist, at 805-437-3552 or Mackenzie.tolson@csuci.edu.
Lavender Brunch – April 28
On Thursday, April 28, from 11 a.m. to 1 p.m., Intercultural Services and Spectrum will be hosting CI's annual Lavender Brunch in the Petit Salon.
The Lavender Brunch recognizes the challenges and celebrates the triumphs experienced by LGBTQIPA students during their college years and allows graduating seniors the opportunity to recognize a CI mentor during their time in college.
The goal for the Lavender Brunch is to educate students on how they can support the LGBTQIPA community beyond CI. This year's keynote speaker is Chris Angel Murphy, currently a Trevor Space administrator for the Trevor Project. The Trevor Project is an organization that provides suicide prevention within the LGBTQIPA community. Chris graduated from Cal State L.A. with a bachelor's degree and from USC with a master's degree, both in Social Work. Chris is interested in working with foster care youth, the trans* and non-binary experience, and domestic violence towards LGBT+ youth.
Graduating seniors who would like to recognize a mentor at the Lavender Brunch for their support and encouragement of the LGBTQIPA community can do so at http://tinyurl.com/lavender2016. Nominations are due by Monday, April 4. 
Brunch will be provided to those who RSVP by April 15.
For additional information contact Motoko Kitazumi, Intercultural Services Coordinator, at 805-437-3243 or Motoko.kitazumi@csuci.edu.
Return to the Table of Contents
© Wavelength March 3, 2016