An Evening Under the Stars! – Oct. 8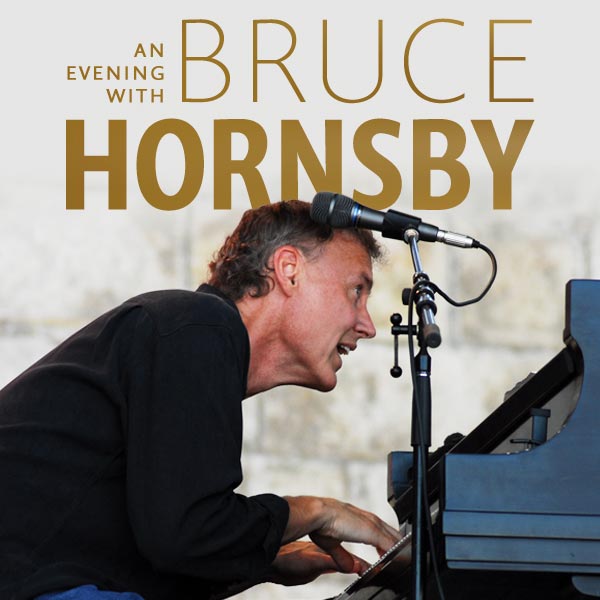 The CSU Channel Islands Foundation and Rabobank are pleased to present an evening with Bruce Hornsby on Saturday, Oct. 8th, 7 p.m., for a concert under the stars featuring a piano solo concert by the Grammy® Award-Winning artist at Ojai's Libbey Bowl. Hornsby is best known for the title track of his 1986 debut album - The Way It Is – which became one of the most popular songs on American radio.
Individual discount tickets ($50) are available for students, faculty, staff and alumni (limit one per person). Tickets can be purchased online. Purchase your ticket now as there is a limited quantity at this price point. Funds raised from the event will strengthen academic programs and create opportunities for CI students.
For more information contact Mackenzie Tolson, Events Specialist, at 805-437-3552 or Mackenzie.tolson@csuci.edu.
Peace Corps & Pizza – Oct. 11
On Tuesday, Oct. 11 from 12:30 to 1:30 p.m. at Ojai Hall, Room 1986, join a returned Peace Corps volunteer and your Peace Corps Campus Ambassador to learn about the toughest job you'll ever love. Come visit and learn about the work of volunteers worldwide, tips on applying, and have any questions answered. Learn about the Peace Corps' graduate programs, career advantages, and how you can make a difference.
RSVP if you plan to attend. View the flyer for full details (PDF, 282KB).
For more information contact Frances Klingenberger, Peace Corps Ambassador, at 805-437-2608 or frances.klingenberger749@csuci.edu.
Josie Trinidad: From Oxnard to Disney – Oct. 19
Intercultural Services is excited to announce that Josie Trinidad, the first female Co-Head of Story for the acclaimed Disney movie Zootopia, will be visiting CI on Wednesday, Oct. 19h. To learn more about her impact in the Disney workforce, check out this 30 second video.
As Co-Head of Story, Trinidad oversaw the team that transformed the script of Zootopia into illustration. Trinidad started working for Disney in 2004 as a story apprentice and was later hired as a story artist, a position in which she helped bring a script to life by contributing to its initial illustration. Her work as a story artist for Disney films includes: The Princess and the Frog, Tangled, and Wreck-It Ralph.
This event will take place in the Grand Salon on Wednesday, Oct. 19 from Noon – 2 p.m. Trinidad will be discussing her personal and professional journey, from growing up in Ventura County to her present career at Walt Disney Animation Studios. Furthermore, she will speak on how her experiences were reflected in Zootopia and how she believes it is important to remember where you came from. Light refreshments will be served.
Please RSVP at by Friday, October 14th if you plan to attend.
For more information contact Motoko Kitazumi, Intercultural Services Coordinator, at 805-437-3243 or Motoko.kitazumi@csuci.edu.
Campus Reading Celebration – Oct. 20
CI is pleased to welcome Jennine Capó Crucet, author of "Make Your Home Among Strangers," to the campus on Thursday, Oct. 20. Crucet will present her keynote address at the Grand Salon at 6 p.m., followed by Q&A and a book signing. Doors open at 5:30 pm.
Click here for details and tickets to the event.
For more information contact Carolyn Shamowski, Conferences & Events Specialist, at 805-437-3698 or Carolyn.shamowski@csuci.edu.
Science Carnival – Nov. 5
Pre-K through 8th grade students and their families are invited to attend the annual Science Carnival, on Saturday, Nov. 5 from 5-8 p.m. at Thurgood Marshall School in Oxnard.
The Science Carnival is a spooky science/Halloween-themed event that is designed to give kids a hands-on experience with science, technology, engineering, and mathematics. Over 80 science activities and demonstrations are available to experiment with. Kids are encouraged to wear their costumes! The event and parking are free. Additional details are available on the Science Carnival Website.
A new component of the Science Carnival has been added which is the STEM Experiences for Educators and Leaders (SEEL) from 2:30 - 4 p.m. that same day. SEEL provides PK-8 grade educators and leaders as well as afterschool educators and leaders with hands-on experience with Science Carnival activities that they can take back to their educational settings. Please consider encouraging interested educators/ leaders to register online.
Volunteers from the CI community are welcomed. Register as a volunteer at www.csuci.edu/sciencecarnival/volunteer.
For more information contact Phil Hampton, Professor of Chemistry at 805-437-8869 or philip.hampton@csuci.edu; or Sandra Birmingham, Associate Director for STEM Educational Outreach at 805-437-3597 or sandra.birmingham@csuci.edu.
Return to the Table of Contents
© Wavelength October 6, 2016