Throwback Thursday: CSUCI is back
As part of our ongoing communication strategy, the University will once again use the "CSUCI" acronym for formal or external University communication such as documents/forms, publications, marketing materials, etc. This strategy will continue to strengthen our brand by aligning with news articles, our social media channels, website and emails.
As noted in the University's Writing Style Guide (PDF, 154KB), always use the University's name on first reference followed by the acronym, i.e. California State University Channel Islands (CSUCI) or CSU Channel Islands (CSUCI). We would appreciate your assistance with this strategy by incorporating this change in upcoming print or electronic documents, agreements, etc.  
"CI" may continue to be used verbally or informally on campus by students, faculty and staff, as well as the continued branding of campus portals, such as: myCI, CI Learn, CI Records, CI Financials, etc. Likewise, our Dolphin Spirit logos may continue to be used for campus or student activities.
For more information, contact Nancy Covarrubias Gill, Director of Communication & Marketing, at 805-437-8456 or nancy.gill@csuci.edu.
Alumni Helping Students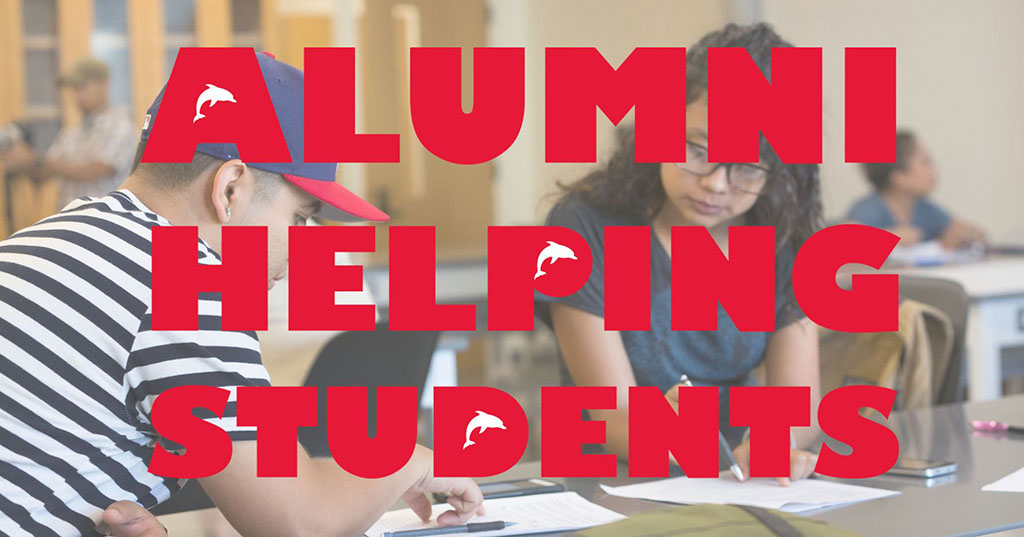 Alumni Helping Students is a great way to give back to CI with a gift that is meaningful to current students. Last year, CI alumni raised over $40,000 for student scholarships from more than 500 gifts ranging from $1 to $1,000.
When we say every dollar counts, we mean it. And now you decide where your gift will go. Whether its student scholarships, internships, or the Dolphin Pantry, you can find a cause that will make a difference.
Learn more about eight initiatives that you can choose from at go.csuci.edu/ahs. Make your gift to Alumni Helping Students online at igfn.us/f/11ma/n or text "CIALUMNI" to 414-44.
For more information contact Steven Guetzoian, Specialist, Alumni Engagement & Annual Fund, at 805-437-3622 or steven.guetzoian@csuci.edu.
Center for Community Engagement: Call for Nominations and Recognition
The Center for Community Engagement invites the campus community to submit nominations for our 2017 awards and recognitions for service-learning and community engagement. Each year, we honor our awardees at our Celebration of Service (scheduled this year for May 4). Please consider submitting a nomination for any of the following awards:
Community Engaged Faculty
Richard R. Rush Community Partner
Community Engaged Student
Outstanding Student Reflective Essay
In addition to the above awards, we also honor outstanding curricular service-learning projects with our Best Practices in Service-Learning Recognition. Projects recognized for best practices will have a poster representing the project displayed at the Celebration of Service.
All forms can be found at http://www.csuci.edu/servicelearning/awards-and-recognition.htm. Submit your nominations by April 21 and be a part of our tradition.
For additional information contact Pilar Pacheco, Managing Director, Center for Community Engagement, at 805-437-8851 or pilar.pacheco@csuci.edu.
Return to the Table of Contents
© Wavelength April 20, 2017