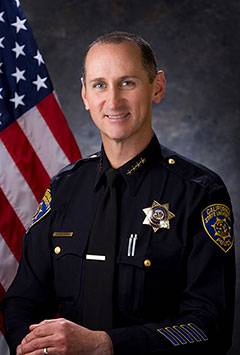 Chief Michael Morris began his law enforcement career in March of 1992 as a police officer with the City of Lemoore and ultimately promoted to the rank of sergeant.  In June of 2000, he launched his career into the world of university policing as a sergeant at CSU Bakersfield and there he discovered how much he loved working in higher education law enforcement.  He began to continue his formal education and in doing so he was able to experience university life from a student's perspective, which prepared him to more effectively serve students in this environment.
In December of 2006, Chief Morris joined the ranks at CSUCI.  As lieutenant and second-in-command, he was responsible for managing all of the day-to-day operations of the University Police Department.  In February of 2018, after having served as acting chief for the previous five months, he was formally appointed as CSUCI's permanent chief of police.  As the police chief he oversees the University Police Department, Transportation & Parking, and Environmental Health & Safety work groups.
Chief Morris holds a B.A. degree in Criminal Justice and a Master's in Public Administration from CSU Bakersfield, and is a graduate of the California Law Enforcement Command College, as well as Northwestern University's Executive Development Program.