Fourth Annual Major Fair - Oct. 18
CI's fourth annual Major Fair will take place on Oct. 18 from 11 a.m. to 2 p.m. in Salon A. This event will assist students with exploring their major/minor options and also to help answer questions regarding the various academic opportunities available to them. Faculty representatives will be available at tables to speak with students regarding academic program choices. Academic Advisors and Career Center staff will also be on hand to answer questions for students. Students can obtain all the information they need at one time and in one place! Lemonade and cookies will be served at the event.  
For additional information, contact Beth Williams, Advising Center Support Coordinator, at ext. 8571 or email advisement@csuci.edu.


Great California Shakeout Drill - Oct. 20

For years, scientists have been predicting the next big earthquake to hit California. It is vitally important that every member of our campus community be prepared when it does.
On Thursday, Oct. 20 at 10:20 a.m., get ready to DROP where you are, COVER your head or get under a sturdy desk or table, HOLD ON to something sturdy and stay in place until the shaking stops. This year it is estimated that more than 7.4 million Californians will participate in this annual drill.
To prepare for this and other major events, CI conducts regular building evacuation drills to test and verify the building fire and evacuation notification alarms. In the event of a real earthquake emergency, occupants would DROP, COVER & HOLD ON and then immediately evacuate their building with the assistance of their Building Marshals who are appointed by the University to assist building occupants in the event of an emergency.
For information regarding the Building Marshal program and to develop your personal evacuation plan, please visit the Emergency Preparedness web page at http://www.csuci.edu/police/emergency-management/index.htm.
For additional information about CI's participation in the Great California Shakeout Drill, contact Sergeant Jeff Cowgill, University Police, at ext. 8444 or jeff.cowgill@csuci.edu.


"Meet the CEOs" speaker series continues – Oct. 28
On Friday, Oct. 28 from Noon to 2 p.m., the Business Advisory Council (BAC), a voluntary support group of the Martin V. Smith School of Business & Economics, will present Michael Powers, County Executive Officer for the County of Ventura. Powers oversees a budget of $1.7 billion and over 8,000 employees in 25 agencies and departments.
The event will be held in Malibu 100 with complimentary lunch and parking. Please RSVP to the event at https://csuci.wufoo.com/forms/fall-2011-speaker-series.
To learn more about the Business Advisory Council, visit http://www.csuci.edu/bac/. For additional event information contact Merissa Stith, Academic Events Coordinator, at ext. 8548 or merissa.stith@csuci.edu.

 
Free R.A.D. Self Defense Training offered in November
Could you effectively defend yourself if attacked? Learn how from trained University Police personnel at this 12-hour class held on Nov. 7, 8, 14 and 15 (3 hours each day from 6:30 – 9:30 p.m.) for women students, faculty and staff – free of charge. The Rape Aggression Defense System is a program of realistic, self-defense tactics and techniques. This comprehensive course for women begins with awareness, prevention, risk reduction and avoidance, and progresses to the basics of hands-on defense training.
Participants must attend all four sessions to complete the program. Class size is limited;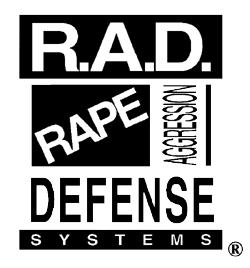 register now at Police & Parking Services Customer Service located in Placer Hall between 8 a.m. and 3 p.m. weekdays. A $20 deposit will be collected at the time of registration and will be fully refunded upon completion of the course. A wait list will be established for the next class offered spring semester.
R.A.D. (Rape Aggression Defense) is the largest women's self-defense training program in the country, being taught by more than 350 universities and municipal law enforcement departments nationwide.THE R.A.D. ADVANTAGE:
Has established the standard for female self-defense programs
Offers no-nonsense, practical techniques of defense
Provides realistic and dynamic hands-on training
Provides students with a comprehensive Reference Manual
For additional information, please contact Officer Dan Russ, University Police, at ext. 8444 or dan.russ@csuci.edu.

© Wavelength October 13, 2011