Alumnus showcased in "CSU Working for California" program
2007 Liberal Studies graduate Kosta Grammatis has recently been selected by the CSU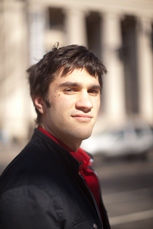 Chancellor's Office as a distinguished "CSU Working for California" alumnus to be featured in communication across the state.
Kosta has researched at the Massachusetts Institute of Technology (MIT) Media Lab and worked on projects ranging from bionic eyes, satellites, spacecraft, and vision testing systems for developing countries. Projects he has worked on have been awarded TIME 's best invention of 2009, Vodaphone's Wireless Innovation Award, and won the MIT Global Challenge, and a Google Innovation Grant.
He has spoken at TEDx, the United Nations, and multiple space and communications conferences. He has started A Human Right, a non-profit that will build a comprehensive set of solutions with the intention of bringing Internet access to all people.
CSU will release a booklet highlighting Kosta and other CSU alumni and will promote their successes in various Web and social media outlets. He may also be selected to have a poster highlighted in the State Capitol building in Sacramento. Not every CSU campus will have an alumni selected, however, CI has had an alumnus highlighted each of the past three years since the program's inception.
For additional information, contact Tania Garcia, Director of Alumni Relations, at ext. 8952 or tania.garcia@csuci.edu.
CI Records upgrade -- Oct. 13 - 21
CI Records will be getting a facelift beginning Oct. 13. The University will be upgrading the current campus release of CI Records (Oracle/PeopleSoft; CMS) to application release 9.0.  This upgrade is part of an ongoing effort to ensure the campus keeps pace with the technology of our Student and Administrative Information Systems, and meets the changing needs of our students, faculty and staff.
The upgrade begins at 12:00 Noon on Oct. 13 and CI Records will be unavailable to the campus until the upgrade has been completed.
How does this affect you?
Staff will not be able access CI Records to view or update student records; this includes Admission information for applicants, Records for current students such as transcripts, Financial Aid data, or Student Business Services payment information.
Faculty will not be able to access class rosters or view past grade rosters in CI Records.
Students will not be able to access their records within CI Records or have the ability for staff to process their requests until after the upgrade is complete.
Please note: in the Sept. 15 issue of Wavelength it was erroneously communicated that the start date and time for the upgrade was Oct. 12 at 5:00 pm.
For additional information on CI Records Upgrade, visit the CI Records Upgrade Web page at http://www.csuci.edu/cicms/ci-records-90upgrade.htm. If you have questions about the project, please contact Neal Fisch, Director of Application Solutions, at ext. 3278 or neal.fisch@csuci.edu or your area's CI Records functional lead.


University named a "Military Friendly School"
CI has been named a "Military Friendly School" in an annual list that highlights colleges and universities who are doing their best to recruit, retain and support military veterans. The ranking, which resulted from a survey of more than 8,000 institutions nationwide, places CI in the top 20 percent of all colleges and universities for its military friendliness.
The annual list is compiled by G.I. Jobs magazine, a respected, veteran-owned publisher that targets members of the military. To view the 2012 Military Friendly Schools list by G.I. Jobs, visit http://www.militaryfriendlyschools.com.
In its 2012 listing, G.I. Jobs commends CI for practices such as offering veterans priority registration and transferring help, assistance with G.I. Bill benefits, a Vet 2 Vet mentoring program, two student organizations, customized orientation and academic advising sessions, a veteran-oriented workshop series, a resume-writing service, and a campus Veterans Resource Center where veterans can study, socialize and meet with advisors. Currently, 171 students at CI are veterans, members of the military, or their survivors or dependents – approximately 3 percent of the total student body.
For additional information on CI's veterans affairs programs, contact Jay Derrico, Veterans Affairs Program Coordinator, at ext. 2745 or jay.derrico@csuci.edu.

© Wavelength October 13, 2011