Grad School Workshop, Oct. 23
Join members of the CI community on Thursday, Oct. 23 from 5-6 p.m. in El Dorado Hall to learn more about the benefits of graduate school and what students can do now to prepare for  graduate school. This workshop will also review typical admission requirements for graduate school. 

Have questions? Stop by! A financial aid representative will also be available. 

Students interested in attending can RSVP by calling the Graduate Studies Center at ext. 3579 or  gs.center@csuci.edu; walk-ins are also welcome!
For more information, contact Marilyn Medina, Administrative Support Assistant, at ext. 3579 or Marilyn.medina@csuci.edu.
Saturday Series Workshops– Oct. 25
The Graduate Studies Center (GSC) and the Broome Library will host two workshops on Saturday, Oct. 25 from 10 a.m. to 2 p.m. in El Dorado Hall.  Lunch will be provided to students who RSVP, and children (5+) are welcome when accompanied by an adult.  RSVP here.
Session Details:
Introduction to the Thesis - Led by Cynthia King
After progressing through your program's series of classes and working with a group of students and faculty in your studies of particular topics, many students find the solitary work of thesis research and writing to be extra challenging. There are many questions that arise, which we will explore in this workshop. Bring your notes and/or writing samples from your thesis/project, and we will help you take the next steps.
Broome Library and You: From Literature Review to Resources - Broome Library Can Help You Succeed- Led by Janet Pinkley and Kaela Casey
Post-baccalaureate students are often required to conduct a literature review as part of a research assignment or as part of their thesis. Learn more about the purpose of a literature review, as well as how to get started and how to utilize the library to conduct a thorough search to locate literature on your topic.
For more information, contact Marilyn Medina, Administrative Support Assistant, at ext. 3579 or Marilyn.medina@csuci.edu.
Day of the Dead: Celebration of Life – Oct. 27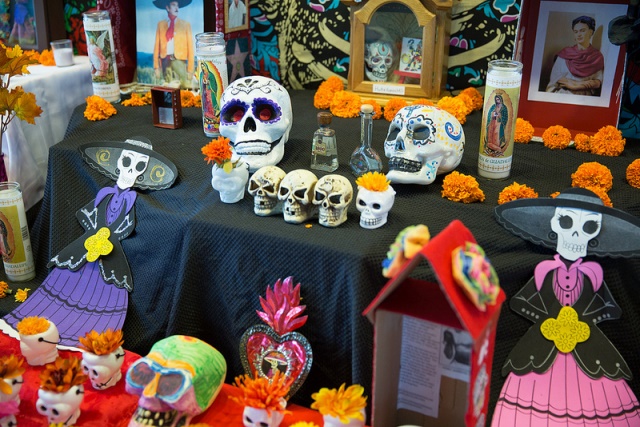 CI invites the campus and community to join in the Sixth Annual Day of the Dead: Celebration of Life, Monday, Oct. 27, from 5-6:30 p.m. at the John Spoor Broome Library. Presented by CI Intercultural Services, the Broome Library, and students of the Art program, the free public event features speakers, dancers, music, face painting, crafts, art exhibitions, and the opportunity to participate in creating a giant sand mural altar on the Library Plaza.
For more information, contact Kirsten Moss, Director of Multi Access Programs, at ext. 3156 or Kirsten.moss@csuci.edu.
Health, Body and Mind Special Yoga Workshop – Oct. 28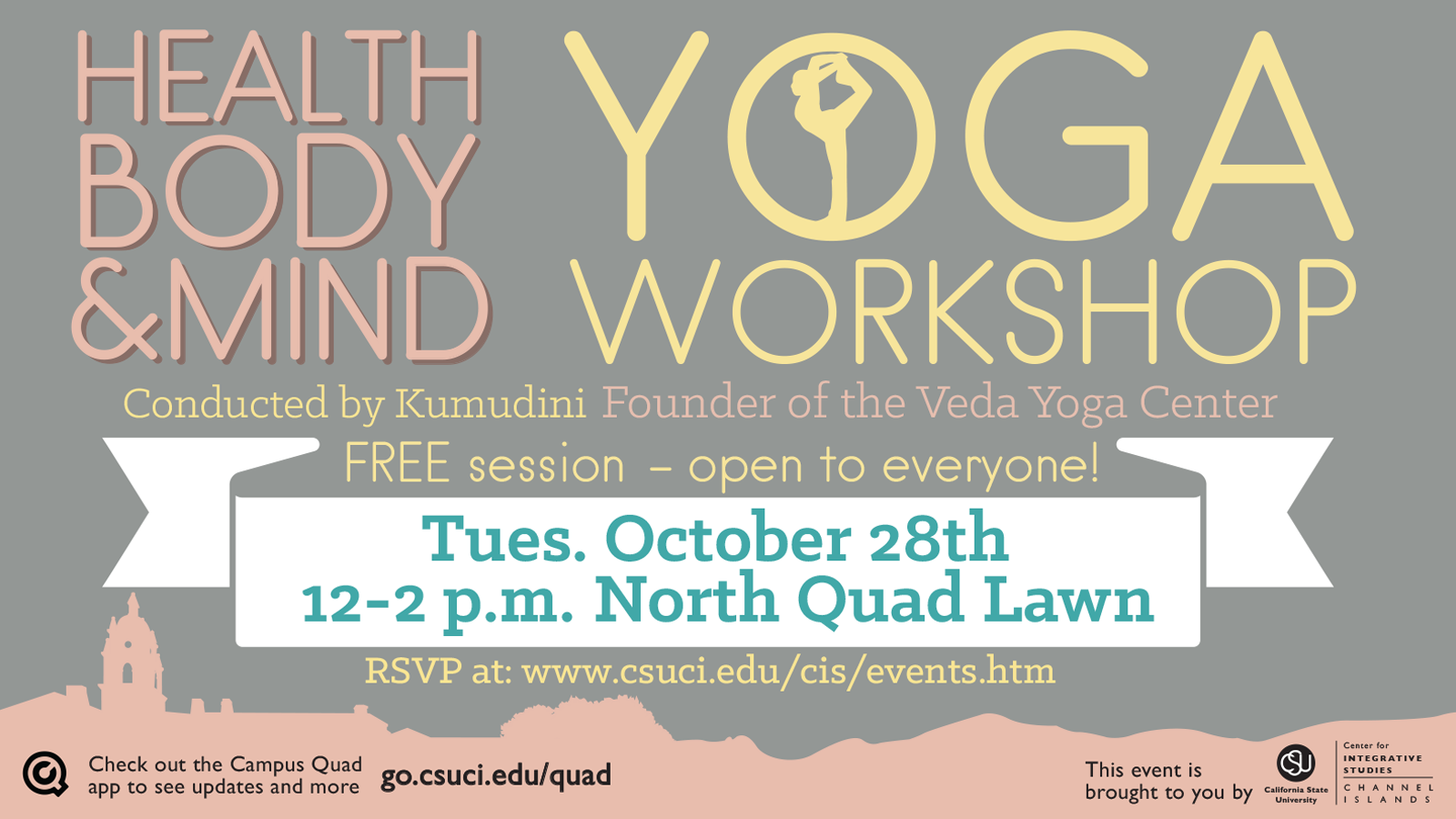 Please join  a free Yoga session on Tuesday, Oct. 28, from noon-2p.m. at the North Quad lawn.  Kumudini, founder of the Veda Yoga Center and a practicing yogini for the past 15 years will be conducting this exclusive workshop. This event is open to all faculty, staff, students and community members. The workshop will include a talk about the advantages of yoga as well as a broad array of hatha yoga exercises, emphasizing "one breath, one movement." Register for this event here. Bring your yoga mats and dress in comfortable clothing.
For more information, contact Motoko Kitazumi, Centers Coordinator, at ext. 2608 or Motoko.kitazumi@csuci.edu.
Flu Clinics – Oct. 29 &30
Student Health Services (SHS) has flu vaccines available for all faculty, staff and currently enrolled students. Vaccines for students are no cost; and faculty and staff are $2 (exact change please). Clinics will be held in the Bell Tower East Mission Lounge on the following dates and times.

Wednesday, Oct. 29, 10:30 a.m. – 12:30 p.m.
Thursday, Oct. 30, 1:30  – 3:30 p.m.

Who Should Not Be Vaccinated 
Some people should not be vaccinated without first consulting a physician. They include:
• People who have a severe allergy to chicken eggs. 
• People who have had a severe reaction to an influenza vaccination in the past. 
• People who developed Guillain-Barre syndrome (GBS) within 6 weeks of getting an influenza vaccine previously. 
• Children less than 6 months of age (influenza vaccine is not approved for use in this age group). 
• People who have a moderate or severe illness with a fever should wait to get vaccinated until their symptoms lessen. 
If you have questions about whether you should get a flu vaccine, consult a healthcare provider.
For more information, contact CI Student Health Services at ext. 8828 or student.health@csuci.edu. 
SOLD OUT: Justice Sandra Day O'Connor to Visit CI  – Oct. 30
CI invites the campus community to an evening with retired U.S. Supreme Court Justice Sandra Day O'Connor, on Thursday, Oct. 30, from 6 to 6:30 p.m. in the Grand Salon. O'Connor will speak about civic engagement, democracy and her life experiences in a presentation entitled, "Democracy in the Digital Age." This free event is presented by CI's Political Science and History programs. 
For more information, contact Merissa Stith, Assistant Manager of Conferences & Events, at 805-237-8548 or merissa.stith@csuci.edu.
Science Carnival - Nov. 1
K-8 students and their families are invited to attend the 6th annual Science Carnival, 5 to 8 p.m. on Saturday, Nov. 1 at Thurgood Marshall Elementary School in Oxnard.
The Science Carnival is a spooky science/Halloween-themed event that is designed to give kids a hands-on experience with science, technology, engineering, and mathematics. Over 75 science activities and demonstrations are available to experiment with. Kids are encouraged to wear their costumes! The event and parking are free. Additional details are available on the Science Carnival website. 
Volunteers from the CI community are welcomed. Click here if you are interested in volunteering.
For more information, contact Phil Hampton, Professor of Chemistry, at ext. 8869 orPhilip.hampton@csuci.edu; or Tracy Tumble, Assistant STEM Outreach Coordinator, at ext. 3597 or tracytumbale255@csuci.edu.
Return to the Table of Contents
© Wavelength October 23, 2014