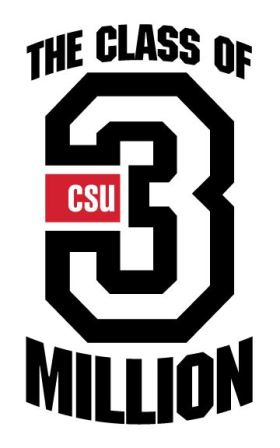 CSU Class of 3 Million!
The California State University is proudly celebrating the Class of 3 Million! Be the first to take your place alongside the millions of CSU alumni who have shaped California by signing the world's largest yearbook.

Each yearbook participant has the chance to win the opportunity to award one of three $10,000 scholarships to a future or current student of your choice. We hope you join the 3 Million Celebration and encourage fellow CSU Alums to participate. Join the online yearbook at https://classof3million.calstate.edu/.
For more information, contact Tania Garcia, Director of Development, Alumni Relations, at ext. 8952 or Tania.garcia@csuci.edu.
CIS: Climate Change Student Video Contest
The Center for Integrated Studies (CIS): Climate Change video contest is open to all currently enrolled CI students to create a 4 to 5 minute video that answers these three questions:

1. Why do you care about climate change?
2. How are you reducing carbon pollution or preparing for the impacts of climate change?
3. What climate solutions have you identified?

The deadline is Oct. 24 at 4p.m.  and the first 25 entries will receive a free promotional gift! Full details are available at http://www.csuci.edu/cis/events.htm.  Click here to view the flyer. (PDF)
For more information, contact Motoko Kitazumi, Centers Coordinator, at ext. 2608 or Motoko.kitazumi@csuci.edu.
Great California ShakeOut Drill
On Thursday, Oct. 16 at 10:16 a.m., get ready to DROP where you are, COVER your head or get under a sturdy desk or table, HOLD ON to something sturdy and stay in place until the shaking stops. This year it is estimated that more than 9 million Californians will participate in the Great California ShakeOut Drill, an annual, five minute drill (no evacuation included) which is part of a worldwide earthquake drill. .  There are many fun and creative ways to participate, so register! SHAKEOUT DON'T' FREAKOUT!
To prepare for this and other major events, CI conducts regular building evacuation drills to test and verify the building fire and evacuation notification alarms. In the event of a real earthquake emergency, occupants would DROP, COVER & HOLD ON and then immediately evacuate their building with the assistance of their Building Marshals who are appointed by the University to assist building occupants in the event of an emergency.
For information regarding the Building Marshal program and to develop your personal evacuation plan, visit the Emergency Preparedness website.
For more information, contact Maggie Tougas, Emergency Manager, at ext. 3765 or maggie.tougas@csuci.edu.
Return to the Table of Contents
© Wavelength October 9, 2014