---
Center for Integrative Studies (CIS) Sponsored Events
---
Arts Under the Stars
 Arts Under the Stars is back for another year of community and creativity, featuring a variety of projects, performances and collaborations.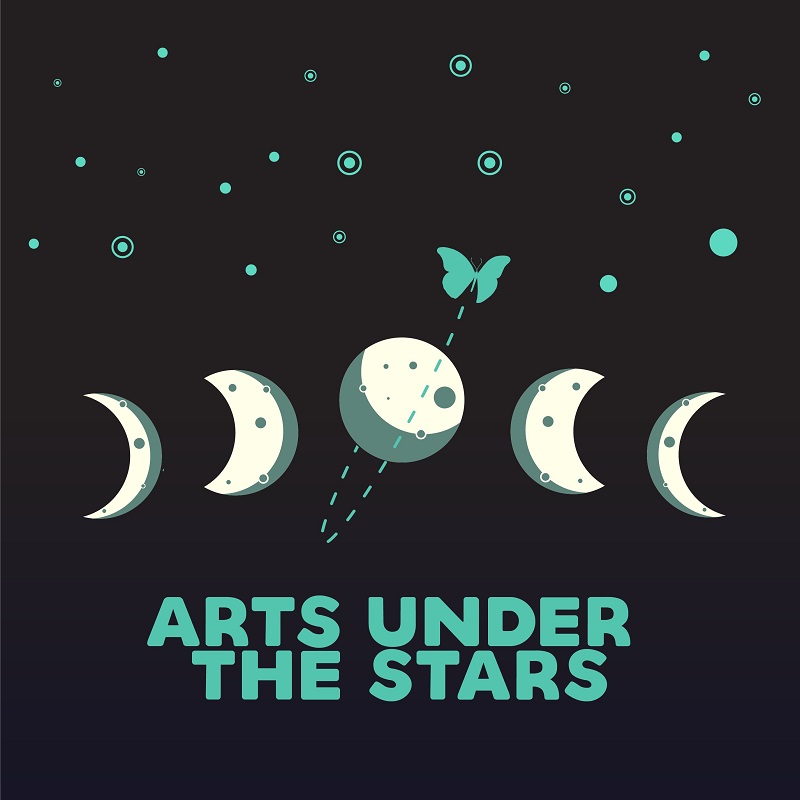 Join us on May 3 and 4 at El Dorado Park for an evening of food, friendship, community and celebration.
Featuring work from Nursing, ESRM, English, Performing Arts, Physics, Mathematics, and more, this year's show "What's Your Metamorphosis?" includes interactive exhibits and inspiring performances.
The tradition of recognizing those in the CI community we have lost will also continue this year.  Submissions for the In Memoriam portion of the show will be accepted through April 26.
Arts Under the Stars will be held on Friday May 3 and Saturday, May 4 at 6 p.m. with the main event commencing at 7:30 p.m. On Saturday, May 4 only, the SAGE Student Awards Ceremony will be held at 6:45 p.m.
For more information contact Heather Castillo at 805-437-2052 or heather.castillo@csuci.edu.
Our Stories Matter: Discussion Series
The Center for Integrative Studies and the Center for Multicultural Engagement will be hosting a discussion series consisting of focused interdisciplinary evidence-based perspectives - at least two at each - presented by CI faculty and/or invited experts who will speak on and discuss specific topics related to fascism, white supremacy, current events (local to global), in the context of CI's stated values of diversity, equity, and inclusion.
This discussion series will take place on the last Wednesday of the month to develop a regular community discussion of pressing and divisive issues. Possible discussion topics include fake news, intersectionality, DACA and immigration, free speech and democracy.  
Spring 2019 Series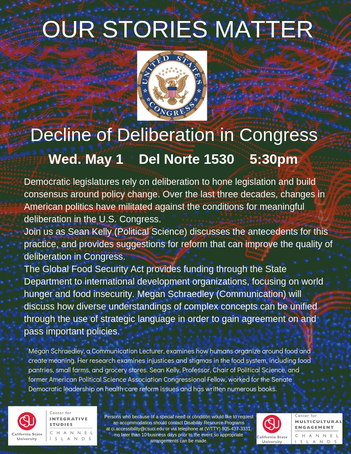 DATE:

Wednesday, May 1

TIME: 5:30pm

LOCATION: Del Norte 1530

Democratic legislatures rely on deliberation to hone legislation and build consensus around policy change. Over the last three decades, changes in American Politics have militated against the conditions for meaningful deliberation in the U.S. Congress.

Join us as Sean Kelly, Political Science, discusses the antecedents for this practice, and provides suggestions for reform that can improve the quality of deliberation in Congress.

The Global Food Security Act provides funding through the State Departmetn to international development organizations, focusing on world hunger and food insecurity. Megan Schraedley, Communication, will discuss how diverse understandings of complex concepts can be unified through the use of strategic language in order to gain agreement on and pass important policies.

Megan Schraedley, a Communication Lecturer, examines how humans organize around food and create meaning. Her research examines injustices and stigmas in the food system, including food pantries, small farms, and grocery stores. Sean Kelly, Professor and Chair of Political Science, and former American Political Science Association Congressional Fellow, worked for the Senate Democratic leadership on health care reform issues and has written numreous books.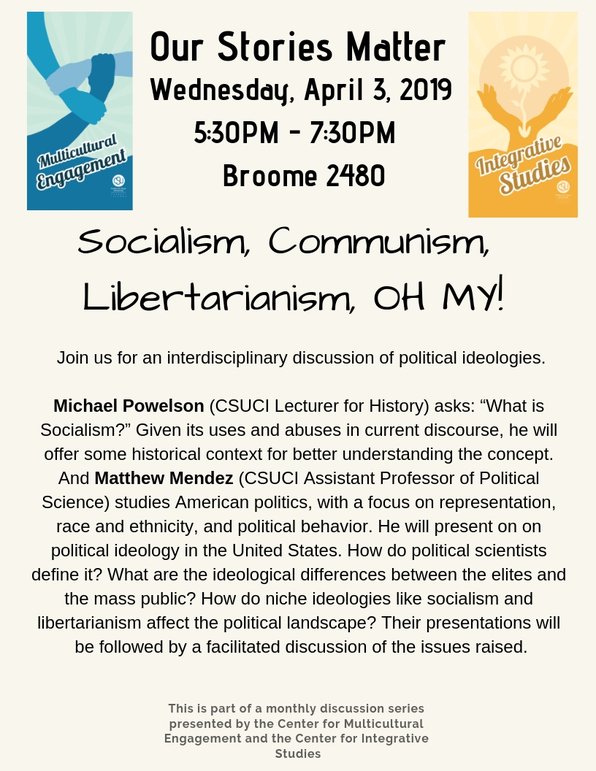 DATE:

 
Wednesday, April 3 2019
LOCATION:

 
Broome Library 2480 
Join us for an interdisciplinary discussion of political ideologies.
Michael Powelson, CSUCI Lecturer of History, asks, "What is Socialism?" Given its uses and abuses in current discourse, he will offer some historical context for better understanding the concept. And Matthew Mendez, CSUCI Assistant Professor of Political Science, studies American politics, with a focus on representation, race and ethinicity. and political behavior. He will present on political ideology in the United States. How do political scientists define it? What are the ideological differences between the elites and the mass public? How do niche ideologies like socialism and libertarianism affect the political landscape? Their presentations will be followed by a facilitated discussion of the issues raised.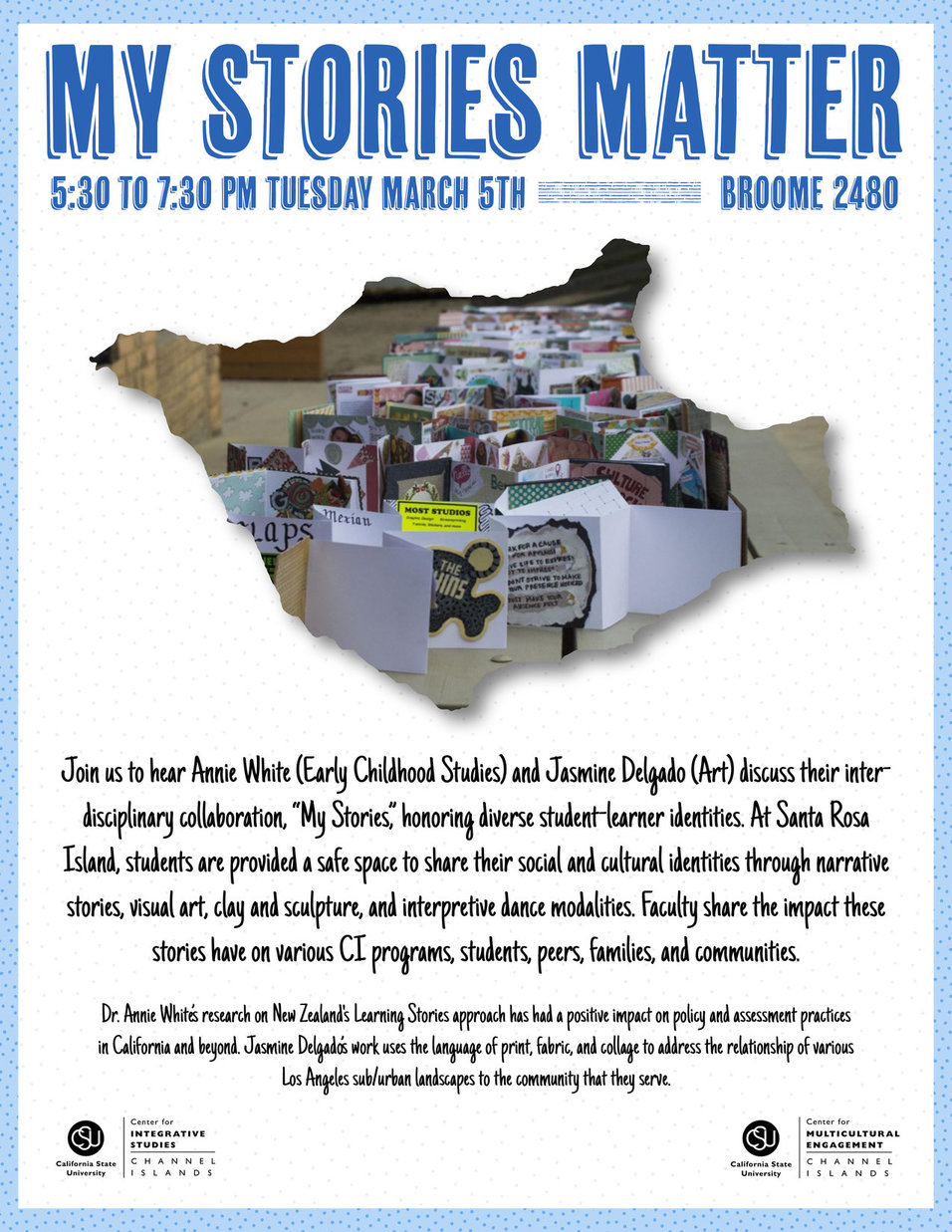 DATE: 
Tuesday, March 5, 2019
TIME: 5:30PM to 7:30PM
LOCATION: Broome Library 2480
Join us to hear Annie White (Early Childhood Studies) and Jasmine Delgado (Art) discuss their interdisciplinary collaboration, "My Stories," honoring diverse student learner identities. At Santa Rosa Island, students are provided a safe space to share their social and cultural identities through narrative stories, visual art, clay and sculpture, and interpretive dance modalities. Faculty share the impact these stories have on various CI programs, students, peers, families, and communities.
Dr. Annie White's research on New Zealand's Learning Stories approach has had a positive impact on policy and assessment practices in California and beyond. Jasmine Delgado's work uses the language of print, fabric, and collage to address the relationship of various Los Angeles sub/urban landscapes to the community that they serve.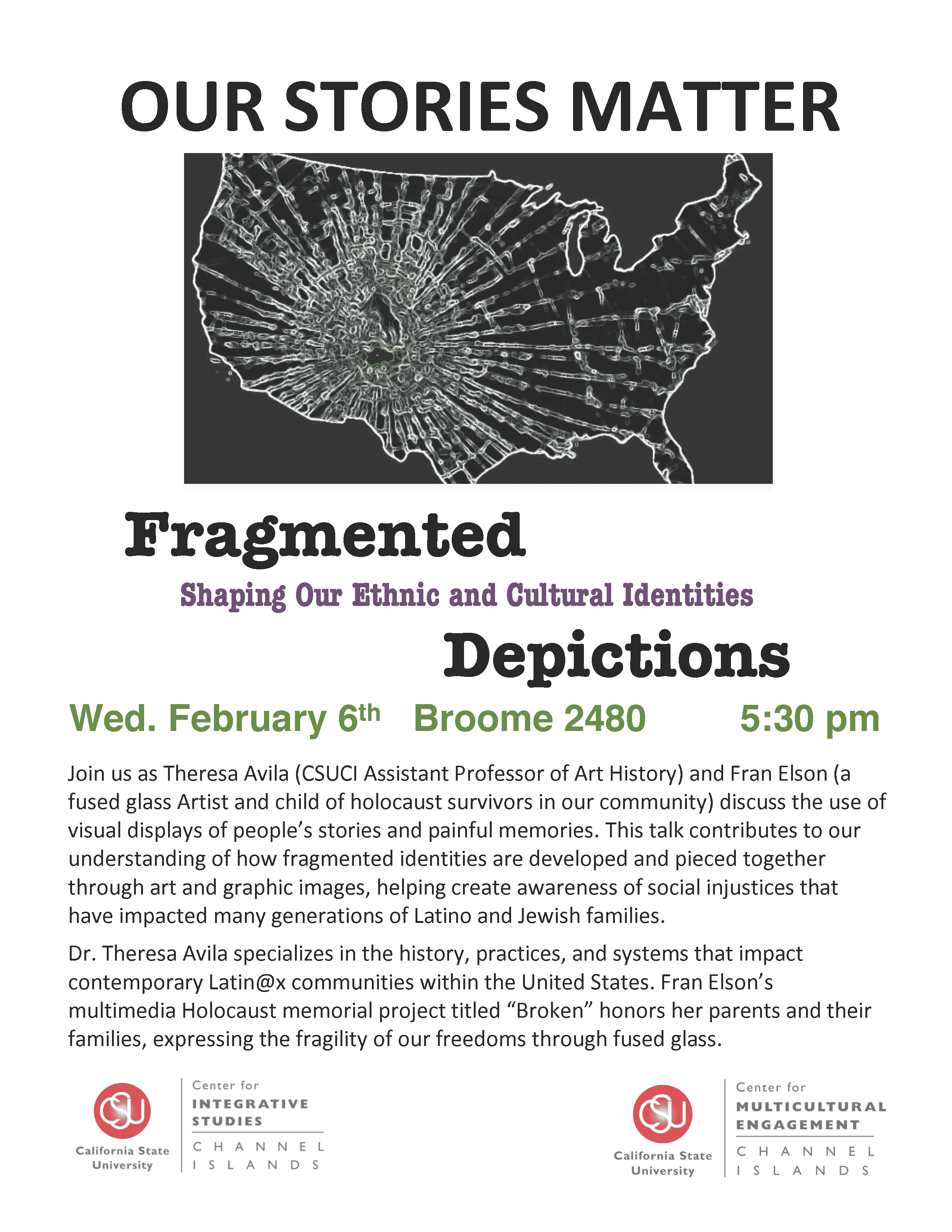 DATE: Wednesday, February 6, 2019
TIME: 5:30pm to 7:30pm
LOCATION: BRO 2480
Join us as Theresa Avila (CSUCI Assistant Professor of Art History) and Fran Elson (a fused glass artist and child of Holocaust survivors in our community) discuss the use of visual displays of people's stories and painful memories. This talk contributes to our understanding of how fragmented identities are developed and pieced together through art and graphic images, helping create awareness of social injustices that have impacted many generations of Latino and Jewish families.
Dr. Theresa Avila specializes in the history, practices, and systems that impact contemporary Latin@x communities within the United States. Fran Elson's multimedia Holocaust memorial project titled "Broken" honors her parents and thier families, expressing the fragility of our freedoms through fused glass.
Other events of interest
Student Research
4th Student Research Lunch
Presenting: Dr. Robin Mitchell and her students research on Propaganda & the Impossible Black Female Body: The Tale of Suzanne Simone Baptiste Louverture
DATE: Friday, February 22, 2019
TIME: 12pm - 1:30pm 
LOCATION: BRO 1320