---
Center for Integrative Studies (CIS) Sponsored Events
---
Our Stories Matter: Discussion Series
The Center for Integrative Studies and the Center for Multicultural Engagement will be hosting a discussion series consisting of focused interdisciplinary evidence-based perspectives - at least two at each - presented by CI faculty and/or invited experts who will speak on and discuss specific topics related to fascism, white supremacy, current events (local to global), in the context of CI's stated values of diversity, equity, and inclusion.
This discussion series will take place on the last Wednesday of the month to develop a regular community discussion of pressing and divisive issues. Possible discussion topics include fake news, intersectionality, DACA and immigration, free speech and democracy.  
Spring 2019 Series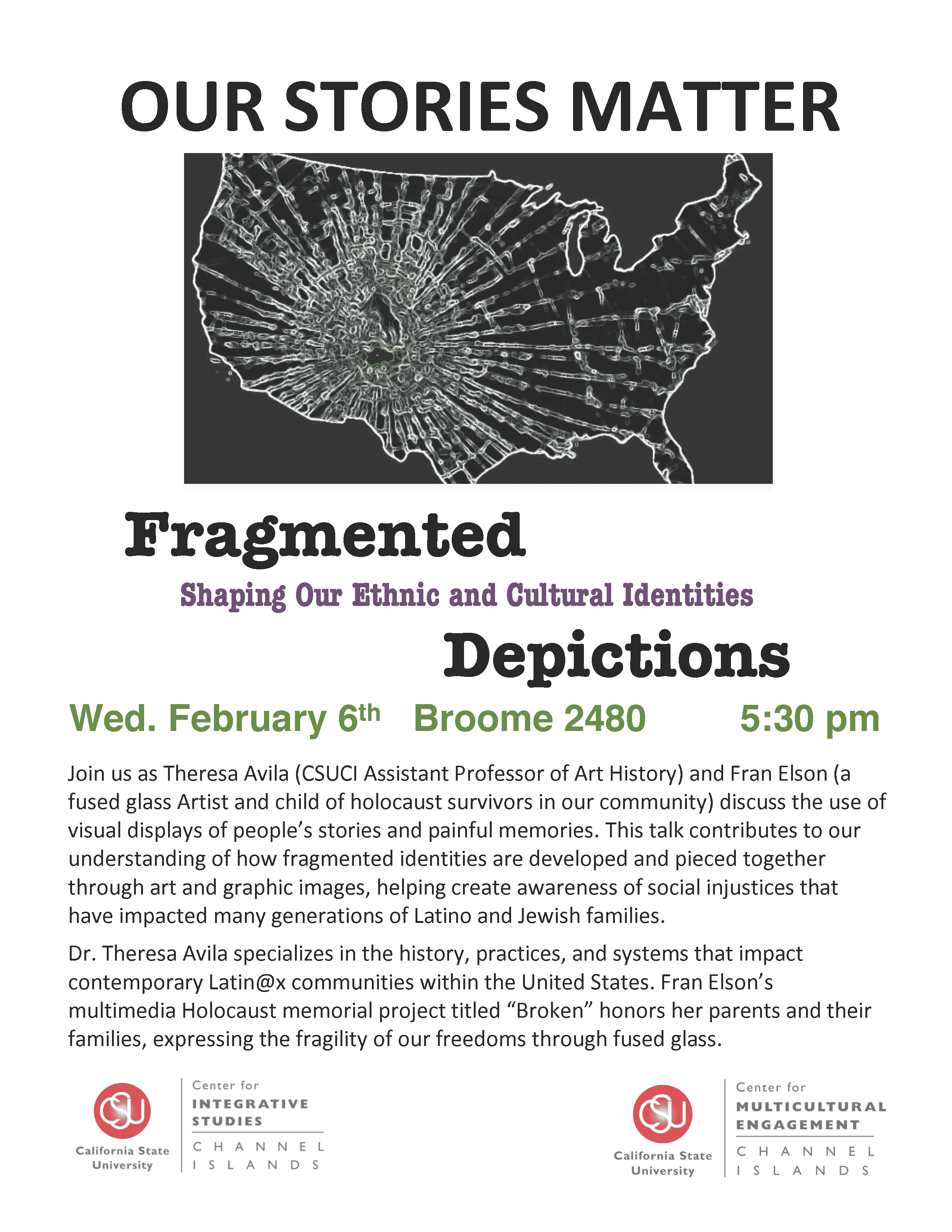 DATE: Wednesday, February 6, 2019
TIME: 5:30pm to 7:30pm
LOCATION: BRO 2480
Join us as Theresa Avila (CSUCI Assistant Professor of Art History) and Fran Elson (a fused glass artist and child of Holocaust survivors in our community) discuss the use of visual displays of people's stories and painful memories. This talk contributes to our understanding of how fragmented identities are developed and pieced together through art and graphic images, helping create awareness of social injustices that have impacted many generations of Latino and Jewish families.
Dr. Theresa Avila specializes in the history, practices, and systems that impact contemporary Latin@x communities within the United States. Fran Elson's multimedia Holocaust memorial project titled "Broken" honors her parents and thier families, expressing the fragility of our freedoms through fused glass.
Other events of interest
Student Research
4th Student Research Lunch
Presenting: Dr. Robin Mitchell and her students research on Propaganda & the Impossible Black Female Body: The Tale of Suzanne Simone Baptiste Louverture
DATE: Friday, February 22, 2019
TIME: 12pm - 1:30pm 
LOCATION: BRO 1320