Apply for the Wellness Peer Educator Program
Are you interested in becoming a Certified Peer Educator? Wellness Promotion & Education (WPE) is accepting applications for the Wellness Peer Educator program. Wellness Peer Educators are a part of a team of campus leaders that are committed to the health and wellness of the CI campus community. They are trained using the NASPA BACCHUS Initiatives.

Apply online at: http://www.csuci.edu/wpe/wellness-program.htm.  The application deadline is Friday, April 29.
For additional information contact WPE at 805-437-3295 or wpe@csuci.edu.
Professional Development Workshop Series
Staff and faculty are invited to a  workshop presented by Melissa Soenke, Managing Workplace Stress, on Thursday April 28 from 9 - 10:30 a.m. in Sierra Hall, Room 1411.
In this informative workshop,Soenke, Assistant Professor of Psychology, will discuss and define stress, particularly workplace stress. A brief introduction of the physiological stress response and health outcomes of stress will be reviewed as well as strategies to cope with workplace stress. Walk away with tools to start practicing right away.
Visit our website to RSVP.
For additional information contact Wendy Olson, Professional Development Specialist, at 805-437-8553 or wendy.olson@csuci.edu.
Submit stories to Voices of CI!
The Center for Community Engagement (CCE) is looking for groups and individuals who have participated in various types of community service to share their experience through our Voices of CI campaign. The campaign's purpose is to spotlight and bring awareness to the existing culture of service on our campus. To see examples of our Voices of CI features, visit and "Like" our Facebook page at https://www.facebook.com/CCE4CI.  

If you are interested in being featured, fill out the Voices of CI form and submit a picture of yourself by email to neil.olipani248@csuci.edu with the subject as VOC PICTURE SUBMISSION. Everyone who completes this form will also receive a CI Serve It Up T-Shirt!
For additional information contact Neil Olipani, Community Engagement Ambassador, at 805-437-3619 or neil.olipani248@csuci.edu.
CI Corporate Games – 115+ strong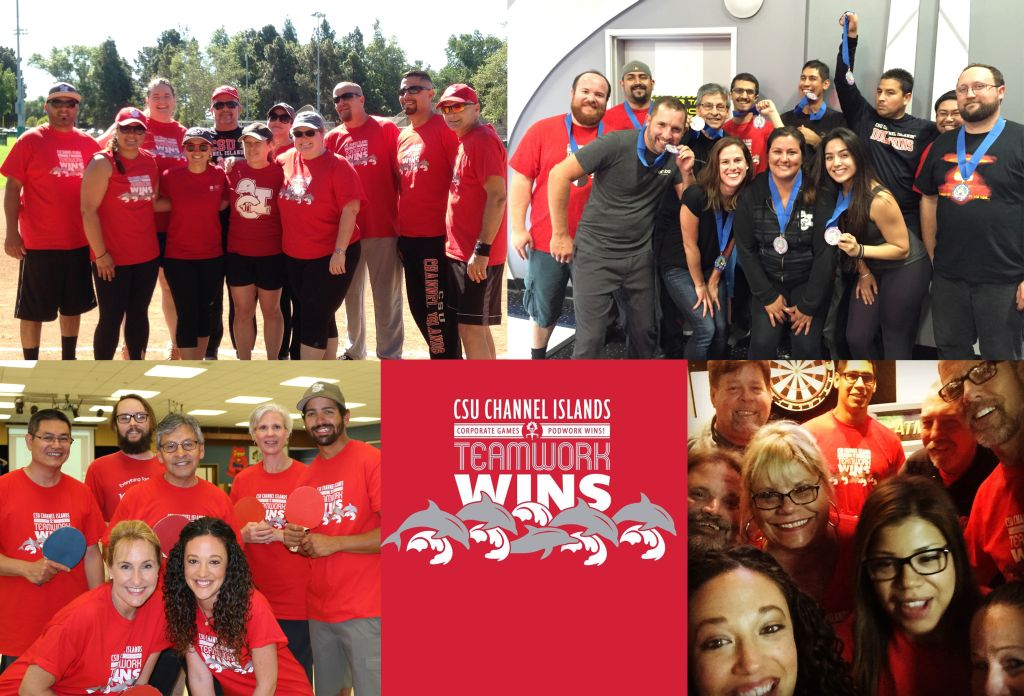 Congratulations to CI's Lazertag team for winning Bronze and thanks to more than 115 employees who are competing in 32 events!
We're on the heels of completing three weeks of Corporate Games competition and CI is currently tied for fifth place, just 3 points behind fourth place. Participation in each remaining event is key to earning points towards final place.
Upcoming games - Apr 22-24 - include Kickball, Horseshoes, Soccer, Tennis and 9-ball Billiards.
During the last two weeks of competition - Apr 25-May 5 - we'll participate in Bowling, Flag Football, Miniature Golf, MB2 Kart Racing and Table Games that include Scrabble, Dominoes, Spades and Texas Hold 'Em.
And we'll make a splash at Closing Ceremonies on May 7 (PDF, 233KB) at Ventura's Harbor Cove Beach, participating in Tug O War and Sand Castle building.  Come cheer CI on and spend a nice day at the beach!
Players and subs needed for Kickball (Apr 22), Flag Football (Apr 30), Tug O War & Sand Castle (May 7) – please contact Joanna Murphy if you are interested.
For additional information, contact Joanna Murphy, Associate Director of Communication & Marketing and CI Corporate Games Coordinator, at 805-437-8915 or joanna.murphy@csuci.edu. 
Return to the Table of Contents
© Wavelength April 21, 2016