Dolphin Radio
Dolphin Radio, CI's first-ever student-run radio station, hits the Internet beginning on Monday, April 11 at 9 a.m.  It is being launched by CI's Communication Program in partnership with Communication & Marketing.
Click on and search for "CI Dolphin Radio" and you'll hear CI students airing a mix of music, lectures, podcasts, campus announcements, and other information.
A Dolphin Radio Open House in the studio will also be held on Monday, April 11 from 3 - 4:30 p.m. in Bell Tower, Room 2362. Free Dolphin Ear Buds plus other promotional giveaways will be available for the first 300 attendees.
The radio station will provide students a chance to build their skills in audio production, journalistic interviewing, station management, and marketing and promotions.  Current students in the Communication program's "Community-Based Storytelling" and "Capstone" courses are producing podcasts covering a range of topics, including student debt, health and wellness, careers, and sustainability. 
 For additional information or to volunteer, contact Christina Smith, Assistant Professor of Communication, at 805-437-3762 or christina.smith@csuci.edu.
Tell Us What You Think
CI is currently undertaking a study to improve parking and transportation for the campus community. In order to ensure that this plan addresses CI commuter needs, we are asking for input via the Campus Transportation & Parking Survey. 

The anonymous survey will take no longer than 8-10 minutes to complete, and participants can opt to be eligible to win a $50 gift card!  The survey can be accessed until Friday, April 15.
View the flyer for full details.  (PDF, 108KB)

For additional information contact Terry Tarr, Associate Architect, at 805-437-2018 or fsworkcenter@csuci.edu.
Center for Community Engagement 2016 Call for Nominations
The Center for Community Engagement is pleased to announce a call for nominations for the 2016 Engagement Awards and Best Practices Recognition in Service-Learning. Deadlines for all three nominations is Friday, April 15.

The 2016 Engagement Awards recognize a faculty member and community partner who exemplify the spirit of leadership and collaboration, thereby making an outstanding contribution to service and learning throughout the extended CI community.

2016 Reflective Essay Award recognizes the student reflective essay that exhibits particular depth of insight concerning the challenges and satisfactions of community service, and with the greatest potential to inspire others to service. Submissions may be based on a course assignment, but need not be, and are limited to 1,000 words.

The 2016 Best Practices Recognition in Service-Learning is designed to highlight and honor service-learning projects that make important contributions to our community while generating valuable student learning.. 

For information about the CCE's awards and recognition please visit http://www.csuci.edu/servicelearning/awards-and-recognition.htm.
For additional information contact Pilar Pacheco, Managing Director, Center for Community Engagement, at 805-437-8851 or pilar.pacheco@csuci.edu.
Vote for Student Representatives April 19-20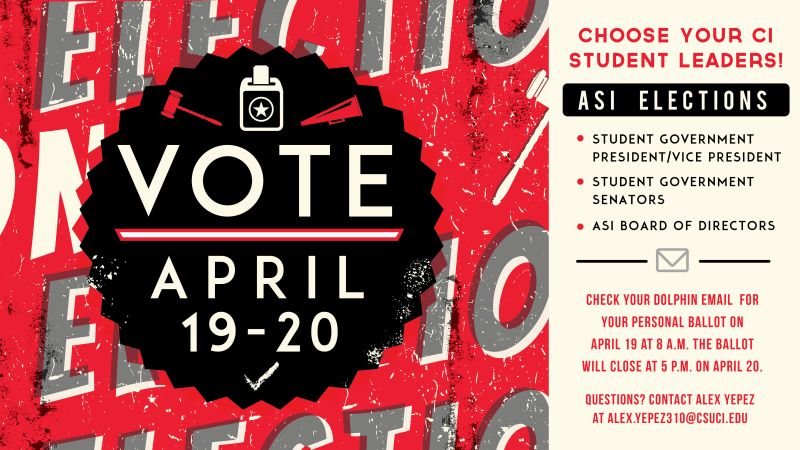 Make a difference by voting for your 2016-2017 student representatives. From April 19-20, students can vote for Student Government President and Vice President, Student Government Senators, and ASI Board of Directors.

These positions are essential to ensuring the student voice is heard on campus. 

Students can cast votes by checking their Dolphin email for  a personal ballot on April 19 at 8 a.m. The ballot will close at 5 p.m. on April 20.

Visit http://asi.csuci.edu/asielections for more information about the candidates.
For additional information contact Alex Yepez, ASI Board Chair, at 805-437-2038 or alex.yepez310@csuci.edu.
Return to the Table of Contents
© Wavelength April 7, 2016