International Education Week – April 10-14
International Education Week is a collection of curricular and co-curricular activities focused on exploring CI's mission pillar of international perspectives. It is presented and co-sponsored by the Center for International Affairs & CI's International Programs. There will be many exciting events including study abroad information sessions, an International Reception, international movies, food, dance, and more.
Click here for details on Study Abroad sessions. (PDF, 2.1MB)
For the complete list of the week's events, please see: go.csuci.edu/IEW.
For more information contact Sophie Holliday, Study Abroad Advisor, at 805-437-3107 or sophie.holliday@csuci.edu.
Career & Internship Fair – April 13

Career Development Services is pleased to hostthe 15th Annual Career & Internship Fair on Thursday, April 13, 10 a.m. to 2 p.m. at the Central Mall. Students and alumni can network with over 80 local and regional organizations who are actively recruiting to fill internships, as well as part-time/full-time employment position openings.
Participants should come prepared in professional dress and bring several copies of a polished resume to meet with employers. 
View the flyer for full details. (PDF, 4.6MB)

For a current list of participating employers, please visit: 
http://www.csuci.edu/careerdevelopment/news/

For questions about the fair or for more information contact Career Development Services at 805-437-3270, career.services@csuci.edu, or visit Bell Tower, Room 1548.
Strawberry Festival at Islands Café – April 18

The campus community is invited to attend the 6th Annual Strawberry Festival at Islands Café on Tuesday, April 18.  Guests will enjoy an all-strawberry themed menu throughout the day.  Prices are as follows: $7 for breakfast, $9.25 for lunch and $11.25 for dinner.
For more information contact Bridget Partida, Catering Manager, at 805-437-8905 or bridget.partida@csuci.edu.
César Chavez Day of Service and Learning – April 21
CI's Serve It Up team will hold its final service day for this semester on Friday, April 21 from 8 a.m. – 3 p.m. at the Community Roots Garden.
To remember the life and work of César Chávez, our final service day is spent in the community, as we come together and reflect on the impact of this great leader. All participants will be provided with a Serve It Up t-shirt if they do not already have one, lunch, transportation and a great experience. CI students will meet at the Peace Pole and be taken by Roadrunner Shuttle to Community Roots Garden. Lunch will be served at the service site.
Please RSVP if you plan to attend.
The Serve It Up campaign is a yearlong program developed in collaboration with the Division of Student Affairs that provides the CI community with service opportunities throughout Ventura County.
For more information, contact Alexis Marquez at 805-437-3619 or alexis.marquez428@csuci.edu.
INSIGHT, Student-Community Activism Conference – April 21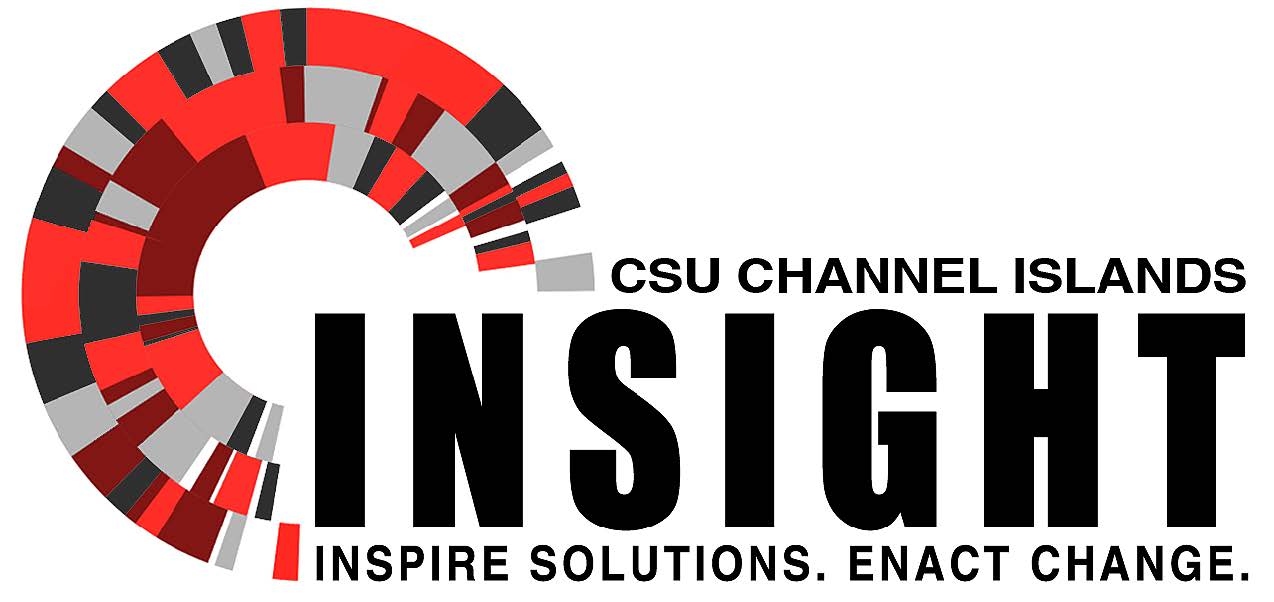 On April 21, CI will connect attendees with community leaders focusing on social justice and meaningful change in society's systems, through #INSIGHTCI. The conference will be held from 10 a.m. to 5 p.m. at the Broome Library Plaza.
The keynote speaker will be Nanci Luna Jiménez, who will kick off the day of dialogue and close the conference with a call to action, in addition to hosting a breakout session.
At #INSIGHTCI, attendees will have the chance to build networks of support beyond CI with local organizations, including the American Civil Liberties Union (ACLU), the Los Angeles LGBT Center, Common Cause, House Farmworkers!, the Ventura County Military Collaborative, CAUSE, and more, as they learn from the presenters' firsthand experiences in activism and advocacy during our breakout sessions.
The conference will also feature a lunchtime interfaith panel discussing the intersections of being part of a religious or humanist community and organizing around social causes. Attendees will leave with tools to be able to better organize around and implement their own goals for action. Attendance is free, all are welcome and lunch and dinner will be served.
Please register for the event if you plan to attend.
For more information contact Brittany Grice, Title IX & Inclusion Officer, at 805-437-3608 or Brittany.grice@csuci.edu.  
College Night at the Getty – April 24
The CI Museum course (Art/Bus/Educ 434) is collaborating this semester with The Getty Museum to plan, develop and organize their annual College Night on Monday, April 24. Students in this interdisciplinary course have been working diligently to make this event a night to remember for all majors on campus as well as other colleges including UCLA, USC, CSUN and many more in the Los Angeles and Ventura areas.
We will be celebrating the Getty museum's astounding art collections and provide guests with free food and beverage, music, and games. All CI students are invited to attend this free event. We encourage students to carpool to The Getty Center.
Full details are available on the flyer. (PDF, 1.2MB)
For more information contact Irina Costache, Professor, at 805-437-8993 or irina.costache@csuci.edu.
Food for Fines Food Drive – April 16-29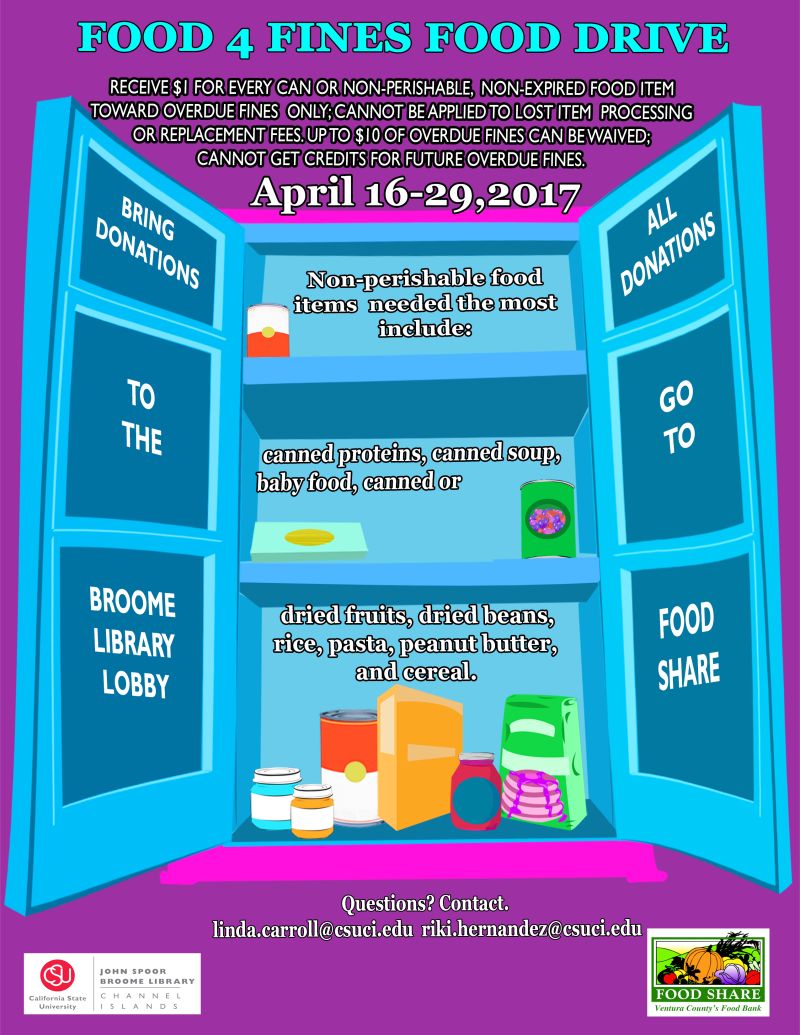 The John Spoor Broome Library will be hosting its Food for Fines food drive from April 16-29. Help support FOOD Share, Ventura County's Food Bank, by donating non-perishable food items.
Bring in a donation and receive $1 for every can or non-perishable, non-expired food item toward overdue fines up to $10. Even if you do not have late fines, you can help us feed our community by bringing in food donations. Collection bins will be located in the Broome Library lobby. 
Food items needed most include: baby food, canned proteins (e.g. tuna, chicken), canned soup, canned or dried fruits, canned vegetables, dried beans, rice, and pasta, canned spaghetti sauce, peanut butter and
cereal.
For more information contact Riki Hernandez, Library Services Specialist II, at 805-437-3379 or riki.hernandez@csuci.edu.
Return to the Table of Contents
© Wavelength April 6, 2017