Investiture set for May 5
The investiture of CSUCI President Erika D. Beck is set for Friday, May 5.  Traditionally held within the president's first year, the investiture ceremony is an opportunity for the community to mark a new era as the formal symbols and titles are conferred on the new president.  The event will include music, welcoming remarks, presentation of colors, and academic procession.  Full details are available on the website.
For more information, contact the campus main line at 805-437-8400.
Spring 2017 Student Ratings of Teaching
Student Ratings of Teaching (SRT) for spring 2017 are now available online. Students can access the SRT via the myCI login page: https://myci.csuci.edu and complete course evaluations anonymously. The SRT evaluation cycle will end on Friday May 12.

For additional information regarding the SRT process please visit: http://go.csuci.edu/srt.
For more information contact Nitzia Castaniero, Academic Personnel Analyst, at 805-437-8543 or nitzia.castaniero@csuci.edu.
CI Staff Council
The CI Staff Council is excited to announce that there are additional seats open to the campus community. Over the past year we have solidified our bylaws & adjusted our representation to be by campus division instead of physical location. In order to proportionally represent each division, we are looking for 11 additional staff members (non MPP/non Faculty). The number of seats per division are based on the total number of staff in the division. In order to ensure even representation, we are asking for staff nominations from the following divisions with open seats*. 
Academic Affairs (3 seats)
Business & Financial Affairs (3 seats)
Student Affairs (2 seats)
Technology & Innovation (1 seat)
University Advancement (2 seats)
* Office of the President does not have any open seats at this time.
Elected members will serve a two year term and, in addition to sponsoring programs, services, and events, will help to further establish a communication outlet for the Council and the staff they represent. Full details are available on the flier. (PDF, 1.7MB)
Nominations will be collected through Tuesday May 23 at 5:00 p.m.  Please use the Staff Council 2017 Membership Election Nomination form, and visit our CI Staff Council website for additional information about what we do.  Staff are welcome to self-nominate.  An election will be held June 1-15, 2017. All nominees will be notified before the election. 
For more information contact Claire Langeveldt, Student Conduct at 805-437-3566 or Claire.langeveldt@csuci.edu.
Hampton wins President's Teaching Award
Phil Hampton, Professor of Chemistry and Interim Director of STEM Initiatives, is this year's recipient of The President's Award for Innovations in Teaching and Learning. The annual award is presented to a faculty member who has significantly contributed to the teaching mission of the University.
Three outside reviewers described Hampton as someone whose ability to transform student learning is demonstrated across his career. The educational impact of the Annual Science Carnival, begun in response to a challenge Hampton levied at the Free Radicals Student Club in 2009, has brought science to the community with CI students teaching middle-school and younger students and their parents about science through downloadable, bilingual, demonstrations. This speaks to Hampton's passion to build the educational pipeline in the STEM disciplines.
A former student, now Assistant Professor in Chemistry at Reed College, notes that Hampton changed his career horizons by involving him in research as an undergraduate student. Hampton credits the late Robert Pirsig's "Zen and the Art of Motorcycle Maintenance," which he read in high school, in framing his own understanding of how he hoped to help students find inner, not grade-driven, motivation.
For more information contact Elizabeth Hartung, Assistant Provost, at 805-437-3274 or Elizabeth.hartung@csuci.edu.
CIBC Summer Youth Watersports Camp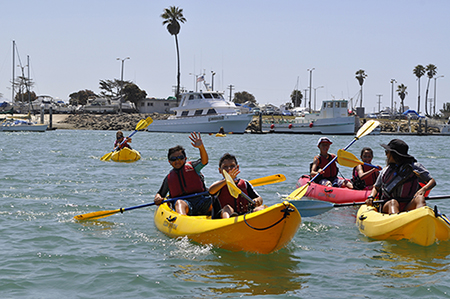 The Channel Islands Boating Center will host its 11th annual Summer Youth Watersports Camp June 19-August 4.  Participants have their choice of one week kayaking camps or two week sailing and stand up paddle board (SUP)/windsurfing camps.
The camp is geared toward teaching the skills necessary for handling and maneuvering vessels safely while teaching proper etiquette and seamanship that is useful in all types of boating. The age requirements for the camp are: 9-13 (kayaking), 9-15 (sailing), 12-15 (SUP/windsurfing).

The cost of camp is $195 for a one week kayaking session and $390 for a two week sailing and SUP/windsurfing camp.  Scholarships are still available.  Full details can be found on the website.
For more information contact Jennifer Maravola, Operations Analyst, at 805-437-3710 or Jennifer.maravola@csuci.edu.
Summer Parking Permits
Summer parking permits for CSUCI students are now available. They can be purchased via your myCI link.  The cost is $170.63 and the permit is valid from May 30 – Aug. 11.  Permits can also be purchased at the Parking office in Placer Hall with a cash or check payment. 
For more information, contact Transportation & Parking Services at 805-437-8430 or parking@csuci.edu.
Return to the Table of Contents
© Wavelength May 4, 2017