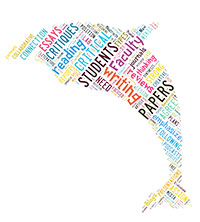 The CI Student Writing Guide is designed to be a tool for students at CI who want a little more insight into what to expect from writing assignments in their majors.
Faculty from twenty different majors at CI have submitted entries to this guide in order to help you learn more about their expectations for writing in their fields of study.
While writing may not be in the title of most of your courses, writing is an essential part of every course you'll take in at CI—in your major as well as in your interdisciplinary courses.
Use this resource to help you know what to expect!