Events and Activities
Make the Connection: Dolphin Discount Program
One of the major perks of an A&FA membership is enjoying the discounts that the Dolphin Discount Program offers. In this program, local businesses connect with CI by providing a discount to the CI campus community. In return, the business receives free publicity in the CI student newspaper, Associated Students Inc. (ASI) web site, social media, and at campus activities. These different markets ensure a diverse consumer range significant to all businesses.

If you think that you and your business could benefit from this great opportunity, please contact the Student Union Circulation Desk, at  student.union@csuci.edu              
Alumni
UPCOMING EVENTS
Dear Alumni, your presence s highly appreciated.   
Please join President Rush as we taste internationally-inspired wine blends and food pairings.
June 20, 2013 from 5:30pm – 8:30pm @ Four Brix Winery - 2290 Eastman Ave. Venura
Proceeds benefit the Alumni & Friends endowed student scholarship fund.  
This event could not be possible without the generous support of our sponsors!
---
Purchase your Tickets ASAP we sold out last year!
 
---
PAST EVENTS
Dear Alumni, your presence is highly appreciated.  


Please  join  us  for the  inaugural  CSU  Channel  Islands Alumni  Awards  Dinner  and  help  us  celebrate  the University's 10th Anniversary!

February 2, 2013 from 6:00pm – 9:30pm on the campus of CI in Grand Salon.
The nomination deadline was January 8th and the recipient of the 2013 Awards will be notified shortly.  If you missed this deadline, please consider nominating the alumnus for the 2014 Awards.
A&FA Distinguished Alumnus Award

 

The recipient of the Distinguished Alumnus Award will be accomplished in the areas of (1) professional achievement and career or military service distinction, (2) service to society, and (3) service and support to CSU Channel Islands.  This distinction will be reflective of CI's mission pillars – International Perspectives, Interdisciplinary Approaches, Multicultural Learning & Engagement, and Civic Engagement. Detailed criteria click here.
ASI Award

 

The recipient of the  ASI Award has displayed outstanding leadership in their profession and upholds the foundational CI value that our graduates are 'dedicated to maintaining the principles of intellectual honesty, democracy, and social justice.' This Award is presented to a young alumna/us who has graduated from CSU Channel Islands within the past 10 years and must have been involved in ASI either through employment, the ASI Board or through one of the ASI entities.

.
---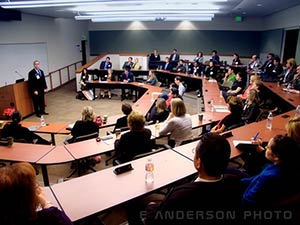 This unique event matched members of the Alumni & Friends Association with a local professional in their field. Attendees enhanced their networking skills and attended that evening's Business & Technology Partnership Holiday Mixer for FREE!

If you are interested in attending next year's event please contact Jonathan Neira, Administrative Assistant, at jonathan.neira746@csuci.edu or (805) 437-3764..
---
Over 550 CI alumni, students, faculty, staff and friends made some noise celebrating our 10th Anniversary at Dodger Stadium as President Rush threw out the ceremonial first pitch.
Sunday, September 30, 2012
Please Click HERE! for a PDF invitation.
Sorry! Tickets are Sold Out!
This event could not be possible without the generous support of our sponsors!