The Wave
Winter 2007 | A quarterly online newsletter for the CSU Channel Islands Alumni & Friends Association.
UPCOMING EVENTS
OVER 100 ORGANIZATIONS PLANNED FOR CAREER FAIR
Over 100 companies and organizations are planned to attend the Thursday, April 19, 2007 Career Fair on the CSUCI campus. Organizations will be looking for individuals to fill their job openings, so come prepared with your resume and dress for success. The event will be held at the Bell Tower Mall from 10:30 a.m. to 2 p.m. Parking is $6. There are also two Career Fair Prep workshops available for those who want additional information on how to make the most of the upcoming Career Development Service Career Fair. Call 805-437-3270 for more details.
3RD ANNUAL B&TP LEADERSHIP DINNER
Another five $2500 student scholarships will be awarded this year at the Annual Business & Technology Partnership Leadership Dinner on Tuesday, April 24, 2007 at 6:00 p.m. at the Mandalay Beach Resort in Oxnard. This special night of community awards will be sponsored for the 3rd consecutive year in a row by Santa Barbara Bank & Trust and will feature a lively reception and music. Alumni welcome to attend. Tickets are $150 per person. For more information, visit the B&TP web site.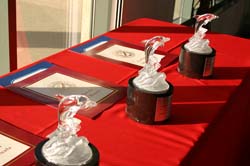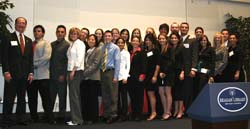 The "Crystal Dolphin" awards President Richard Rush and students support the B&TP

RESUMANIA AND INTERVIEWING TECHNIQUES RETURN
The Career Development Center is excited to again offer the Resumania and Interviewing Techniques workshops this March at CSU Channel Islands to provide useful information on resume writing and job interview skills. Resumania will be held on Wednesday, March 7, 2007 from 10 a.m. to 12 p.m. in the Student Life Conference Room (BT Rm1808). Interviewing Techniques will take place on Thursday, March 15, 2007 from 2 p.m. to 4 p.m. in the Career Development Office (BT Rm1865). Karina Zaldana, J.D. Power and Associates Recruiter will be the guest presenter. For more information, contact Career Development Services at 805-437-3270.

ACCLAIMED JOURNALIST TO DISCUSS SEGREGATION
Famed journalist and City-County Bureau Chief in Los Angeles Jim Newton will hold a discussion on the role of the Warren Court in breaking down formal segregation in America on Tuesday, February 27, 2007 at 6 p.m. on the CSUCI campus. He will draw discussion from his book " Justice for All: Earl Warren and the Nation He Made". This book is available in the CSUCI bookstore. Newton also led the Los Angeles Times' coverage of the federal trial of the Rodney King incident and the murder trial of O.J. Simpson, among many other stories. This event is free for alumni. Parking is $6. For additional information, contact the Multicultural Womens' & Gender Center at 805-437-8407.

RACE RELATIONS LECTURE
Distinguished author and University of Houston Chair of History and African American Studies Dr. Gerald Horne will offer insight into the past and future of race relations along the border and between African Americans and Latinos in the United States at the CSUCI campus on Friday, February 9, 2007 at 3:00 p.m. As an author or more than 17 books and 100 scholarly articles and reviews, Dr. Horne has addressed issues of race in a variety of settings, including labor, politics and civil rights. To attend, please call MWGC at 805-437-8407.
NEWS
COMMUNITY EXECUTIVES MENTOR ALUMNI
CSUCI alumni participated in a hands-on networking experience on campus Thursday, December 7, 2006 to gain business relationship skills from local company executives. Various alumni with degrees in biology, education, history, art, and business attended the special lecture given by President and CEO of Sheeler Moving and Storage Mel Sheeler. After the lecture attendees were paired with a local executive who helped them make new contacts at the CSUCI Business & Technology Partnership Holiday Mixer. The Holiday Mixer focused on the exciting new nursing program and the business and education related to the medical field. Alumni were also given a special Alumni & Friends Association portfolio for their participation. If you are interested in the mentoring program, please call Alumni Relations at 805-437-8952.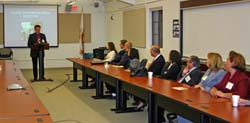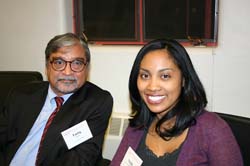 Mel Sheeler (Sheeler Moving and Storage) shares years of networking experience with alumni B&TP Mentor Tariq Mufti (TM Advisory Services) and alumna Sheila Antoinette-Buhain '06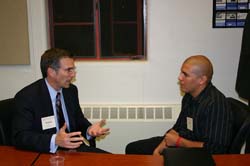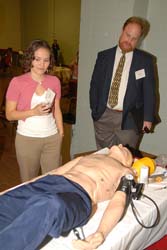 B&TP Mentor Fleming Jones (McDermott & Bull Executive Search) gives advice to alumnus David Garcia '06 Alumna Evelyn Lelonek '06 and B&TP Mentor Greg Hayward (Over the Net) learn about nursing technology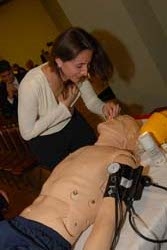 Alumni & Friends President Yvette Bocz '02 practices CPR with SimMan

2005 ALUMNA SELECTED FOR CITY MURAL
They say it's all about who you know. For 2005 art graduate Tobie Roach, it was exactly about that. While working as a Human Resources Specialist at Dairy Farmers of America (makers of bottle Frappuccino for Starbucks), Ms. Roach coordinated the company's corporate games and met several people from the City of Ventura. Those individuals learned about her artistic talents and encouraged her to join the "call for artists" list for public works. A few months later she was requested to send in a proposal for the Streetscape Mural Project and shortly before Thanksgiving was given the wonderful news that she had been selected.

The City of Ventura Streetscape Mural Project will allow Ms. Roach and 11 other selected artists to paint murals for the City's public areas. This public art opportunity makes art accessible to a broad range of community members by integrating art into everyday life, facilitating dialogue, and beautifying Ventura's neighborhoods.

But it wasn't just her connections to the City that she thanks for her success, "When I was a student at CSUCI, I had the honor of working in the office of the vice president for student affairs (Dr. Wm. Gregory Sawyer); our beloved "Doc." He was very supportive of all my artistic endeavors. He had me bringing art into the office...I made some masks for the President's Dinner and Doc even commissioned a piece from me and hung it in his living room. It was very encouraging and extremely fun! I also had an awesome group of teachers who were extremely informative and inspiring. They taught me so much and supported me all the way through. Amazing people!" Ms. Roach's enthusiasm and talents have helped her reach her dreams as well. CSUCI student Aaron Benner is also among those selected. If you would like to see Ms. Roach's work, you may visit her mural this upcoming March at the intersection of Santa Clara and California streets in Ventura.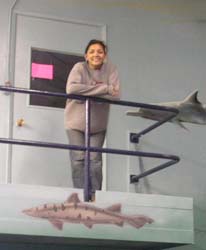 Tobie Roach '05

HELPERS NEEDED
Springtime is coming and the Alumni & Friends will need many volunteers to assist with Discover CI on April 14, 2007; Career Fair on April 19, 2007; and Commencement on May 19, 2007. If you are interested in assisting us for one of these exciting events, helping to promote your Association and the success of future alumni, please contact Alumni Relations at 805-437-8952 or alumni.friends@csuci.edu.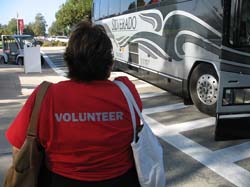 Volunteers Make a Difference!

ALUMNI & FRIENDS ASSOCIATION BOARD NOMINATIONS DUE
The CSUCI Alumni & Friends Association Nominations Committee made the call for new alumni board members. Board members must be active paid members of the Association and be of alumni status. The board members serve a 4-year term beginning July 1, 2007. New board members will be announced and voted upon at the May 21, 2007 board meeting.
Be Part of the Alumni & Friends Board

MBA ALUMNI MAKE HISTORY
The first MBA graduates at CSUCI are accomplishing another first this year. Graduate Lyndsay Maas '06 along with other MBA graduates and current students from the program will start the first Alumni & Friends Association Chapter this spring to help further support the University and its growing MBA program. "I was one of the first MBA graduates and I want to see the MBA program grow in size, quality, and recognition. I would like to look back in 10 years and see this program as the premiere MBA program in the region." said Lyndsay who is an Operations Analyst at Santa Barbara Alpha Strategies. Joining as a Chapter of the Alumni & Friends Association will provide the means to maintain connection and networking among alumni with the same interests. For further information on participating with this Chapter or to inquire about starting your own group, contact Alumni Relations at 805-437-8952 or alumni.friends@csuci.edu.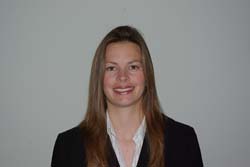 Lyndsay Maas '06 MBA leads new Alumni Chapter

CSUCI STUDENT TO WORK WITH CHANCELLOR
Sophomore student and Associated Students Inc. senator Nasim Khansari has been elected to serve as the state wide student representative for the CSU system's strategic plan building committee "Access to Excellence." Ms. Khansari, a political science major and history minor, has been part of the California State Student Association and was selected by the other 22 CSU campus student leaders to represent the entire CSU student body. The "Access to Excellence" committee is charged with creating the future direction of the CSU system and is a 2-year long committee. "My definition of Access to Excellence is the key to the future. It is literally the cornerstone to the future of the CSU system," said Ms. Khansari. She will be working with members of the Board of Trustees, campus Presidents, faculty and Chancellor Charles Reed. The Orange County native hopes to one day use experiences such as this to help her reach her dream of becoming a lawyer and eventually a judge.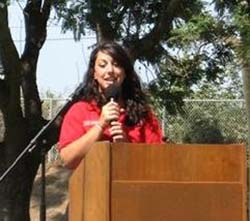 Always Involved. Nasim Khansari

UPDATE US WITH YOUR NEW INFORMATION HERE
Please download our Alumni Update Form to stay in touch. Update Form (PDF, 108K)
CSU WORKING FOR CALIFORNIA
SACRAMENTO LEGISLATORS TO HEAR FROM ALUMNI
The Annual CSU Alumni Advocacy Day is just around the corner and community leaders and select alumni will attend the event in Sacramento on Monday, March 19, 2007 to help inform California legislators of University updates, successes and challenges. A small delegation is created and three to four alumni participate. The delegation will be discussing several issues, one of which will be that legislation be amended to provide all Cal Grant B high school entitlement award recipients who enroll at four-year institutions with funds to cover tuition and fees during the initial year of their award. When successful this will ensure consistency and equity for all students, whether recipients of Cal Grant A or B entitlement awards by covering fees and tuition from start to finish. Alumni from the Sacramento area are encouraged to attend. If you or someone you know is interested in participating or has connections in Sacramento, please contact Alumni Relations at 805-437-8952 or alumni.friends@csuci.edu.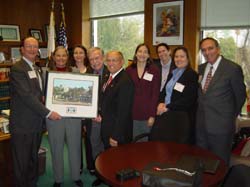 CSUCI President Richard Rush and past Assembly Member Fran Pavley join the delegation with alumni last spring DID YOU KNOW?
The CSU sustains more than 207,000 jobs in California by preparing the future workforce.
CSUCI had 3,123 enrolled in fall 2006. This represents more than four times the number of students enrolled at the 670-acre campus in 2002. Expected enrollment this coming fall is 3,409.
CSUCI is on the fast track to earn its initial accreditation later this year and will graduate its first four-year class of students in May.
Students on the 23 CSU campuses contribute 35 million hours a year to community service activities.
CSUCI recognizes the needs of the community by adding in programs such as teacher education, biotechnology and nursing.
SAVE THE DATE
March 1, 2007 - President's Circle - Al Jerome, CEO & President, KCET Public Television
March 7, 2007 - Resumania - CSUCI
March 8-9, 2007 - Grad Fest - CSUCI
March 14, 2007 - Annual Celebration of Excellence
March 15, 2007 - Interviewing Techniques - CSUCI
March 19, 2007 - Alumni Legislative Day - Sacramento
April 24, 2007 - Business & Technology Partnership Leadership Dinner - Mandalay Beach Resort
April 26, 2007 - President's Circle - Author Michael Pollan
June 18, 2007 - Dolphin Classic Golf Tournament - Las Posas Country Club
October 6, 2007 - President's Dinner
BENEFITS