The Alumni & Friends Association connects, engages, and celebrates alumni, students, and friends of CI while building lifelong relationships that support the future of our University.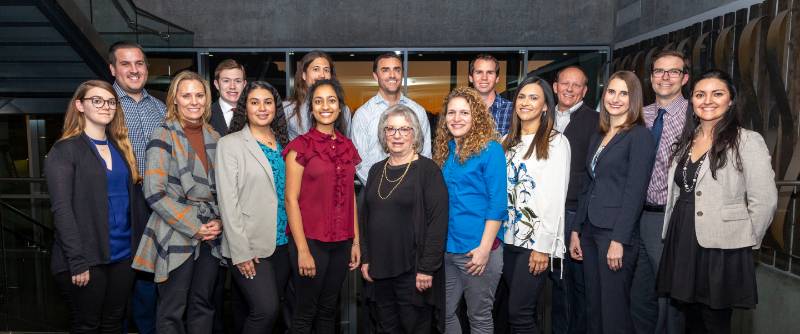 Meet the Alumni & Friends Association Board. These are the individuals who volunteer many hours of their free time to help make the A&FA the valuable resource that it is. Their efforts as volunteers are what make many of our programs and events possible. Thank you for all that you do for CSU Channel Islands, its students, and alumni.
2018-2019 Alumni & Friends Association Board
Executive Team:
Board Members:
Gladstone Bucknor '06

Assistant Librarian/Regional Administrator, Los Angeles Public Library

Connect with Gladstone

Peter Marcus '14

President & CEO, Goodwill Industries of Ventura and Santa Barbara Counties

Connect with Peter

Eric Meissner '15

Manager Supply Chain Operations, Meissner Filtration Products

Connect with Eric

Riley Richman '20

Student Representative

Connect with Riley

Sandy Sanchez '13

Project Manager, Housing Authority of the City of San Buenaventura

Connect with Sandy

Georg Winkler '12

Russell Fischer Business Coordinator, Camarillo Public Library

Connect with Georg

Natalie Yanez '14

Director of Community Partnerships, Ventura County Credit Union

Connect with Natalie
Staff:
Amanda Carpenter, Ed.D '06

Director of Career Development & Alumni Engagement

805-437-3565

Steven Guetzoian '12

Specialist, Alumni Engagement & Annual Fund

805-437-3622
Alumni & Friends Association Meeting Agendas
Full Board Calendar
Board meetings are held on the third Monday in August, November, February, and May from 6:00 p.m. – 8:00 p.m. in the J. Handel Evans Conference Room at CSU Channel Islands.

August 20, 2018 @ 6:00 p.m.
November 26, 2018 @ 6:00 p.m. (moved to 4th Monday)
February 18, 2019 @ 6:00 p.m.
May 20, 2019 @ 6:00 p.m.
Full Board Meetings Agendas
Full Board Meetings Minutes
Related Links