The Wave
Spring 2007 | A quarterly online newsletter for the CSU Channel Islands Alumni & Friends Association.
UPCOMING EVENTS
INAUGURAL FRESHMAN CLASS GRADUATES
This Saturday, May 19, 2007 CSUCI's first students to enter as freshman will graduate after completing four years. This historical ceremony will be held on campus and alumni will be attending. Over 600 graduates will walk this weekend including bachelors, masters and teaching credential students. Congratulations to all!
ANNUAL MEETING TO BE HELD THIS MAY
Come and vote for your new alumni board members at the 2007 Alumni & Friends Association Annual Board Meeting open to any members of the A&FA on Monday, May 21, 2007. The meeting is open to all active regular members and their guests. The meeting will focus on reviewing a slate of three new alumni, two new students, and one faculty board member as well as approving the slate of new officers for the 2007-08 year. The proposed new alumni board members are: Becca Glazier '04, Guillermo "Bert" Partida '05, Anneka Busse '07, and Dev Chahil '04 and '07. If you are interested in attending, your RSVP is required by calling 805-437-8952.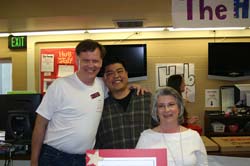 Alumni & Friends Board Members: Phil Hampton, Ed Fang '05, and Leah Lacayo.
2ND ANNUAL DOLPHIN CLASSIC GOLF TOURNAMENT
The CSUCI 2007 Dolphin Classic Golf Tournament will be held Monday, June 18, 2007, at the prestigious Las Posas Country Club in Camarillo. This tournament will raise funds to establish intercollegiate athletic programs at CSUCI. The event includes a Million Dollar Shootout in which two golfers in the shootout will try for a hole-in-one and if either of the golfers makes the shot he or she will win $1 million. There will also be a special hole-in-one contest held on a specific hole in which the winner will take home a new BMW vehicle sponsored by Steve Thomas BMW. Check-in and welcome begins at 9:30 a.m. The tournament's shotgun start will be at 11 a.m. For more information contact Mitchel Sloan, director of University Affairs at 805-437-8916.
NEW STUDENT ORIENTATION
Accomplished alumni are encouraged to attend at the new student orientation Alumni & Friends Parent Socials this summer. The wine and cheese events gives parents of incoming freshman an opportunity to hear from alumni who have succeeded in finding a career after graduation. More than 500 parents attend the five sessions held at last year's orientation. The following are the scheduled dates for this year's orientation:
Tuesday, July 17, 2007 - 5 p.m.
Friday, July 20, 2007 - 5 p.m.
Monday, July 23, 2007 - 5 p.m.
Thursday, July 26, 2007 - 5 p.m.
Monday, July 30, 2007 - 5 p.m.
If you are an alumni interested in volunteering for the evening, please contact Tania Garcia at 805-437-8952 or alumni.friends@csuci.edu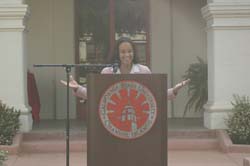 Elisabeth Freeman '06 shares her CSUCI story with parents.
SAVE-THE-DATE
The 8th Annual CSUCI President's Dinner will take place on Saturday, Sept. 29, 2007 at the Olivas Adobe Historical Park in Ventura. Join us for a night filled with great music, entertainment, food and fun all for the benefit of raising funds for CSU Channel Islands. This year's theme will be centered on the heritage of Camarillo and Ventura County, and will provide a historical perspective on the cultural influences of our region.
GRAD FAIR
Save the date for the fall 2007 Grad Fair to take place on Nov. 7, 2007. This event is a marketplace for graduate schools and individuals wishing to pursue post-baccalaureate education.
NEWS
LEADERSHIP DINNER
Five deserving CSUCI students received $2,500 scholarships at the 3rd Annual Business & Technology Partnership Leadership Dinner on Tuesday, April 24, 2007 at the Embassy Suites Hotel Mandalay Beach Resort in Oxnard. CSUCI Faculty William P. Cordeiro, Ph.D.; Naval Base Ventura County Director of Center for Asymmetric Warfare David Banks, Ph.D.;and Ventura County Star President and Publisher Tim Gallagher all received special recognition awards for their efforts in the community. More than 200 people including CSUCI alumni attended this event.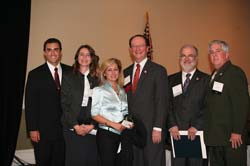 Saxon Knauss '06, Yvette Bocz '02, Manijeh Motaghy '05, President Richard Rush, Faculty Honoree Bill Cordeiro, and Brian Williams '06.
CAREER FAIR
More than 100 companies and organizations plus 300 students and alumni participated in the 2007 CSUCI Career Fair on Thursday, April 19, 2007. Students and alumni were able to visit with those companies offering career opportunities or receive advice from personnel vendors. The Career Fair takes place every April and is free for alumni.
VOLUNTEERS NEEDED
We need your help! The A & FA is looking for 10 alumni volunteers to help handout license plate frames and class t-shirts to graduates at Commencement on Saturday, May 19, 2007. If you're available and are looking for a great way to see the ceremony, please contact Tania Garcia at 805-437-8952 or email tania.garcia@csuci.edu. You may also register to volunteer online at http://www.csuci.edu/alumni/volunteer.htm.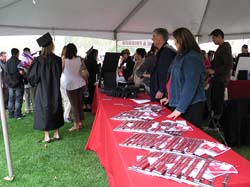 Volunteers distribute free license plate frames to each graduate.
MEET YOUR BOARD
MIKE SILACCI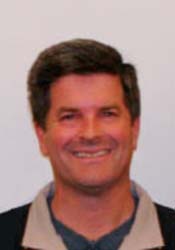 As a graduate of the Cal State system, Mike Silacci knows all about placing students at the center of all we do, especially placing students at the center of our community. Silacci, current Alumni & Friends Association (A&FA) Board Treasurer, has been with the board since 2004 and comes to this campus as an External Affairs Executive with AT&T. In his role with AT&T, Silacci has become extremely involved in Ventura County including serving as past Chair of the United Way, and Chair-Elect for the Ventura County Economic Development Association. As Treasurer of the A&FA, Silacci has managed to create the organization's first budget and sustain initial programs with minimal funding.
His access to the community allows Silacci many opportunities to promote our students and share the successes of CSUCI with all those who have been great friends to this University.
"One of the most important things about CSUCI is that the university is deeply tied to the surrounding community its serves; the same community that rallied the support necessary to give it life and ultimately the most exceptional aspect of CI is the fact that the entire university experience is built around the student and maximizing the student higher educational experience," Silacci said.
A graduate of Cal Poly San Luis Obispo, Silacci knows the value of education. And as a Lifetime Member of both CSUCI and Cal Poly SLO alumni groups, he also knows the value in staying connected as an alumnus.
"All sorts of benefits derive from such 'connectedness' that are not easily attained going it solo, i.e., friendships, career and life advancement opportunities, and the chance to give something back," Silacci explained.
Besides a very busy professional and volunteer life, Silacci lives in Newbury Park with his wife Liz and their children Natalie, 17, and Michael, 15.
Silacci is looking forward to his role with the Alumni & Friends Board next year. He would like to keep the positive momentum of the group going, continue to improve and communicate the value of being a member, and improve the value of the Alumni & Friends to the University and its students and alumni.
UPDATE US WITH YOUR NEW INFORMATION HERE
Please download our Alumni Update Form to stay in touch. Update Form (PDF, 108K)
SPOTLIGHT ON ACADEMICS
Each edition of The Wave e-newsletter will spotlight a faculty member and their program. Please join us in reading about CSUCI's wonderful Biology program.
When you can say that 100 percent of your program's students are either employed or been admitted into graduate programs or professional schools that means you have taught your students well. Ching-Hua Wang, MD, Ph.D can say that. Wang, a professor of Immunology and Microbiology and the Chair of the Biology, Physical Science and Geology programs has been with CSUCI since July 2001.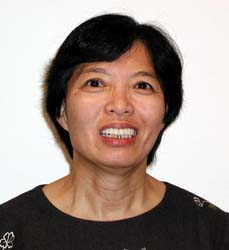 Biology at its best - Dr. Ching-Hua Wang
Besides the many great hours of turning young students into well-educated alumni, Wang also manages to contribute to numerous boards and committees that help shape the University as well as support the community and has organized the Poe Symposium which is a series of lectures from well-known scientists. But despite all these great successes, Wang knows there is much more to do. Science programs are costly to run and the need for lab space, equipment and lab supplies for research is growing. Advocating and fundraising and recruiting more students are all critical elements of sustaining such a program.
Wang's alumni will be the true leaders for the future of the program. This year, the first cohort of master's degree students in Biotechnology and Bioinformatics will graduate reaching another milestone for CSUCI. These alumni will be laying the ground work for students yet to come.
"I would like our alumni to appreciate what we have achieved collectively in such a short amount of time since we opened our university and render whatever support they could provide to our university and academic program," Wang said. "We are hoping that our alumni and friends will help to support our science programs."
And it's all reciprocal.
The Biology Program is about lifelong learning. Alumni will have access to special lectures and with the assistance of the Alumni & Friends Association, will be able to maintain a valuable network that will reap benefits in years to come. Visit http://biology.csuci.edu for more Biology information or events. Or contact the Biology Program at 805-437-2779.
ANNOUNCEMENTS
JAMES MADISON OFFERS ALUMNA FULL RIDE
2005 CSUCI Art graduate Sam Hunter has been offered a full scholarship to attend the James Madison University Master of Fine Arts (MFA) program in August. Hunter also was accepted into several universities throughout the United States including Boise State and the University of Arizona. James Madison University is located in Harrisonburg, Va.
ALUMNI COUPLES TYING THE KNOT
Two couples, all CSUCI graduates, will be married this June. Congratulations to couple Andrew Skinner '04 (Business) and Kirsten Hatchel '04 (Business) and couple Matthew Anderson '04 (Liberal Studies) and Elizabeth Simons '06 (Liberal Studies).
PEACE OFFICER ORGANIZATION HONORS ALUM
The Peace Officers Association of Ventura County's 34th Annual Medal of Valor Awards ceremony included CSUCI alumnus awardee Cesar Zuniga '05. The event took place Saturday, April 14, 2007 at the Ronald Reagan Presidential Library in Simi Valley. More than 28 officers and citizens were honored at the distinguished event. Zuniga received the Medal of Valor for his efforts in rescuing a victim from a crashed burning vehicle.
ALUMNA STARTS A FAMILY
December 2006 graduate Julie Grant, (previously Gaxiola), was married last November to Shawn Grant, and has given birth to her first son. Noah Scott Grant was born on Jan. 16, 2007.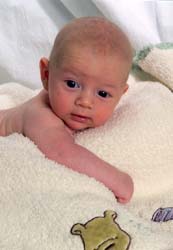 CSUCI WORKING FOR CALIFORNIA
STUDENT SERVICES KEY ISSUE AT CSU ALUMNI LEGISLATIVE DAY
(shot of group of all CSUCI advocate winners at Sacramento)
Each year a delegation of CSUCI alumni, staff and community members attend the CSU Alumni Legislative Day in Sacramento held in March to discuss key issues affecting higher education. This year's Monday, March 19, 2007 delegation included University President Richard Rush, University Supporter Hank Lacayo, University Foundation Chair Wayne Davey, Professor of Political Science Scott Frisch, Associate Director of Alumni Relations Tania Garcia, '05 Liberal Studies graduate Lori Macdonald, and '02 History graduate Yvette M. Bocz. One of the topics shared with legislators was that of adding additional funding for student services including outreach programs, ADA technology support, and career services. A special highlight was the recognition of the CSUCI Alumni Advocate of the Year, Yvette M. Bocz, for her many efforts in embracing the role of alumni advocacy.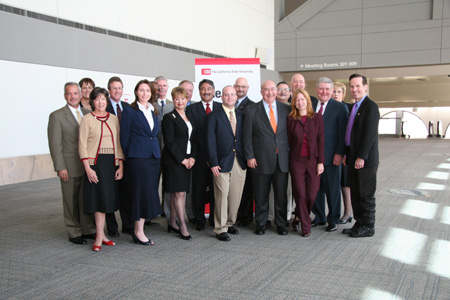 Yvette Bocz '02 (second from left, front row) and CSU Chancellor Charles B. Reed (second from right, front row) join other honorees in Sacramento
MEMBERS ONLY - BENEFITS