Career Development and Alumni Engagement offers assistance with graduate school application advising, online Graduate School Bound Program, and resources.
Graduate & Professional School Resource Handbook  (PDF, 670 KB)
Graduate School Application Advising:
Meet with a Career Counselor to discuss the graduate school application process, planning, and preparation methods. 
Accepted to Graduate School?
Congratulations! Please share this information with Career Development and Alumni Engagement by completing a short survey.
Graduate Studies Center: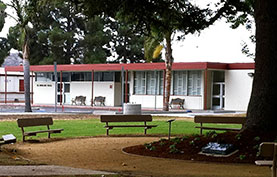 The Graduate Studies Center (GSC) is dedicated to providing academic, professional and personal support services for post baccalaureate students at CI. Our services aim to facilitate access to post baccalaureate programs, to promote student success and program completion, and to foster professional, personal, and workforce development.
Location: El Dorado Hall
Graduate Writing Studio:
Writing instructors are available to assist graduate students with thesis writing or prospective graduate students who need assistance with personal statements or letters of application for graduate program admission.
For more information, or to schedule an appointment, contact the Graduate Studies Center located in El Dorado Hall via email at gs.center@csuci.edu, call 805-437-3579, or visit http://www.csuci.edu/gsc/
Graduate School Bound Program
The purpose of Graduate School Bound Program is to assist CI students and alumni who are interested in graduate school exploration, decision-making, planning and the preparation process of applying to graduate school. This online program is intentionally designed to provide in-depth assistance with the graduate school planning process. The Graduate School Bound Program is a self-paced online format combined with career counseling for further support.
Graduate School Bound Program Modules:
Title
Module
Supplemental Documents
#1 Career and Educational Goals
 Module #1 (MS Powerpoint, 241.5KB)

What To Do & When (PDF, 14.9KB)

#2 Exploration and Research
Module #2 (MS Powerpoint, 288KB)

Planning Guide (MS Excel, 37.5KB)

Evaluating Graduate Programs (PDF, 82.1KB)

Selecting a Graduate School (PDF, 81.5KB)

#3 Graduate School Application Planning
Module #3 (MS Powerpoint, 1.8 MB)
Questions to Ask Graduate School Representatives (PDF, 216.0KB)
#4 Financial Aid & Test Preparation
Module #4 (MS Powerpoint, 452KB)

GRE Test Preparation Resources (PDF, 195.9KB)

Graduate School Financial Aid Resource List (PDF, 172.16KB)

2012-2013 GRE Informational Booklet (PDF, 1.0MB)

#5 Personal Statement & Letters of Recommendation
 Module #5 (MS Powerpoint, 346.5 KB)
Graduate School Admissions Essays (PDF, 110KB)Sample Graduate School Admissions Essays (PDF, 87.5KB)
#6 Enrichment and Experience
 Module #6 (MS Powerpoint, 255KB)