Career Development Services offers assistance with graduate school application advising, online Graduate School Bound Program, and resources.
Graduate & Professional School Resource Handbook  (PDF, 672.7 KB)
Graduate School Application Advising:
Meet with a career services staff member during Drop-In Career Counseling to discuss the graduate school application process, planning, and preparation methods.
Accepted to Graduate School?
Congratulations! Please share this information with Career Development Services by completing a short survey.
Accepted to Graduate School at CSUCI?
Congratulations! The Division of Student Affairs at CSUCI offers temporary employment opportunities to enrolled graduate students at CI through the Graduate Student Assistantship program. This program provides CI graduate students with the ideal opportunity to gain student affairs-related skills and enhance their academic experience in preparation for a full-time career in higher education.  Assistantships are for one year and interviews are held each summer.
For more information please visit Dolphin CareerLink through your MyCI account and type job code number "20020" in the job posting search field.  You can also contact Raquel De Los Santos, Program Coordinator, via email at raquel.delossantos@csuci.edu or phone at 805-437-8493.
Graduate Studies Center: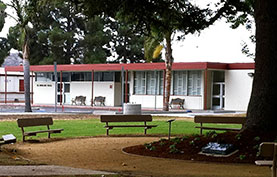 The Graduate Studies Center (GSC) is dedicated to providing academic, professional and personal support services for post baccalaureate students at CI. Our services aim to facilitate access to post baccalaureate programs, to promote student success and program completion, and to foster professional, personal, and workforce development.
Location: El Dorado Hall
Graduate Writing Studio:
Writing instructors are available to assist graduate students with thesis writing or prospective graduate students who need assistance with personal statements or letters of application for graduate program admission.
For more information, or to schedule an appointment, contact the Graduate Studies Center located in El Dorado Hall via email at gs.center@csuci.edu, call 805-437-3579, or visit http://www.csuci.edu/gsc/
Graduate School Bound Program
The purpose of Graduate School Bound Program is to assist CI students who are interested in graduate school exploration, decision-making, planning and the preparation process of applying to graduate school. This online program is intentionally designed to provide in-depth assistance with the graduate school planning process. The Graduate School Bound Program is a self-paced online format combined with weekly drop-in career counseling for further support.
Graduate School Bound Program Modules:
Title
Module
Supplemental Documents
#1 Career and Educational Goals
 Module #1 (MS Powerpoint, 241.5KB)

What To Do & When (PDF, 14.9KB)

#2 Exploration and Research
Module #2 (MS Powerpoint, 288KB)

Planning Guide (MS Excel, 37.5KB)

Evaluating Graduate Programs (PDF, 82.1KB)

Selecting a Graduate School (PDF, 81.5KB)

#3 Graduate School Application Planning
Module #3 (MS Powerpoint, 1.8 MB)
Questions to Ask Graduate School Representatives (PDF, 216.0KB)
#4 Financial Aid & Test Preparation
Module #4 (MS Powerpoint, 452KB)

GRE Test Preparation Resources (PDF, 195.9KB)

Graduate School Financial Aid Resource List (PDF, 172.16KB)

2012-2013 GRE Informational Booklet (PDF, 1.0MB)

#5 Personal Statement & Letters of Recommendation
 Module #5 (MS Powerpoint, 346.5 KB)
Graduate School Admissions Essays (PDF, 110KB)Sample Graduate School Admissions Essays (PDF, 87.5KB)
#6 Enrichment and Experience
 Module #6 (MS Powerpoint, 255KB)