Getting Started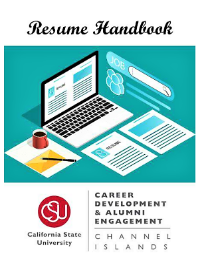 View our quick video How to Create a Strong Resume and Cover Letter
Review the Resume Handbook
Select a resume format/template from below (if you don't already have a resume)
Tailor your resume utilizing the information mentioned in the resume handbook and based on the position you are seeking.
Click Here to Schedule an Appointment with a Career Counselor or Career Peer Mentor.
For additional assistance, contact us at career.services@csuci.edu or (805)437-3270.
Resume Handbook
Our comprehensive Resume Handbook is useful guide for creating or updating resumes, cover letters, references, and thank you notes. This guide will help you highlight your relevant skills, work experience, educational background that motivates employers to invite you to an interview.
"The National Association of Colleges and Employers (NACE), through a task force of college career development services and HR/staffing professionals, has developed a definition and identified eight competencies associated with career readiness.Career readiness is the attainment and demonstration of requisite competencies that broadly prepare college graduates for a successful transition into the workplace." (NACE, 2015)
Access our comprehensive Resume Handbook with information on the following:
Resumes
Cover Letters
Thank you letters
Professional References
Resume Templates
Resume Samples
Resume Samples for Majors
Anthropology Sample

 (

PDF

,82.3 KB)

Art-Graphic Design Sample (PDF, 54.7 KB)
Art-Studio Art and Photography Sample (PDF, 178 KB)
Biology Sample (PDF,71.3 KB)
Biochemistry Sample (PDF, 110 KB)
Business Management Sample (PDF,82.7 KB)
Business Marketing Sample (PDF,127 KB)
Chemistry Sample (PDF,104 KB)
Chicana/o Studies Sample (PDF,66.7 KB)
Communication Sample (PDF, 153 KB)
Computer Science Sample (PDF, 170 KB)
Computer Science Engineering Sample (PDF, 85.1 KB)
Early Childhood Studies Sample (PDF,69.3 KB)
Economics Sample (PDF, 100 KB)
English Sample (PDF,135 KB)
Environmental Studies Sample (PDF,71.5 KB)
Health Science Sample (PDF, 110 KB)
History Sample (PDF,185 KB)
Information Technology Sample (PDF,146 KB)
Liberal Studies: Teaching Sample (PDF,92

 

KB)
Mathematics Sample (PDF, 150 KB)
Mechatronics Sample (PDF,120 KB)
Nursing Sample (PDF,64.9 KB)
Performing Arts Sample (PDF, 18 KB)
Physics: Applied Physics Sample (PDF, 129 KB)
Political Science Sample (PDF,67 KB)
Psychology Sample (PDF, 109 KB)
Sociology Sample (PDF, 76 KB)
Spanish Sample (PDF,86.8 KB)
Cover Letter Samples