Career Development & Alumni Engagement Mission
We establish a Dolphin network by cultivating a distinctive community of students, alumni, and industry to develop meaningful connections fostering lifelong learning and affinity between CSUCI and our graduates.

*Special COVID-19 Message from CDAE Leadership*
As of March 17, 2020 all Career Studio programming, individual counseling appointments, drop-in counseling, and employer recruitment events will be held remotely in support of CSUCI's social distancing strategy through Spring and Summer 2020. 
Career Counseling Appointments:Click here to request an appointment. For further assistance please contact us at 805-437-3270 or career.services@csuci.edu.
CSUCI Toast 2020
As our future Dolphin alumni prepare for Commencement, we want you to help us celebrate the accomplishments of the Class of 2020 through a virtual Toast! Put on your CI gear, take a few photos, record a video, draw some posters, you name it, just post it on social media with the hashtag #CSUCItoast2020 to share your encouragement and congratulations.
Employer Recruitment Events: Click on the News & Events link on the right to find information on employer-hosted events, sessions, and more.
Important Dates/Announcements 
OPEN FOR BUSINESS
We are open – virtually – to provide career counseling and resources. Check out our online resources and connect today!
Spring semester 2020 SCHEDULE
Career counseling appointments are offered virtually via Zoom or by phone.
Click here to request an appointment or contact us at 805-437-3270 or at career.services@csuci.edu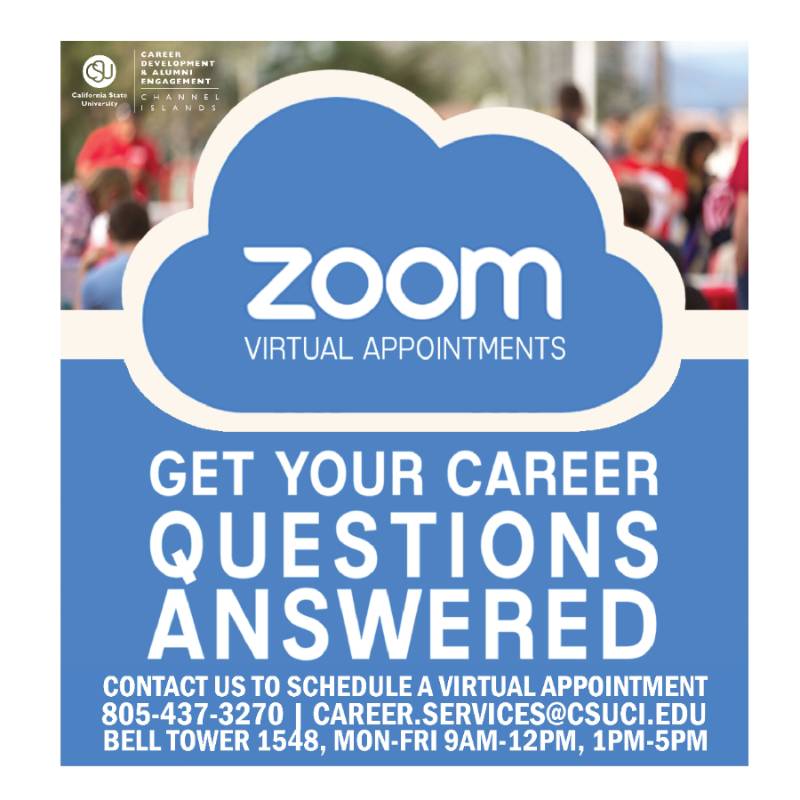 Hours of Operation:
Monday through Friday
9:00 am to 5:00 pm