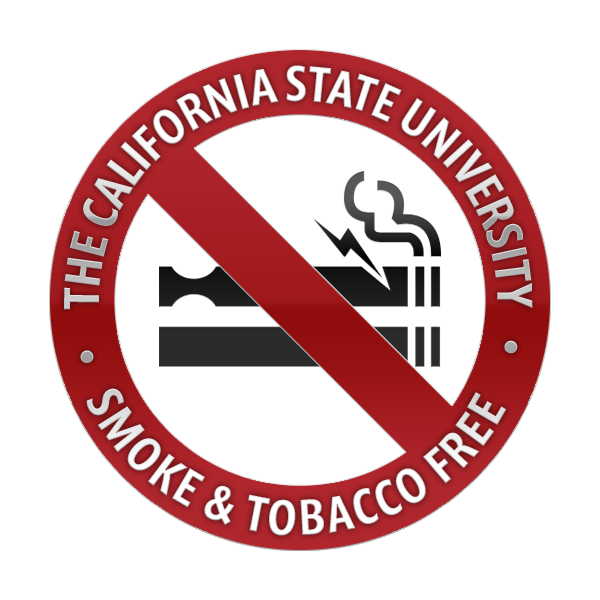 August 9, 2017 — Beginning on Aug. 23, 2017, CSU Channel Islands (CSUCI) will be completely smoke and tobacco-free. CSUCI is taking this step to comply with an executive order from the CSU Chancellor's Office declaring that all CSU campuses must be smoke and tobacco-free.
The Smoke & Tobacco-Free policy prohibits smoking, the use or sale of all tobacco products, e-cigarettes and vapor devices. Ashtrays on campus will be removed and signage will be changed to reflect CSUCI's new policy.
"We never established formal smoking zones, but they cropped up over time," said Associate Vice President for Student Affairs Cindy Derrico. "Now we are going to place signs outside of buildings to indicate that smoking is not allowed."
The following smoke-emitting products will not be allowed: cigarettes, cigars, cigarillos, pipes, hookahs, vapor devices, e-cigarettes or any other vapor devices. Marijuana has never been allowed.
Also not allowed are tobacco and/or nicotine in any form whether smoked, heated, chewed, absorbed, dissolved, inhaled, snorted, sniffed or ingested by any means. FDA approved tobacco cessation products are exempt.
The Smoke & Tobacco-Free policy pertains to University-owned undeveloped or leased property, including parking lots, private vehicles on University owned, undeveloped or leased property and in any vehicle owned, leased or rented by the University.
The CSU-wide policy is pursuant to CSU Executive Order 1108. To read the order, visit https://www.calstate.edu/eo/EO-1108.html.
Derrico doesn't foresee any problems, adding that enforcement of the ban will be up to the community.
"We are expecting people on the campus will honor this request if people forget or are unaware of the ban," Derrico said. "We would like people within the campus community to politely request that people not smoke. The only time we would engage in strict enforcement or conduct referral would be if people were unresponsive to the request or behaved in an aggressive or inappropriate manner."
Smoking cessation products for students will be available at the Student Health Center. Employees seeking help to quit tobacco and nicotine products can view employee benefits at: https://www.csuci.edu/hr/benefits/health-dental.htm
For more information on the new mandate, visit the University's Smoke & Tobacco-Free website at: https://www.csuci.edu/legal/smoke-free.