Dear Campus Community:
We are deeply dismayed by the announcement this morning from U.S. Attorney General Jeff Sessions that rescinds the Deferred Action for Childhood Arrivals (DACA) program. This essential program has allowed thousands of students to pursue their greatest educational aspirations and share their intellectual and creative talents with the CSUCI community, our state and our nation.
The action taken today will not alter our unwavering support of every member of our community and we will join our colleagues and our Chancellor in urging Congress to pursue legislation that will restore this vital program. At our campus, we believe that diversity is a source of our renewal and strength and we will continue to take steps to ensure that our campus is welcoming to all.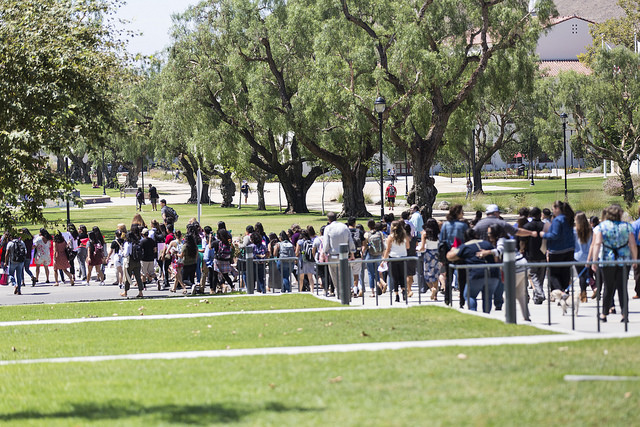 CSUCI's admission and tuition policies are not based on DACA status, so enrollment, tuition and financial aid for students is not impacted by this decision. We encourage everyone to visit the CSU website to learn more about this change. The website will continue to be updated as new information is available. Attached is a letter from Chancellor White to all CSU students, faculty and staff also expressing his disappointment with today's announcement.
Students and staff seeking support or dialogue are encouraged to drop by our Multicultural Dream Center. The Multicultural Dream Center is located in the Bell Tower Room 1530 and is open Monday through Thursday from 9 a.m. to 7 p.m. and Friday from 9 a.m. to 5 p.m. Provost Chase and Vice President Sawyer will soon be sending details about venues for additional dialogue and discussion on our campus.
Students who need support are encouraged to contact Counseling and Psychological Services available in Bell Tower East Room 1867 or 805-437-2088.
Faculty and staff who need support may also contact Human Resources at 805-437-8490 or visit the Employee Assistance Program.
As a reminder, neither CSU nor CSUCI police investigate, detain or arrest individuals for violations of federal immigration law. Any and all inquiries from federal, state or local officials received on campus regarding immigration status should be immediately referred to the CSUCI Police Department at 805-437-8444.
CSUCI stands firmly by our DACA students and we will continue to support our entire campus community during this continued period of uncertainty and with resolve to uphold the essential value of equity and inclusion for our campus and the future of our democracy.
Sincerely,
Erika D. Beck, President
Karina Hinojosa, Student Government President
Virgil Adams, Academic Senate Chair
Jose Alamillo, Chair of President's Task Force on Inclusive Excellence
Rosario Cuevas, Staff Council Chair