May 22, 2023 - This is a reminder that due to critical repairs to replace several of our water main valves, restrooms and drinking water within all campus buildings will not be available on Thursday, May 25 and Friday, May 26. These campus repairs will not impact water availability at the University Town Center or University Glen residential community.
Please visit the Facilities webpage with logistical information for this outage, as well as answers to frequently asked questions.
North Loop Infrastructure Project
Additionally, due to previous rain delays, we are now ready to begin installation of underground chilled and hot water pipes, as well as electrical distribution switches at the north end of the campus along Ventura Street, Santa Barbara Avenue, and Camarillo Street, as part of the North Loop Infrastructure Project.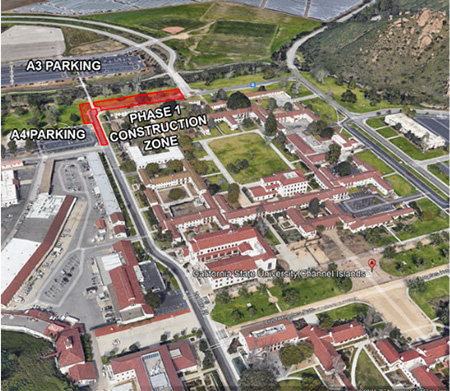 Beginning Tuesday, May 23, Ventura Street near the A4 parking lot and extending along Santa Barbara Avenue to University Drive, will be closed to all vehicular traffic and detour signs will reroute drivers as needed around the campus. The VCTC bus stop will be unaffected during this phase of construction. Pedestrian and ADA access will remain available with directional signage, as well as access to the pedestrian bridge from the A3 parking lot. However, the roadway will be open the weekend of June 3 for the Casa Pacifica event happening on the campus.
Additional information including a map, which highlights the construction area can be found by visiting the North Loop Infrastructure Project webpage. As future construction phases are ready to begin the webpage will be updated, and advance notification of any campus road closures will be provided to the campus community.
For more information or for questions, contact Facilities Services at facilities.services@csuci.edu or 805-437-8461.