The President's Dinner- Oct. 5
Join us in celebrating the President's Dinner taking place on Saturday, Oct. 5 at the Four Seasons Hotel Westlake Village. The evening will include a cocktail reception, exciting raffle, fabulous silent auction, exquisite food, exceptional entertainment and more! Proceeds will support the University's highest priority needs. View the invitation. (PDF, 1.1MB)
The 2013 Robert J. Lagomarsino award will be given to Steve Blois. Mr. Blois is a licensed general engineering contractor and managed Blois Construction for 20 years. He has served on the CSU Channel Islands Foundation Board where he served as chairman from 2009-2011. He currently leads the University's Courtyard Committee which oversees the restoration of CI's Courtyards, including the recent completion of the Central Mall Fountain.
CI Faculty and staff receive a discounted ticket of $150 per person (discounted from $250 per person!). Each faculty or staff member is eligible to purchase two tickets at this special rate and payroll deduction can be utilized to make this purchase even easier.  For information on the gala, visit www.csuci.edu and click on the President's Dinner web button.
For more information, contact Noheli Viramontes, University Advancement Events Assistant, at ext. 3552 or noheli.viramontes@csuci.edu.
Major Fair- Oct. 8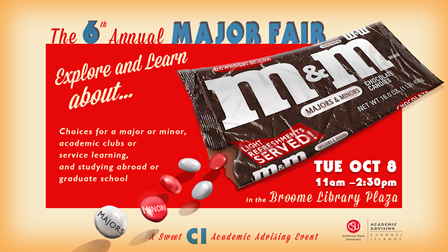 The Major Fair will take place on Tuesday, Oct. 8 from 11 a.m. – 2:30 p.m. at the Broome Library Plaza. This event is designed to assist students with exploring their major/minor options and also to help answer questions regarding the various academic opportunities available at CI.
Faculty representatives will be available to speak with students regarding academic program choices. Academic Advisors and Career Center staff will also be on hand to answer questions.
For more information, contact Merissa Stith, Events Coordinator, at ext. 8548 or Merissa.stith@csuci.edu.
cinEngage Presents "Flow" – Oct. 9
The Centers for Community and Multicultural Engagement and the John Spoor Broome Library present the award-winning documentary, FLOW, by Irena Salina on Wednesday, Oct. 9, from 6:30 to 8:30 p.m. in Petit Salon. The film takes a look at the global crisis we face as Earth's fresh water supply constantly diminishes. Listen as top experts and advocates show us that every aspect of human life is affected by pollution, wastefulness, privatization and corporate greed as it relates to a natural resource that's more valuable than oil. The film shows in no uncertain terms that if we continue to abuse our water supply, Earth will become uninhabitable and humankind will become extinct. Charles Fishman, author of this year's Campus Reading Celebration selection, "The Big Thirst: The Secret Life and Turbulent Future of Water," will lead a Q&A immediately following the film.
For more information, contact Pilar Pacheco, Associate Director for the Center for Community Engagement, at ext. 8851 or pilar.pacheco@csuci.edu.
Campus Reading Celebration- Oct. 10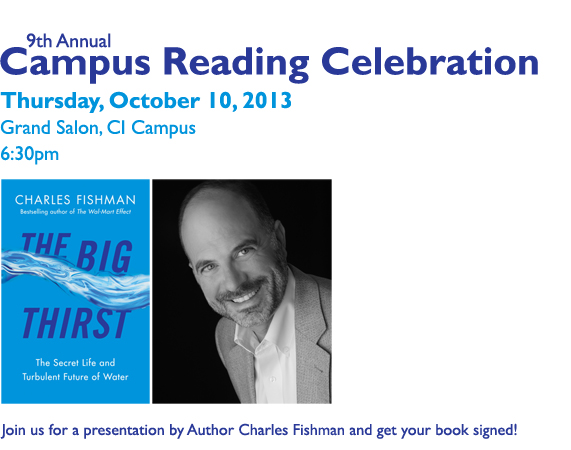 Join us for the Campus Reading Celebration, which provides an annual opportunity for the campus community and public to share in a common intellectual experience.
The book selected for this year is "The Big Thirst: The Secret Life and Turbulent Future of Water" by Charles Fishman. The book helps redefine how we look at water, our most essential but in many ways, misunderstood resource. For the past 100 years, the developed world has enjoyed a cheap, safe and abundant water supply, but Fishman warns that everything about water is about to change- how we use it, how we share it, and how we value it.
The centerpiece of the Celebration will be a visit by the author on Thursday, Oct. 10 at 6:30 p.m. in the Grand Salon. CI students, faculty and staff can attend the visit for free; community members are $10 and non-CI students are $5.
This event is sponsored by the Instructionally Related Activities Fund. RSVP here.
For more information, contact Merissa Stith, Events Coordinator, at ext. 8548 or Merissa.stith@csuci.edu.
Family Weekend- Oct. 11-13
Family Weekend aims to enhance students' educational experience, reconnect families, and further develop a relationship based on shared values with all members of the CI family.
This year's theme is aligned with one of the many University goals at CI: Living the Mission. Upon checking in, families will receive a "passport," with the opportunity to collect stamps at various events throughout the weekend by traveling through the pillars of the University. Events will be labeled with the pillars to help guide families' personalized itinerary in the following way:
Multicultural Perspectives (MP)
International Perspectives (IP)
Integrative Approaches (IA)
Civic Engagement (CE)
After dinner on Saturday night, staff will honor those families that collect all four pillars in their passport, acknowledging their engagement in activities that support the University mission and unique culture of CI.
There is a strong need for volunteers at the waterfront to assist families with kayaking and sailing at the Channel Islands Boating Center.  Contact Kirsten Moss if you can assist on Saturday or Sunday.
View the full schedule of events for Family Weekend. (PDF, 104KB)
For more information, contact Kirsten Moss, Associate Director of Access, Orientation & Transition Programs, at ext. 3156 or Kirsten.moss@csuci.edu.
The Fab Faux Beatles Tribute Band- Oct. 12
CI students, faculty, staff, friends and family are offered a special $35 cash discounted ticket to see The Fab Faux Beatles Tribute Band on Saturday, Oct. 12, 8 p.m. at the Orpheum Theatre in downtown Los Angeles. Last year, over 200 CI students, faculty, staff, friends and family attended the Fab Faux's once a year Southern California appearance.
The Fab Faux has been called the "World's Greatest Beatles Tribute Band" and is known for their note perfect renditions of Beatles favorites, specializing in playing songs that even the Beatles never performed live. The All-Star band features Will Lee, longtime bassist for the David Letterman Show and Jimmy Vivino, musical director and guitarist for the Conan O'Brien Show.
The musical virtuosity of The Fab Faux is legendary and completely up-ends the concept of a Beatles tribute band. Far beyond extended sets of cover versions, their astounding shows are an inspired re-discovery of the Beatles' musical magic, as The Fab Faux tackles the group's most demanding material live onstage in a way that has to be experienced to be believed.
For more information or if you're interested in attending, contact Paul Murphy, Assistant Professor of Performing Arts, at ext. 8969 or paul.murphy@csuci.edu.
Walk Across America Poker Walk- Oct. 16
Calling all Walk Across America (WAA) Teams!  Join us for the first ever WAA Poker Walk on Wednesday, Oct. 16 from 12 to 1 p.m.  Registered participants will walk the designated route and collect cards along the way (no gambling involved). At the end of the walk turn in your "hand" and have a chance to win a prize.
Check-in will be from 12 to 12:15 p.m. with the walk starting promptly at 12:20 p.m.  Be sure to join us for this quick and fun event that gets us out of our offices and moving!
For more information, contact Janet Korsmo, Human Resources Support Assistant, at ext. 3181or janet.korsmo@csuci.edu.
Great California ShakeOut Drill - Oct. 17
For years, scientists have been predicting the next big earthquake to hit California. It is vitally important that every member of our campus community be prepared when it does.
On Thursday, Oct. 17 at 10:17 a.m., get ready to DROP where you are, COVER your head or get under a sturdy desk or table, HOLD ON to something sturdy and stay in place until the shaking stops. This year it is estimated that more than 8.8 million Californians will participate in the Great California ShakeOut Drill, an annual, five minute drill (no evacuation included) which is part of a worldwide earthquake drill. http://www.shakeout.org/california/
To prepare for this and other major events, CI conducts regular building evacuation drills to test and verify the building fire and evacuation notification alarms. In the event of a real earthquake emergency, occupants would DROP, COVER & HOLD ON and then immediately evacuate their building with the assistance of their Building Marshals who are appointed by the University to assist building occupants in the event of an emergency.
For information regarding the Building Marshal program and to develop your personal evacuation plan, visit the Emergency Preparedness website at http://www.csuci.edu/police/emergency-management/index.htm.
For additional information, contact Maggie Tougas, Emergency Manager, at ext. 3765 or maggie.tougas@csuci.edu.
Spooktacular/Annual Charitable Campaign Kick-Off – Oct. 31
The Annual Charitable Campaign Kick-Off and Spooktacular event will be held on Thursday, Oct. 31 from 10:45 a.m. – 12 p.m. in the Grand Salon.
Want to participate in the Department Decorating Contest? Contact Wendy Olson at wendy.olson@csuci.edu by Oct. 24 to sign up.  Want to show off your most awesome costume? Come to the event and you may win a prize!  Show your creative side and bring a decorated pumpkin to our 1st Annual Pumpkin Decorating Contest (more information to follow).
You can also visit the decorated departments and get your Spooktacular Passport stamped to enter a special drawing. Passports will be available in the participating departments or at the myCI staff link on Oct. 29. Don't forget fun Halloween Raffle prizes and special guest speakers sharing information about their organization and opportunities to give of ourselves in our community. More details to come regarding a special giving opportunity on the day of the event!
For more information, contact Janet Korsmo, Human Resources Support Assistant, at ext. 3181 or janet.korsmo@csuci.edu.
Return to the Table of Contents.
© Wavelength October 3, 2013