Street Store Project – Oct. 12 - Nov. 9
A group of CI Communication students will collect and provide donated new and gently used clothing and shoes for children and the homeless of a severely underserved Oxnard neighborhood. The Street Store Project aims to provide this population with a dignified way for them to shop for new clothing and shoes in a store environment where they feel comfortable and at home. They are partnering with the Center for Community Engagement and B.A. Huggins Ministry to provide for this community on Nov. 18.
From Oct. 12 through Nov. 9, clothing or shoe donations can be dropped off every Monday from 12 ­­ - 1:30 p.m. in the Student Union Building.
For further information contact Michael Gallardo, Communication student at 805-338-7190, Michael.gallardo891@myci.csuci.edu or Jessica McGinty jessica.mcginty871@myci.csuci.edu.
Sidewalk CPR – Oct. 13
Sidewalk CPR training is being offered at the Broome Library Plaza on Tuesday, Oct. 13 from 10 a.m. to Noon. Take 5-10 minutes and learn how to save a life by learning hands-only CPR from a trained professional. This free event is sponsored by AMR/Gold Coast and the CI Police Department.
For more information, contact Rachel Huff, Community Involvement Coordinator, at ext. 8880 or rachel.huff@csuci.edu.
Tech Fair – Oct. 14
On Wednesday, Oct. 14, from 11 a.m. – 2 p.m. at the Central Mall, the Division of Technology & Communication will host the second annual Tech Fair. This event serves to familiarize students with the division's services and provide an opportunity for students to give feedback on what they would like to see technology-wise on campus.
For more information contact Kristin Steiner, Administrative Support Coordinator, at ext. 2711 or kristin.steiner@csuci.edu.
Great California Shake Out – Oct. 15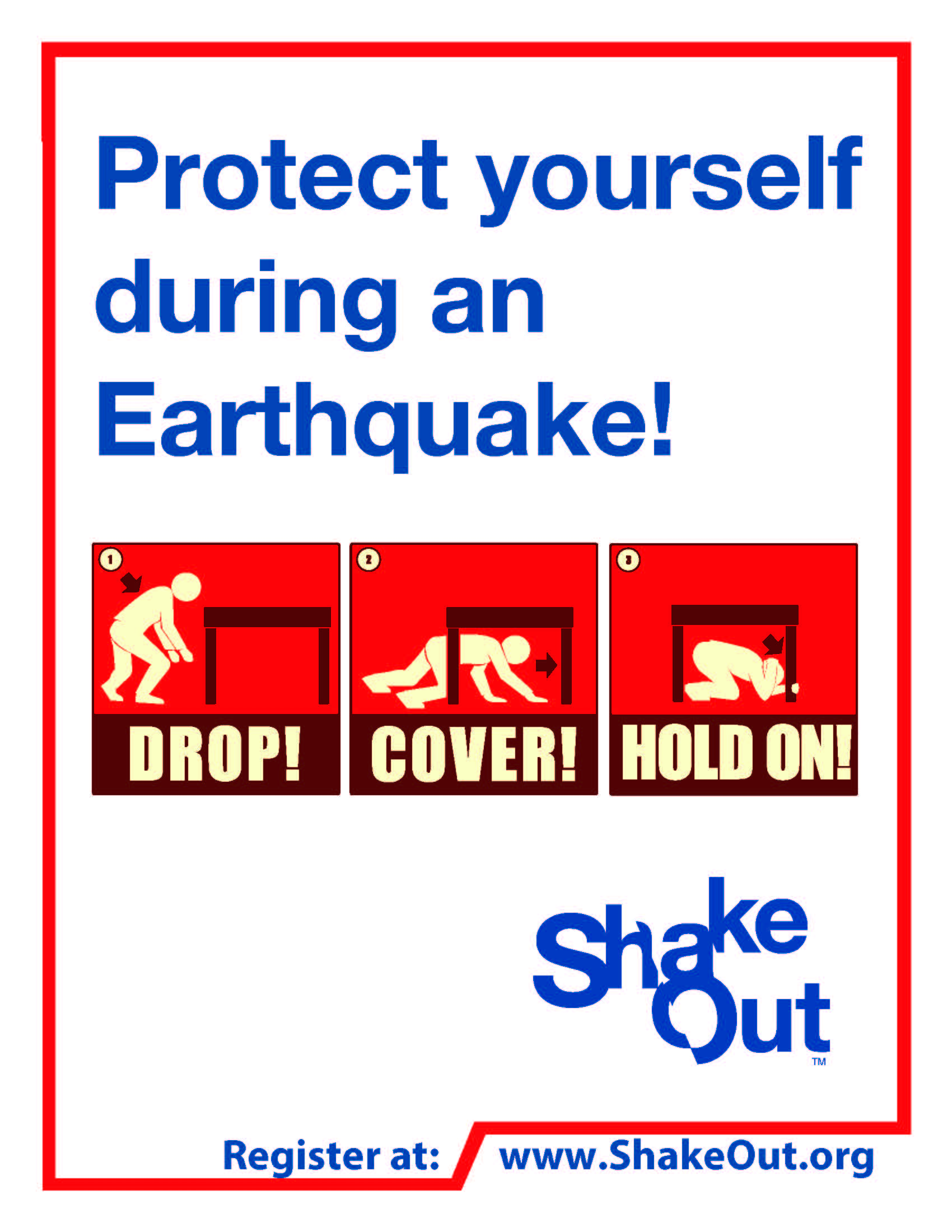 On Thursday, Oct. 15, at 10:15 a.m., get ready to DROP where you are, COVER your head or get under a sturdy desk or table, HOLD ON to something sturdy and stay in place until the shaking stops. This year it is estimated that more than 9 million Californians will participate in the Great California ShakeOut Drill, an annual, five minute drill (no evacuation included) which is part of a worldwide earthquake drill.
To prepare for this and other major events, CI conducts regular building evacuation drills to test and verify the building fire and evacuation notification alarms. In the event of a real earthquake emergency, occupants would DROP, COVER & HOLD ON and then immediately evacuate their building with the assistance of their Building Marshals who are appointed by the University to assist building occupants in the event of an emergency.  There are many creative and fun ways to participate in addition to the DROP, COVER & HOLD ON drill.  More details and ideas on the Great California Shake out.
For more information contact Maggie Tougas, Emergency Manager, at ext. 3765 or maggie.tougas@csuci.edu.
IGER Luncheon – Oct. 16
The Institute for Global Economic Research (IGER) presents "The Global Economy, Cyber Security and Investment Implications" on Friday, Oct. 16 from 11:45 a.m. to 1:30 p.m. in Malibu Hall 100. This free luncheon will include a presentation by Sung Won Sohn, Professor, MVS School of Business & Economics and a Cyber Security discussion moderated by Stan Stahl.
Please register for the IGER Luncheon if you plan to attend. Full event details for the IGER Luncheon are available now. (PDF, 217KB)
For more information contact Paulina Rodriguez, Administrative Assistant, at ext. 3637 or paulina.rodriguez@csuci.edu.
Free FAFSA Workshop for those who assist parents and students – Oct. 17
Do you assist parents and students with completing their Free Application for Federal Student Aid Applications (FAFSA)? Then join us for a free workshop on Saturday, Oct. 17 from 8:30 a.m. to Noon in Aliso Hall, Room 150. This workshop is administered by the California Student Aid Commission and will cover how to complete an accurate application, the DREAM ACT, How to Leverage Resources, What You Need to Know, and Why Follow-Up is Critical After Completing the FAFSA. This workshop is sponsored by the Ventura County P-20 Council.
Click here for full event details on the Free FAFSA Workshop. (PDF, 403KB)
For more information contact Meagan Chiaramonte, Project Specialist, Office of the President, at ext. 3570 or meagan.chiaramonte@csuci.edu.
Science Carnival – Oct. 24
Pre-K through 8th grade students and their families are invited to attend the 7th annual Science Carnival, 5 - 8 p.m. on Saturday, Oct. 24 at Thurgood Marshall School in Oxnard.
The Science Carnival is a spooky science/Halloween-themed event that is designed to give kids a hands-on experience with science, technology, engineering, and mathematics. Over 75 science activities and demonstrations are available to experiment with. Kids are encouraged to wear their costumes! The event and parking are free. Additional details are available on the Science Carnival Website.
Volunteers from the CI community are welcomed. Click here if you are interested in volunteering for the Science Carnival.
For more information contact Phil Hampton, Professor of Chemistry at ext. 8869 or philip.hampton@csuci.edu; or Sandra Birmingham, Associate Director for STEM Educational Outreach at ext. 3597 or sandra.birmingham@csuci.edu.
Campus Reading Celebration – Oct. 29
You are invited to the Campus Reading Celebration, an annual opportunity for the campus community and public to share in a common intellectual experience. The book for the 13th annual Campus Reading Celebration selected is We Are All Completely Beside Ourselves: A Novel by Karen Joy Fowler. The highlight of the Celebration is a presentation by Author Karen Joy Fowler on Thursday, Oct. 29, 6 - 7:30 p.m. in the Grand Salon.
Tickets can be purchased here for the Campus Reading Celebration. Full event details are available here for the Campus Reading Celebration. (PDF, 2.95MB)
CI students, faculty and staff = Free
Community members = $10
Non-CI students (Community College, high school, etc.) = $5
For more information contact Matt Cook, Head of Public Service & Outreach, at ext. 3653 or matthew.cook@csuci.edu.
k(NO)w Justice, k(NO)w Peace: Getting Involved with Tunnel of Oppression – Oct. 28 -29
Tunnel of Oppression is a two-day interactive experience hosted by Housing & Residential Education on Oct. 28 - 29 in Petit Salon.
The Tunnel of Oppression is a campus diversity initiative originally developed at Western Illinois University in 1994, inspired by The Museum of Tolerance in Los Angeles. The creators of the Tunnel of Oppression sought to provide participants with an emotionally charged experience that would allow them to briefly experience what oppressed groups have endured/continue to endure in their lives. Through the use of photographs, facts, displays, vignettes, videos, and recordings concepts and forms of oppression are communicated to and interpreted by participants.
After "going through" the Tunnel participants (usually a small group – no more than 15 people) are able to debrief their experience with the facilitators who lead them through the Tunnel. Traditionally to close the debrief participants are asked to consider what actions they will take in their own lives to aid in deconstructing oppression.
For more information, visit http://tunnelofoppression.wordpress.com.
For more information contact Michael McCormack, Coordinator of Community Programs, Housing & Residential Education, at ext .3513 or michael.mccormack@csuci.edu.
Planned Giving Advisory Council Breakfast – Nov. 5
The CI Planned Giving Advisory Council invites you to attend the Global Economic Turbulence And the Impact on U.S. Financial Markets and Policy. Join us as we learn from experts Sung Won Sohn, Director of CI's Institute for Global Economic Research and Professor, MVS School of Business & Economics, and Gary C. Zimmerman, Retired Economist, Federal Reserve Bank of San Francisco, on the impact of the world's current economic turbulence on U.S. financial markets.
The event will be held in the Grand Salon on Thursday, Nov. 5, 7:30 - 9 a.m. Ticket cost: general admission: $40, staff/faculty: $20, CI students: Free.
Purchase tickets for the Planned Giving advisory Council Breakfast or call Mackenzie Tolson at ext. 3552. Full event details for the Planned Giving Advisory Council Breakfast are available here. (PDF, 990KB)
For more information contact Mackenzie Tolson, Events Specialist, at ext. 3552 or Mackenzie.tolson@csuci.edu.
Return to the Table of Contents
© Wavelength October 8, 2015