THERE WILL BE NO PARKING PERMIT GRACE PERIOD.
Parking Permits
Summer 2022 parking permits are now available for purchase online via www.mycampuspermit.com. 


Staff and Faculty who need an annual parking permit will need to complete the Payroll Deduction Form and email it to parking@csuci.edu prior to ordering your permit via www.mycampuspermit.com. 



Want another option instead of purchasing a parking permit? Check out the VCTC Bus routes to and from campus - FREE for CSUCI students, staff, and faculty!

Also available is CSUCI's car rental program, Zipcar!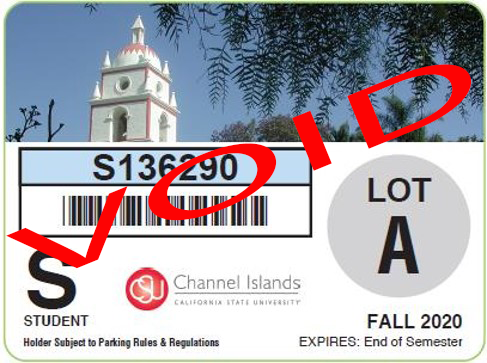 All parking permit sales will be processed online. Parking permits will be mailed to the address entered at time of purchase. Please read the following information to assist you with the new streamlined process. Faculty and staff who wish to purchase an annual or academic year permit via payroll deduction must fill out the Payroll Deduction Form and email it to parking@csuci.edu prior to making your online purchase. 
To purchase a parking permit online, please visit the Parking Management Bureau website and click Get My Permit. Students, staff, and faculty will login using their myCI username and password. You will need to be prepared to enter your credit card or e-check information, vehicle license plate, and the address you would like your parking permit mailed. Once you have purchased your permit, you will need to print your temporary parking permit, and place it on your vehicle's dashboard. This permit will be good for 14 days, which should allow enough time for you to receive your parking permit in the mail and place the permanent permit on your vehicle. If you have any questions or have not received your permanent parking permit within 7-10 days, please contact Parking Management Bureau at 800-700-4417.
Permits are non-transferable from person to person. Under no circumstance may you sell, exchange, or give your permit to someone else. Inappropriate use may result in the confiscation of the decal. If a permit is not returned by the authorized permit holder, the vehicle which has the unauthorized permit may be cited. There is no parking permit grace period. 


Additional Information
Permit Sales Frequently Asked Questions (FAQ)
Traffic and Parking Rules & Regulations.