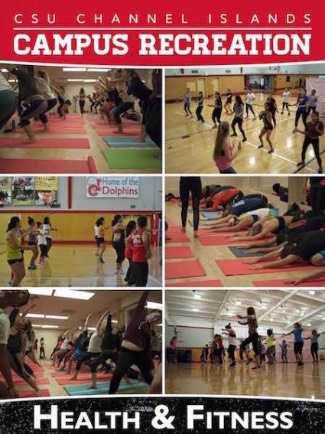 The Recreation Center is home to the Health and Fitness component of Campus Recreation. The fitness area provides opportunities to develop cardiovascular endurance, muscular strength, muscular endurance and flexibility. Cardiovascular amenities of the fitness center include treadmills, stair climbers, recumbent cycles, stationary cycles and elliptical trainers. The resistance training amenities include selectorized Cybex stations, a power cage, a cable crossover, a selection of free weight benches, a large selection of dumbbells from 2 – 120 pounds, and more than 2,000 pounds of Olympic plates. Cardiovascular training, general conditioning, resistance training, and flexibility programs are offered free of charge for Membership and Passes holders.
Fitness Classes
All Fitness classes are free to all current CI students.  No experience is necessary; simply show up when you can and enjoy.  You can come as often as you would like, or as little as your schedule permits.  There are no commitments or registrations.  Get active and get out there!  
Zumba
Mondays 4:15 p.m. - 5:15 p.m. in the Rec Center (Arroyo Hall)
Instructor: Lorena Gonzalez

Tuesdays and Thursdays 6:15 p.m. - 7:15 p.m. in the Rec Center (Arroyo Hall)
Instructor: Noel DeVerges
Come and join the party as we dance the night away.  Zumba® a total workout, combining all elements of fitness- cardio, muscle conditioning, balance and flexibility, boosted energy and a serious dose of awesome each time you leave class.  Once the Latin and World rhythms take over, you will see why Zumba® Fitness classes are often called exercise in disguise. 
Yoga Sculpt 
Thursdays 8:30 p.m. - 9:30 p.m. in Malibu 120 (First Class 2/15/18)
Instructor: Riley Glasgow
"When muscle meets yoga, yoga sculpt is born." This yoga sequence combines free weights and cardio with a wonderful vinyasa flow.  Set to music, this class is both fun and challenging.  Get ready to work your body and mind with this tough, yet gratifying practice. 
Power Yoga (All Levels)
Instructor: Jayah Hasson
First Class: TBA
Faculty/Staff Zumba
*This class is free for faculty/staff; no membership required.
Tuesdays and Thursdays, 5:15 p.m.-6:10 p.m. in Rec Center (Arroyo Hall)
First Spring 2018 Class: 1/30
Modified Hours- No Classes on Tuesday, February 13th