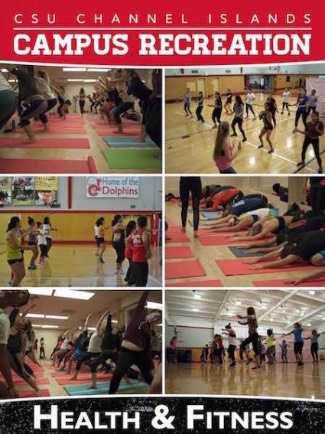 The Recreation Center is home to the Health and Fitness component of Campus Recreation. The fitness area provides opportunities to develop cardiovascular endurance, muscular strength, muscular endurance and flexibility. Cardiovascular amenities of the fitness center include treadmills, stair climbers, recumbent cycles, stationary cycles and elliptical trainers. The resistance training amenities include selectorized Cybex stations, a power cage, a cable crossover, a selection of free weight benches, a large selection of dumbbells from 2 – 120 pounds, and more than 2,000 pounds of Olympic plates. Cardiovascular training, general conditioning, resistance training, and flexibility programs are offered free of charge for Membership and Passes holders.
Fitness Classes
All Fitness classes are free to all current CI students.  No experience is necessary; simply show up when you can and enjoy.  You can come as often as you would like, or as little as your schedule permits.  There are no commitments or registrations.  Get active and get out there!  
Come and join the party as we dance the night away.  Zumba® a total workout, combining all elements of fitness- cardio, muscle conditioning, balance and flexibility, boosted energy and a serious dose of awesome each time you leave class.  Once the Latin and World rhythms take over, you will see why Zumba® Fitness classes are often called exercise in disguise. 
Bootcamp (All Levels) 
Last Fall Class: November 29, 2018  
Instructor(s): Kailey Jones & Sam McGrath 
When & Where:
Wednesdays from 9:15 a.m. -10:15 a.m. with Kailey
Monday & Wednesday 5:15 p.m. - 6:15 p.m. with Sam
Come get in shape with a high intensity cardio and strength training workout!
MOVE Dance (Entry Level Dance) 
Last Fall Class: November 26, 2018
Instructor: Grace Leavitt 
When & Where: Monday from 8:15 p.m. - 9:15 p.m. / Location: Santa Cruz Dance Room 
Come pop, lock, and drop it to the music you love at our newest class! MOVE provides a safe space to express yourself and explore movement through different beats each week. Every class starts off with a strengthening warm up and then jumps into choreography. With something different each week, you are destined to get down and find your own style. Come get your groove on and exercise in a fun way. 
Cardio Kickboxing 
Last Fall Class: November 28, 2018  
Instructor: Kailey Jones
When & Where: Tuesdays from 7:15 p.m. - 8:15 p.m. in the Santa Cruz Dance Room
& Wednesdays from 7:15 p.m. - 8:15 p.m. in the Recreation Center 
This one hour high intensity cardio class focuses on using kickboxing-inspired moves to the beat of music for a fun calorie burning workout!  No kickboxing experience necessary.  This class focuses on keeping your body moving, not technique!